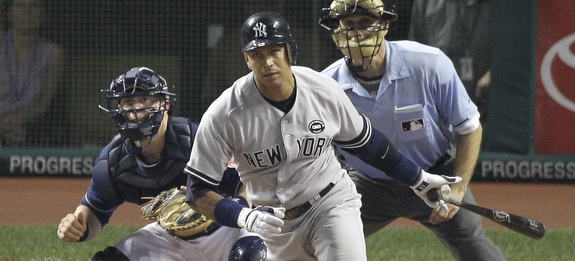 Runs batted in is one of baseball's oldest and most sacred stats. It tells us how effective a player is at capitalizing on run scoring opportunities, driving in his teammates when they're out on the bases like ducks on a pond. Except it doesn't really do that, at least not with the proper context, anyway. It doesn't tell us about the situation, how the runner was driven in, how many opportunities a batter has had to drive in a run, nothing. It's a just a raw counting stat devoid of important information.
If we're going to resort to using RBI, the best way to do so is with a rate stat, just like batting average or K/9. It's actually pretty amazing that they used a rate stat for batting average back in the day but not for RBI. I guess it wasn't easy to keep track of RBI opportunities back then, but it shows that the grandfathers of the sport and statistical record understand that a rate stat was the way to go. Despite that, the stat has remain unchanged for the last century.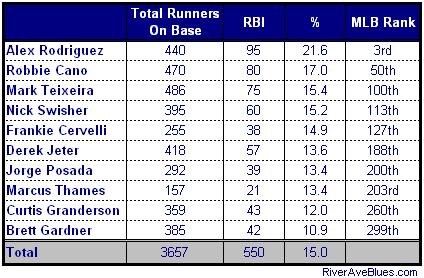 The table on the right has RBI opportunities and conversion rate for 2010 Yankees with at least 200 plate appearances, courtesy of Baseball Prospectus. This is the number of times a player drove in one of his teammates, so it doesn't count the times he drove himself in with a homer. The league average RBI rate among batters with at least 200 plate appearances (345 qualified hitters) was 14.3% in 2010, with a standard deviation of 2.89%. The top RBI man in baseball last year was (wait for it) Ryan Hanigan of the Reds, who drove in 23.3% of runners on base. He only had 243 plate appearances due to injury though, so if we limit it to guys that played essentially a full season, the leader was Carlos Gonzalez at 22.1%. A-Rod was third, and then you had Pedro Alvarez and Delmon Young at 20.1% and 20.0%, respectively. There's a few players in between A-Rod and those two, but they're all right at 200 PA.
So this data is great, it's certainly more useful than straight up RBI, but how stable is it? Does RBI rate fluctuate wildly from year to year like BABIP tends to do, or is a repeatable skill like say, drawing walks. I suspect it's the former, but let's look at some more data. Here's the current Yankees that have played full-time over the last five years…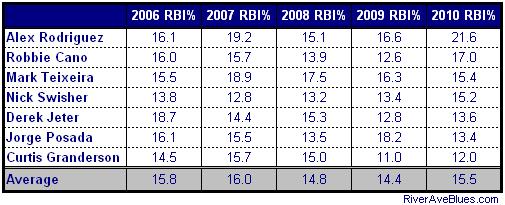 The rates for the individual players jump around quite a bit from year to year; the smallest gap between highest and lowest percentage is Nick Swisher at 2.4%. This isn't much of a surprise, RBI's almost always come on balls in play, so they're just as prone to BABIP fluctuations as batting average.
Scoring runs and driving them in are obviously quite important, but the idea of an "RBI guy" is a fallacy. The best RBI guys in the game are the best hitters, period. Driving in runs requires the same set of skills – a) not make outs and to a slightly lesser extent, b) hitting for power – as hitting with the bases empty. If you can do those things, you'll be productive no matter what kind of situations your presented. The Yankees were an above average RBI% team in 2010, and they will be going forward because they have some really awesome hitters in the lineup.