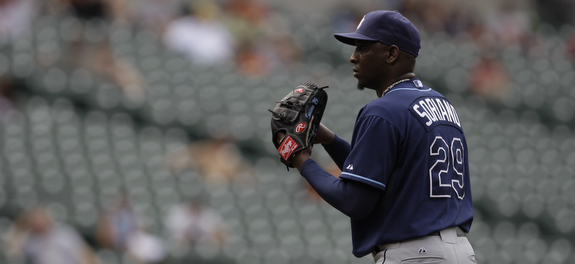 Late last week the Yankees agreed to a contract with a Rafael Soriano, and it's not just a normal contract. It's an absurdly player-friendly contract that's almost too good to be true from the player's perspective. The guy gets a guaranteed $11.5M in 2011, and then depending on how things play out over the next eleven or so months, he can either go seek a bigger contract elsewhere or take another $10M from the Yankees. If he does the latter, then twelve months after that he gets to decide if he wants to test the market or take another $13.5M of the Yankees money. It's a fantastic contract for Soriano and I'm certain there are quite a few players around the league envious of him.
Therein lies the problem, the structure of the contract is just ridiculously unfavorable to the Yankees. Forget the money, that's a drop in the bucket to them, it's the structure of the contract and they way Soriano is now allowed to determine his role with the team for the next three years. Within minutes of the news breaking about the contract and the inclusion of these opt-outs, the general sense was that people were hoping that Soriano would pitch well in 2011 then opt out and go somewhere else. Hoping he opts out! If you have to hope a guy opts within a weekend of the deal being announced, that's a pretty definitive sign that something is wrong.
There's basically one way this deal will end up being a positive for the Yankees, if Soriano is fantastic in 2011 and he opts out to sign elsewhere. That's it. Anything else happens, it's a loss because everything is out of the team's hands. They have zero say about whether Soriano will be a part of their club in either 2012 or 2013 (unless they can magically trade a reliever making eight figures at some point), and the only way they know for certain that he'll still be around is if he gets hurt or just starts sucking like relievers can do for no apparent reason. But the other side of the coin is that if Soriano is dominant, he's going to take off and look for a bigger contract elsewhere, maybe even just a bigger one from the Yankees. The team has no leverage, the risk on their end exists in the form of two years and $23.5M while the risk to Soriano is … what? Where's the trade-off?
I'm just using Soriano as an example here, the same logic applies to CC Sabathia and his opt-out next offseason. Trust me, I'm a thousand percent aware that CC has said he won't opt out (not necessarily using those words, mind you) pretty much since the day he signed his contract, but I don't believe him. He's not stupid, CC and his agent know that next winter's free agent pitching crop is weak, so if he opts out he'll have the Yankees by the balls. They can't afford to lose him so the four years and $92M left on his contract will turn into a brand new five year, $120M contract like the Phillies gave Cliff Lee. Hell, when Sabathia hits the free agent market next winter, he'll still be a full year younger than Lee was this winter. Five years and $120M is probably just a starting point.
The thing I hate most about these opt-outs is that they're being passed off as "creative." That was the word used for the Soriano deal, just like it was for Derek Jeter. Taking on all of the risk is not creative, it's a horrible management of resources and will come back to bite the Yankees rather hard if they continue handing out contracts structured like this. It's likely to happen with Sabathia in a year, and it's likely to happen when a 39-year-old Jeter gets to decide if 40-year-old Jeter should earn no less than $8M regardless of how well he's actually playing.
Look, there's no denying that Soriano makes the 2011 Yankees considerably better. He's a world-class pitcher and the bullpen is considerably stronger with him, I'm not going to argue that aspect of this contract because there is no argument. On the field, the dude is a beast and I look forward to watching him pitch and rooting for him to succeed. But the contract, good grief the contract. The Yankees took on all the risk with a microscopically small chance that it ends up working in there favor. It reeks of desperation and the opt-outs strike me as saying "we really don't want to do this and we're hoping that we can get out from under this deal as soon as possible, please please please don't get hurt in 2011." If you're that concerned about a contract, just don't do it.
Oh well, there's nothing that can be done about it now, but giving out opt-out clauses like this just isn't a smart way to build a team. The risk is too great and the reward is far too small, there's no other way around it.