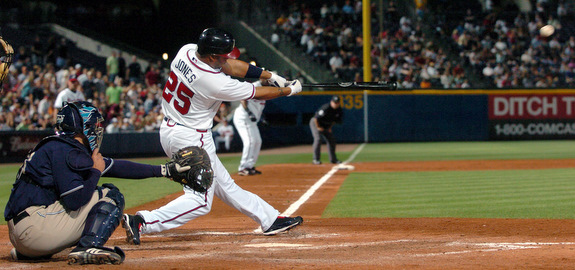 Update (12:20 p.m. ET): Yahoo's Tim Brown reports that the two sides are nearing a deal. Ken Rosenthal recently reported that the Yankees were "balking" at Jones's asking price, though.
No longer the defensive wizard he once was, Jones can handle still handle center or leftfield on occasion and will be a massive upgrade over Marcus Thames in that department. He can also crush lefties (.369 OBP, .229 ISO, .363 wOBA vs. LHP last two years) and isn't totally useless against righties (.310 OBP, .262 ISO, .340 wOBA). Jones won't hit for average, but bench players that will take walks and hit for a ton of power with passable defense are a valuable commodity.
Original Post (11:00 a.m. ET): We're less than a month away from the start of the camp, but the Yankees still have a few items on the to-do list. One of them is acquiring a fourth outfielder. We've seen them connected to Andruw Jones before, and this morning ESPN's Buster Olney reported that the Yankees "are the frontronners" for Jones. He appears to fit the Yankees' needs well, as he's a right-handed hitter who can play the outfield corners. He's probably not fit for full-time duty any more, so the Yankees could provide a good fit for him.
Mike wrote about Jones in December, and Ben then compared him to Marcus Thames. A week and a half ago we learned that the two sides had started talks. Hopefully they get it done this time around. Two years ago Jones opted to sign with the Rangers instead of the Yankees.