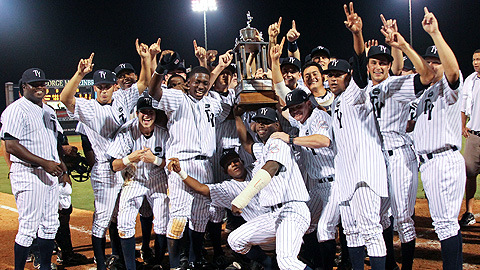 The 2010 season was a banner year for the Yankees' farm system, featuring many breakouts and steps forward and very few major injuries, regressions and the like. It really was the best case scenario, and it leaves them with a system generally regarded as one of the deeper ones in the game. They boast high-ceiling talent both on the mound and at the plate, and plenty of depth in the form of back-end starters and average everyday players or bench pieces, which come in handy on the trade market and for filling holes at the Major League level.
The Triple-A Scranton Yankees continued their reign atop the International League's North Division, winning their fifth consecutive division title. Double-A Trenton won their second straight division title and fourth in five years, but High-A Tampa outdid them both, winning their second consecutive division title and repeating as Florida State League champions. Yankee farmhands took home MVP honors at both the Double-A and High-A levels. With an overall record of 371-318, the six domestic affiliates finished with the third best combined winning percentage (.538) in the minors, trailing only the Cardinals (.569) and Cubs (.542).
As I say every year, ranking prospects is all about trying to find a balance between performance, projection, and probability. Talent and great stats are wonderful, but context is important: how old is the player, what level was he in, what's the home park like, etc. There are certainly times that the player's upside is so great that you can't ignore it, no matter how far down the ladder they are. Remember, a lot of  these guys are very interchangeable. I don't think there's much of a difference between this year's #2 and #5 prospects, or the #8 and #16 prospects. When guys are that close, it comes down to personal preference.
Here are my lists from 2007, 2008, 2009, and 2010. Happy fifth anniversary, I can't believe it's been this long already.  The listed ages are as of Opening Day, give or take a day or two. Fun starts after the jump.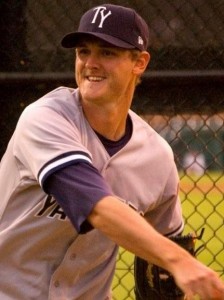 30. Craig Heyer, RHRP, 25
Every once in a while an organizational player will play their way into prospect status, which is exactly what Heyer has done over the last two seasons. In 164.1 IP with High-A Tampa, he posted a 2.59 FIP and allowed just a pair of homers while unintentionally walking just 15 batters. A classic sinker-slider guy with a low arm slot, Heyer's fastball sits in the low-90's in relief and his slider ranges from okay to excellent depending on the day. He pounds the zone and gets a ton of ground balls, solid ingredients for a middle reliever. The Yankees left him unprotected in the Rule 5 Draft this offseason and he went unclaimed, so Heyer will jump to Double-A Trenton in 2011 with a chance for a midseason promotion to Triple-A Scranton. If he performs well, he'll be on someone's 40-man roster next winter.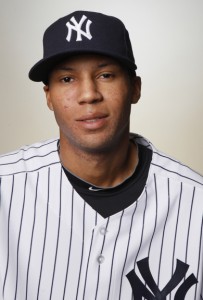 29. D.J. Mitchell, RHSP, 23
Considering how quickly he reached Triple-A (just his second full season), it's easy to forget that Mitchell is still relatively new to pitching. He didn't transition to the mound full-time until his sophomore year at Clemson, and in 2010 he put together a 4.05 FIP at Double and Triple-A. Mitchell's a pretty generic high-80's/low-90's sinker-slider guy, mixing in a good changeup and an occasional curveball. There"s an outside chance he'll add velocity by beefing up his 6-foot-2, 165 lb. frame. Left-handed batters give him trouble even with that solid changeup, and until he tightens that up he may not be anything more than a fifth starter/swingman in the Chad Gaudin mold. Mitchell will open 2011 back with Scranton, and he could see the big leagues at some point.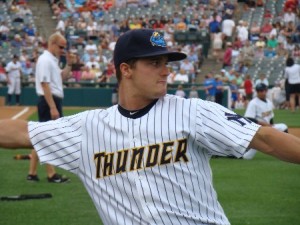 28. Dan Brewer, OF, 23
Players that can hit a little and run a little and defend a little are safe bets to carve out big league careers as at least bench players, and that describes Mr. Brewer. He recovered from an awful start in 2010 to post a respectable .345 wOBA overall, which is easily the lowest full season total of his career. Brewer proved adept at handling centerfield last season, enhancing his profile a bit, and he's always been a sound baserunner (61 SB in 80 attempts, a 76.3% success rate). Brewer keeps proving himself at every level and this year he's going to have to prove himself enough at Triple-A to earn a 40-man roster spot to avoid Rule 5 Draft exposure after the season. He could end up trade bait.
27. Eduardo Nunez, SS, 23
My stance on Nunez's future potential is well known, but he makes the list because he's a usable bench piece at the Major League level right now and teams keep asking for him in trades. A career .280 hitter in the minors, he lacks power (.080 ISO) and plate discipline (149 unintentional walks in 2,772 PA), but does offer some speed (113 SB in 152 attempts, a 74.3% success rate) and makes a ton of contact (just 350 strikeouts in all those PA). Nunez will get to plenty of balls at short and has more than enough arm strength for the position, though his accuracy leaves something to be desired. For all intents and purposes, he's an infield version of Melky Cabrera, with just enough ability to stick in the show but no stand out tools. If he doesn't win a bench job in Spring Training, Nunez will return to Triple-A Scranton and wait for the inevitable call-up.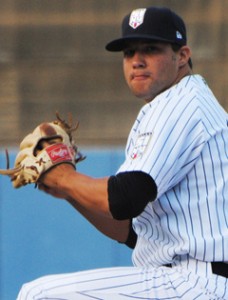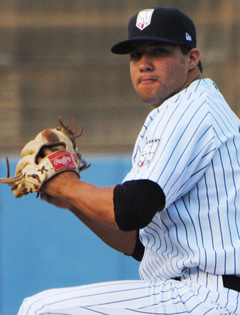 26. Tommy Kahnle, RHRP, 21
The top Division II prospect in the 2010 draft, Kahnle opened eyes with a dominant showing for Short Season Staten Island after turning pro (16 IP, 5 BB, 25 K). The name if his game is power, as he works off a fastball that sits 94-95 and will touch 96-98 out of the bullpen. Kahnle also throws a decent changeup, but the Yankees will have him focus on his slider to give him a true swing-and-miss offering. Don't be surprised if he pitches out of the rotation in the low minors just to accumulate innings, but his ultimate role is a reliever because he lacks fastball command and struggled to go through a lineup twice in college. Kahnle is primed for a rapid ascent through the system, which will begin in earnest when he joins High-A Tampa this spring.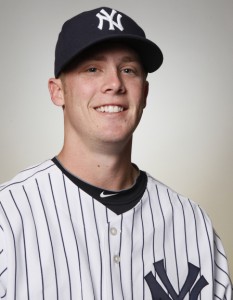 25. Ryan Pope, RHRP, 24
The Yankees have a knack for making surprising picks in the first few rounds of the draft, and Pope was certainly a surprise third rounder back in 2007 out of the Savannah College of Art and Design. After more than two iffy years as a starter, Pope was shifted to the bullpen early in the 2010 season and took off with Double-A Trenton. His strikeout rate climbed to well over one per inning, and his fastball climbed from the low-90's to 93-96 with the shift. Pope can focus on using his two best pitches out of the bullpen, and that's his heater and a sharp, hard-breaking slider that's death on righties when he locates it just off the plate. The Yankees added Pope to the 40-man roster after the season to keep him from being exposed to the Rule 5 Draft, and he should be one of, if not the first called up when an arm is needed.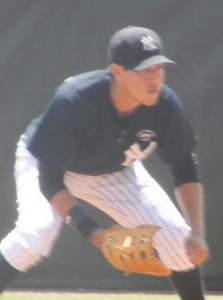 24. Ramon Flores, OF, 19
Flores was somewhat of a consolation prize after the Yankees lost out on Michael Ynoa in 2008, but less than three years later he's arguably the better prospect because Ynoa can't stay out of the trainer's room. The Yanks showed their confidence in Flores by sending him to High-A Tampa as a injury replacement last summer, where he worked hard and battled but was predictably overmatched. All told, Flores posted a .384 wOBA in 268 PA, leading the rookie level Gulf Coast League in on-base percentage (.436). He's a lefty hitter with a line drive stroke that makes easy contact with gap power, and he has a discerning eye at the plate. Although he played both corner outfield spots and first base in 2010, Flores projects best in right, where he has very good range and a cannon arm. A date with Low-A Charleston awaits him.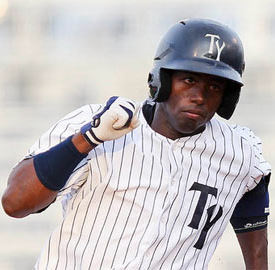 23. Melky Mesa, OF, 24
The Yankees like Mesa enough that they added him to the 40-man roster after the season to prevent him from becoming a minor league free agent. He gave them good reason though, taking home High-A Florida State League MVP honors thanks to a .378 wOBA with 19 homers and 31 steals. One of the most exciting players in the system, Mesa's raw tools are freakishly good, but his inability to make consistent contact holds him back. He improved a bit in 2010, reducing his strikeout rate by 5%, but he still has a ways to go because 28.9% whiffs in A-ball for a kid his age isn't great. It's a scary good power-speed combo with legit 20-20, maybe even 30-30 potential, and Mesa's throwing arm might be the best in the system. He can handle centerfield and has Gold Glove potential in right. The Yankees are going to hope the progression continues when he moves up to Double-A Trenton.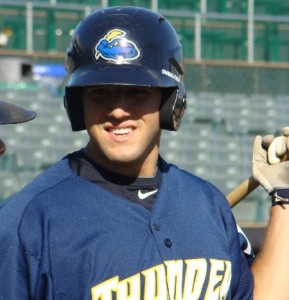 22. Rob Segedin, 3B, 22
In a draft haul full of raw and toolsy high school prospects, Segedin stands out as a polished college bat that could climb the ladder very quickly. His professional debut was brief but productive (.340 wOBA in 87 PA), and his calling card is a powerful, level swing that produces oodles of hard contact. Segedin has power but just needs to hit the ball in the air more, and he uses a patient approach to wait for his pitch. It's unclear where he'll play defensively, though he has a ton of experience at third and did work out some in the outfield recently. Either way, he's not expected to be a shutdown defender and will need his bat to carry him. Luckily for him, it's very good. Segedin will start the 2011 season with Low-A Charleston.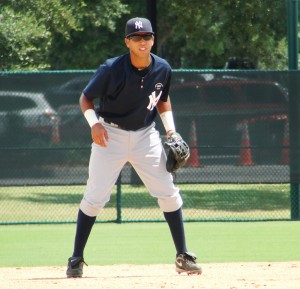 21. Cito Culver, SS, 18
No first round pick has raised as many eyebrows in recent Yankees history as Culver, who was expected to go in the third or fourth round by most independent scouting publications. He held his own (.312 wOBA) in his brief (233 PA) debut last season, showing off fine plate discipline by walking in a touch more than nine percent of his trips to the plate against the best competition he's ever faced. Culver's primary value lies in his defense. There's little doubt that he'll remain at short long-term, where he shows off quick reflexes and a powerful throwing arm. The bat is a little more of a question mark, as the switch-hitting Culver will have to work to eliminate some excess movement in his setup. His power will never be anything to write home about, but his speed allows him to take the extra base and steal a few bags. Lots of eyes will be on Cito given his draft position, but there's a chance he'll begin the 2011 season back in Extended Spring Training.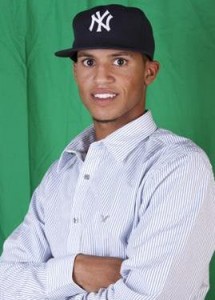 20. Mason Williams, OF, 19
The Yankees gave out just one seven-figure signing bonus to a draftee last summer, and Williams was that guy. He signed late and played in just five games, so his coming out party is set for 2011. Williams is an electrifying athlete with impressive tools, flashing top-of-the-line speed and a powerful arm. His lefty swing has a solid base and allows him to make plenty of contact, though he's going to have to wait until he puts some meat on his 6-foot-0, 150 lb. frame before the balls start clearing the fence. Williams is an asset in centerfield and is loaded with potential, but raw is the name of the game here. He'll start next season in Extended Spring Training before heading up to Short Season Staten Island.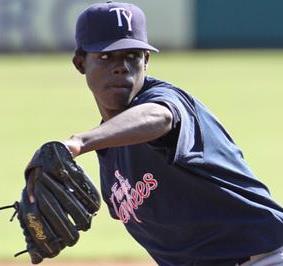 19. Jose Ramirez, RHSP, 21
With all the upper level arms the Yankees feature, it's easy to forget about Ramirez. His 3.04 FIP in 115 IP with Low-A Charleston is nothing to sneeze at, especially when you consider that he tired down the stretch and had his starts routinely cut short. Ramirez already offers two better than average offerings, a fastball in the low-90's that has flirted with 95 and a changeup that fades away from lefties. A slider serves as his third pitch, but he's still trying to get a handle on it. Long and lanky at 6-foot-1 and 155 lbs., Ramirez needs to thicken up a bit to improve his durability and help get himself through a full season. His ceiling is considerable, and the Yankees will bump him up to High-A Tampa to begin 2011.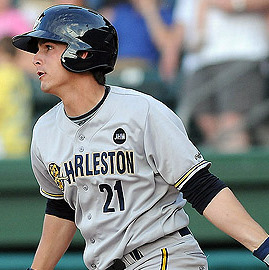 18. J.R. Murphy, C, 19
The Yankees love pure hitters and are willing to accept deficiencies in other aspects of the game as a trade-off, and Murphy fits the mold well. His .320 wOBA in just under 400 plate appearances with Low-A Charleston last year won't wow anyone, but the tools will. Murphy has the uncanny ability to center the ball on the barrel of the bat and enough plate discipline to lay off pitcher's pitches before attacking something in the zone. His power is coming along but right now he has little to the opposite field. Even though he's a fine athlete, Murphy struggled to catch advanced pitchers and spent most of his time in Instructional League at third. The hit tool is significant, and the Yankees figure to give him at least one more year behind the plate before considering a shift to third or a corner outfield spot. A return trip to Charleston could be in order.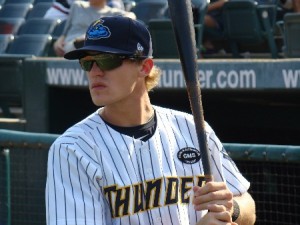 17. Corban Joseph, 2B/3B, 22
Relatively unknown when he was taken in the fourth round of the 2008 draft, Joseph climbed to Double-A by his second full pro season, posting a .359 wOBA along the way. A smooth left-handed stroke geared for hard contact is CoJo's calling card, and he makes good use of it thanks to a very advanced approach at the plate. He doesn't put much backspin on the ball, so the power's not there just yet. Joseph lacks a defined position, playing mostly second base and some third since signing. His arm is fine, but his hands and reactions leave a lot to be desired. A return to Double-A Trenton is in the cards for 2011, and chances are Joseph will see most of his action at third base.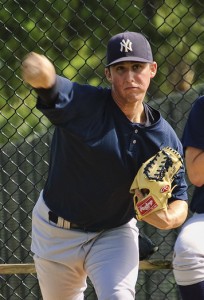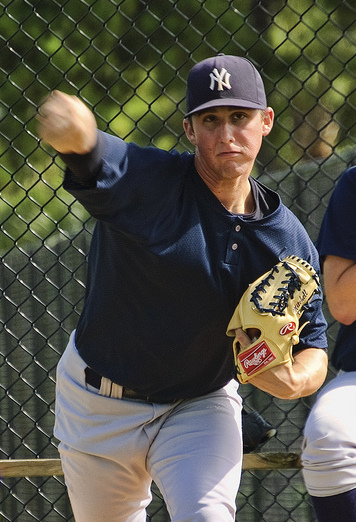 16. Bryan Mitchell, RHSP, 19
It's not hyperbole to say that Mitchell is the best high school pitcher the Yankees have drafted (and signed) since Phil Hughes. His pro debut was fine (3.90 FIP in 45.2 IP), but it's his talent that separates him from the pack. Mitchell started to fill out his 6-foot-2, 175 lb. frame and has already seen his fastball climb from 89-90 mph as an prepster to 92-94 as a pro, and he even hit a few 96's last summer. His curveball is a true 12-to-6 hammer, a devastating strikeout pitch when it's on, though he's still developing consistency with it. The changeup is in its infancy stages. Baseball America's Prospect Handbook says Mitchell battled a little homesickness after skipping out on his commitment to UNC last year, so the Yankees enlisted the help of Adam Warren, a UNC grad, who showed him around Tampa during the spring. Raw but undeniably talented, Mitchell will start 2011 in Extended Spring Training before joining Short Season Staten Island in June.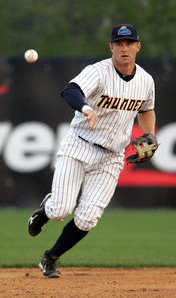 15. David Adams, 2B, 23
I don't think a player had a more eventful 2010 season while playing as few games as Adams. He was crushing Double-A pitching to a tune of a .403 wOBA before breaking a bone in his foot/ankle trying to break up a double play in June, ending his season after just 39 games and 173 plate appearances. Adams was then involved in the Cliff Lee non-trade in July, with his injury reportedly being a reason the Mariners backed out. With average or better skills on both sides of the ball, Adams is arguably the safest best to be an everyday big leaguer among position players in the system (besides the big guy at the top of the list). He stings the ball to all fields and has gap power, drawing more than enough walks to post strong on-base percentages. He's good but not great in the field, making all the routine plays but few spectacular ones. Because he played so few games with Trenton last season, he'll likely start back there this year.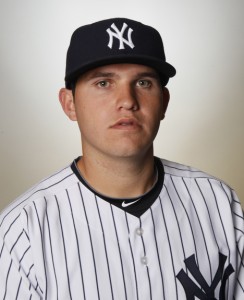 14. Brandon Laird, 1B/3B/LF, 23
The Yankees didn't have much position player depth at the upper levels at this time last year, but Laird's breakout gives them a nice versatile piece just a phone call away from the big leagues. He took home Double-A Eastern League MVP honors thanks to his .383 wOBA, which earned him a brief cameo with Triple-A Scranton late in the year (.270 wOBA in 31 games). Laird has impressive raw power and enough plate discipline to avoid chasing sliders off the plate, and he should hit for a respectable average as well. His defense at the hot corner has improved, but the Yankees had him work at both first base and in leftfield to increase his versatility. He could help the big league team off the bench in short order, but Laird could also wind up as trade bait.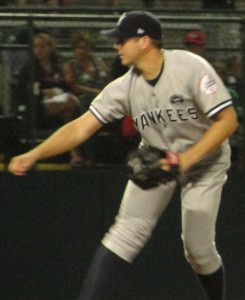 13. Graham Stoneburner, RHSP, 23
Perhaps no 2009 Yankee draftee was more dominant than Stoneburner last summer. The 14th round pick posted a 2.73 FIP in 142 IP, crushing Single-A competition thanks to a hellacious two-seamer that tops out at 94 and an improved breaking ball. His changeup has reached the point where it's a usable third pitch, delaying what once seemed like an inevitable shift to the bullpen. Stoneburner still has plenty to work on, including tightening up his mechanics and improving his command within the strike zone. He'll continue to work on that stuff when he begins the 2011 season with Double-A Trenton.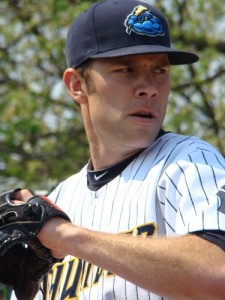 12. David Phelps, RHSP, 24
Expectations are low for 14th round picks, and yet here is Phelps, on the cusp of the big leagues after two brilliant minor league campaigns. His 158.2 IP in 2010 were the second most in the system, and they featured a 2.65 FIP split between the Double and Triple-A levels. Phelps sits in the low-90's with his heater and can reach back for more when he has to, and his over-the-top curveball can be a strikeout pitch when things go  right. A below-average changeup rounds out his repertoire, all of which he can command pretty well. Although he's not on the 40-man roster, Phelps figures to be among the first guys called up when pitching reinforcements are inevitably needed this summer. Until then, he'll head back to Scranton.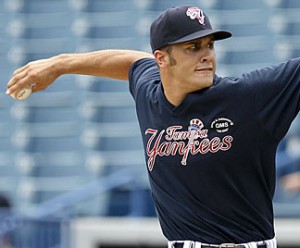 11. Brett Marshall, RHSP, 21
An underwhelming full season debut in 2009 came to an abrupt end that July when Marshall's elbow ligament snapped and he needed Tommy John surgery. Not only did he return to game action a few weeks ahead of schedule in 2010, but Marshall's stuff was explosive and overwhelmed hitters in the low minors. He pitched to a 2.91 FIP, avoiding the control issues that tend to surface after reconstructive elbow surgery. Marshall works with two fastballs, a straight four-seamer that has touched as high as 97 and a filthy two-seamer that chews up wood bats in the low-90's with heavy boring action in on righties. A hard slider is his out pitch, but it's often confused for a splitter because of the way it drops off the table. A curveball is his fourth pitch and its development is on the back burner for the time being. Marshall's delivery and command are still being refined since he's relatively new to pitching, but the raw stuff is undeniable and the ceiling is considerable. A return to High-A Tampa, where he finished the 2010 season, is in the cards for Marshall this season.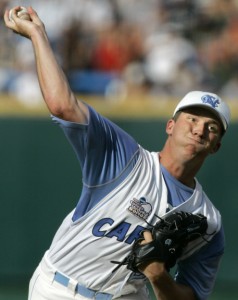 10. Adam Warren, RHSP, 23
The Yankees work the middle rounds of the draft as well as anyone, and Warren is just another example of that. Taken as a college senior with a fourth round pick in 2009, Warren has been the most consistently excellent pitcher in the system since signing two summers ago. He's already climbed to Double-A with just 192 IP to his credit, and that's because he's pitched to a 2.52 FIP. Every bit as polished as you'd expect a senior from an elite college program to be, Warren throws low-90's fastballs that go straight (four-seamer), cut in on lefties (cutter), and dive in on righties (two-seamer). His circle change is a ground ball pitch, and his over-the-top curve is a swing-and-miss pitch at its best, which admittedly is far too infrequently. As an added bonus, Warren's pick-off move is as good as any you'll see from the right-hander. His time at Double-A was limited in 2010 (just 54.1 IP), so he'll return there to start the season and will almost certainly find himself at Triple-A by mid-summer.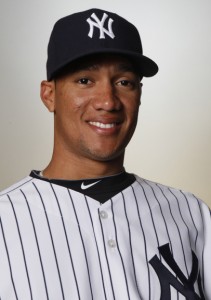 9. Hector Noesi, RHSP, 24
Injuries and a 50-game suspension for violating the Minor League Drug Prevention and Treatment Program delayed Noesi's career for a few years, but he took off once all that stuff was in the rear-view mirror. He's pitched to a 2.57 FIP in 277.1 IP over the last two years, climbing four levels (three last year alone) and making an appearance in the 2010 Futures Game. Noesi's repertoire is highlighted by a lively fastball that sits 90-93 mph and has touched 96 in the past, and a quality changeup that allows him to neutralize lefties. A pair of breaking balls and dynamite fastball command round out his game. A system-high 160.1 IP in 2010 shows that Noesi has put Tommy John surgery (in 2007) behind him, and he'll assuredly begin the 2011 campaign in the Triple-A Scranton. Since he's already on the 40-man roster, Noesi will get a long look in Spring Training and be among the first called up when reinforcements are needed.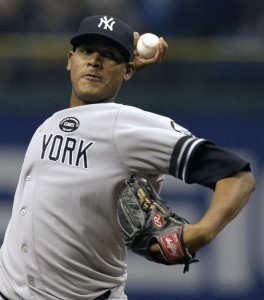 8. Ivan Nova, RHSP, 24
Nova has led a very diligent march up the minor league ladder, serving his time at each level before receiving a promotion. The Padres gave him a Spring Training look as a Rule 5 Draft pick in 2009, but he was returned to the Yankees and has pitched to a 3.74 FIP in 284.1 minor league innings since. His big league debut last season featured a 4.36 FIP in 42 innings, and he's primed for a more important role in 2011. Nova mixes three pitches, including a 92-94 mph two-seamer that topped out at 97 in his cameo with Yankees. He also throws a big breaking curveball and a changeup, both of which are solid offerings but neither of which is a put-away pitch. Big and strong at 6-foot-4, 210 lbs., Nova has thrown no fewer than 148.2 IP in each of the last three seasons, including 187 IP in 2010. He's got first dibs on a back-of-the-rotation spot early in the season.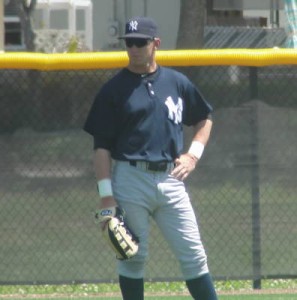 7. Slade Heathcott, CF, 20
Taken with the compensation pick the Yankees received when they failed to sign Gerrit Cole in 2008, Heathcott's first full professional season started in Extended Spring Training before a second half stint with Low-A Charleston. His .331 wOBA was almost exactly average in the South Atlantic League, but his 12.0% walk rate was the second best in the circuit among players not yet old enough to drink. Heathcott's all-out style of play is evident in his strikeout (33.9%) and stolen base success (just 60%) rates, so that's something he needs to learn to control and use to his advantage rather than be reckless. His swing produces hard contact but not much over-the-fence power just yet, something that should come as he learns to get the ball airborne on a more consistent basis. A top notch athlete with great speed, arm strength, and ball-hawking skills, Heathcott has the potential for five average or better tools. Offseason shoulder surgery will delay the start of his season, but it's not a long-term issue and he should report to High-A once ready.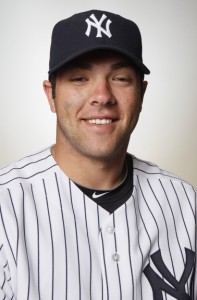 6. Austin Romine, C, 22
The son and brother of big leaguers, Romine finally got a chance to show what he could do as an everyday starting catcher over the course of a full season in 2010. He earned a trip to the Futures Game by posting a .378 wOBA during the season's first two months, though he appeared to tire down the stretch and skidded to a .287 wOBA the rest of the way. Romine is still the best all-around catching prospect in the system, with solid power and the ability to hit for a decent average combined with solid athleticism and arm strength. He's not the most disciplined hitter, and he still needs to improve his overall receiving skills and throwing accuracy, so he's far from a finished product. The Yankees could send Romine back to Double-A Trenton to begin the 2011 season and look to give him a midseason promotion. Expect to see his name in trade rumors rather frequently from here on out.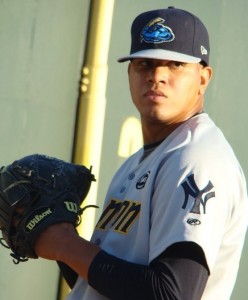 5. Dellin Betances, RHSP, 23
It's hard to believe that Betances has been in the system for more than four full years now, mostly because he's spent a whole bunch of time on the disabled list. Elbow surgery robbed him of the second half of 2009 and the first two months of 2010, but once he was on the mound Betances reminded everyone why he commanded a seven-figure bonus back in 2006. He pitched to a 2.19 FIP in 85.1 IP, the second highest total of his career, and he led all pitchers in the system (min. 75 IP) with 11.4 K/9. Betances' fastball has returned to the 93-98 mph range and his power curveball is the best strikeout pitch in the system, though his changeup is still a work in progress. He's still learning to command his heater and repeat his delivery, stuff that isn't terribly uncommon for a pitcher that stands 6-foot-8. The Yankees added Betances to the 40-man roster after the season because he was eligible for the Rule 5 Draft, and they'll turn him loose in Double-A this year with the hope that he can avoid the disabled list over a full season for the first time in his career.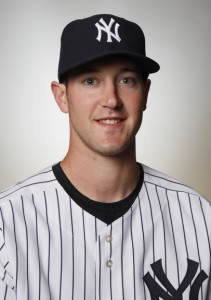 4. Andrew Brackman, RHSP, 25
No Yankee farmhand was under the microscope more than Brackman in 2010, understandable given his ugly pro debut in 2009. He responded very well, pitching to a 3.23 FIP in 140.2 IP across two levels. His control problems disappeared as he got further away from Tommy John surgery, which isn't terribly surprising. Brackman walked 37 fewer batters in 2010 than he did in 2009 despite facing 105 more hitters. His velocity fluctuated early in the season but settled into the 92-94 range late in the year, and he even flashed a few 97's and 98's at times. The spike curveball that made him so highly touted in college has regressed some, but the Yankees had him try a slider in 2010 to compensate, and the pitch has made nice strides in the half-year he's been throwing it. He also throws a decent changeup, a pitch he didn't throw regularly until signing. Brackman is still intimidating on the mound at 6-foot-10 and 230 lbs., and he's getting better at keeping his long limbs in check and repeating his delivery. The Yankees will send him to Triple-A to begin the season, and a call-up is possible really at any time given the big league club's rotation woes.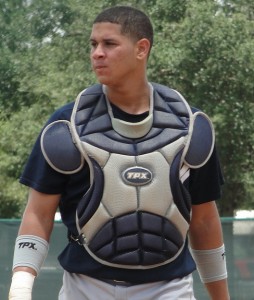 3. Gary Sanchez, C, 18
The team's latest bonus baby, Sanchez signed for $3M back in 2009 and took the rookie level Gulf Coast League by storm in his 2010 debut. He posted a .458 wOBA in 31 games with the GCL club before moving up to Short Season Staten Island, where he more than held his own against players three or four years his elder (.339 wOBA). Sanchez's raw tools rival anyone's in the system, as he offers big time power and sprays line drives to all fields. His defense behind the plate needs a lot of work but he has top-of-the-line arm strength and plenty of time to develop. At 6-foot-2 and 195 lbs., it's entirely possible that he'll outgrow the position, but that's not a concern just yet. The Yankees are going to put him on the Jesus Montero plan, meaning Sanchez will start 2011 with Low-A Charleston and spend the entire season there. Once he successfully navigates that level, then the fast track becomes a possibility.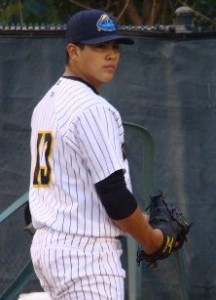 2. Manny Banuelos, LHSP, 20
The Yankees have a long history of dynamite left-handed starters, and Banuelos is the best candidate to step up and carry the torch. The start of his 2010 season was delayed because of an appendectomy but he showed no ill effects after returning, pitching to a 2.38 FIP in 64.2 innings and climbing up to Double-A as a teenager. Banuelos draws raves for his mound presence, but what's even more impressive is how he's progressed from a kid that could barely crack 90 mph with just so-so offspeed stuff when he signed to a dude that has touched the mid-90's while sitting around 93 with a knockout changeup and an improving curveball. The biggest knock against him is his size; he's listed a 5-foot-10 and is probably pushing 180-185 lbs. these days, offering little to no projection. The Yanks will send him back to Double-A to start the season, but he could find himself in Triple-A with a strong first few weeks.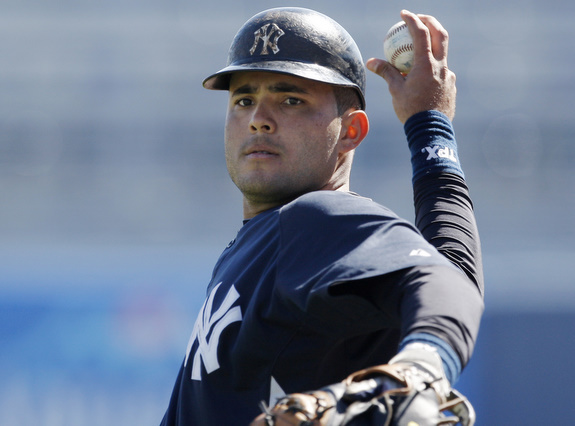 1. Jesus Montero, C, 21
It shouldn't be any surprise that Montero tops this list, he's only one of the five or so best prospects in the game. The power-hitting backstop (for the time being, anyway) started the 2010 season at Triple-A as a 20-year-old, and at first the level was a little unkind to him. Montero posted just a .312 wOBA during the season's first three months, also getting benched for failing to run out a ground ball in early-May. The Yankees had agreed to send Montero to the Mariners in July's failed Cliff Lee trade, and apparently that angered the young catcher. From that point on he hit to the tune of a .433 wOBA with nearly as many homers (15) as he had in all of 2009 (17). All told, Montero set career highs in doubles (34), homers (21), and walks (46) in 2010, all at the highest level of the minors and before he could legally buy a beer.
Hey-Zeus is arguably the best hitter in the minors, with crazy raw power that shines especially when he goes to right and right-center, a great fit for Yankee Stadium. He makes plenty of hard contact and doesn't strikeout much for a power hitter (just 18.6% strikeouts in his career), a combination that will lead to a solid average, north of .300 at his peak. Montero's bat is ready for the big leagues right now, but the Russell Martin pickup means the Yankees don't have to rush him. He'll assuredly make his big league debut at some point in 2011, it's just a question of when and at what position.
* * *
As for some former Yankees farmhands … Zach McAllister probably would have fallen right out of the top 30 after the year he had, but it's possible I would have slid him in the 25-30 range somewhere. Mark Melancon is technically still a prospect (37.2 IP in the bigs), but I have no idea what I would have done with him. Probably 16-20 somewhere, maybe a little lower. Jimmy Paredes might have made the back of list, but I don't like him nearly as much as Baseball America apparently does. If you must know, Gerrit Cole would have been a clear number two behind Montero for me, the kid's that good. That's all I have to add, quibble away in the comments.