This week we've got questions about a former Yankee reliever turned starter, plus stuff on organizational players, the 2011 AL Wild Card, and what everyone really wants to know: when do all the aces hit free agency? Remember to use the Submit A Tip box in the sidebar to send in your questions.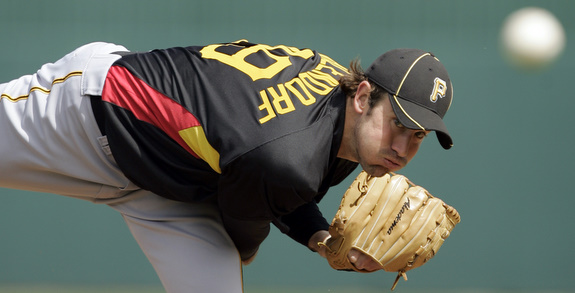 Joe asks: Looking over Ohlendorf's career numbers and numbers last year, does he pass the Mitre test? (if the Yankees still had him of course)
You know, I was a real big Ross Ohlendorf fan back in the day, when he was throwing that 97 mph two-seamer and sharp slider in relief … though he was never able to miss a bat. That's held true since the trade. He's struck out just 5.9 batters per nine innings with the Buccos, and his ground ball rate (38.5%) isn't nearly good enough to compensate. Ohlendorf also gives up quite a few homers (1.2 HR/9), and left-handers just crush him (.371 wOBA).
Ohlie used that Princeton education to beat the Pirates in arbitration this month, earning himself a $2.025MM salary in 2010. He's essentially Mitre without all the ground balls and at more than twice the cost, so no, he doesn't pass the test.
Brad asks: You did a nice article the importance of organization players, but it would be interesting to see if you have any recent examples (e.g, within the last 5 years) of players labeled as organizational players that emerged to be something more in the majors.  Do you have any thoughts?
I don't know of too many examples, but the best is Ian Kinsler. He spent his freshman season at a JuCo, transferred to Arizona State and hit .230/.246/.262 in 66 plate appearances as a bench player, then transferred to Mizzou for his junior year and hit .335/.416/.536 against weak competition. Baseball America ranked him the 17th best prospect in Missouri for the 2003 Draft, hardly a state known for baseball. The Rangers took him in the 17th round, and it wasn't until a monster half season in Single-A (.402/.465/.692 in 225 PA) that Kinsler put himself on the map. Considered a defense-first shortstop out of college, the rest is pretty much history.
A bunch of relievers qualify would here, those guys tend to come out of nowhere. Former Yankee Phil Coke and former Yankees farmhand John Axford certainly fit the bill. I know Freddy Sanchez was dangerously close to flaming out at some point before the Red Sox traded him to the Pirates. That's really all I got, this would be pretty tough to research.
Erik asks: Is there any chance the wild card comes from this division in 2011?  The Sox are obviously stacked, Yanks can hold their own as long as starters can get thru 5-6 innings.  Both Baltimore (check out that lineup) and the Jays have improved a bunch.  You can't count out TB either, though I think they're the team that will suffer most this year. All that said, each of these teams play each other 17-20 times.  The beating they could all give to each other will surely hurt the overall standings, when there's divisions like the West who have much lighter schedules.  I think you're gonna have to win the East to make the playoffs – do you agree?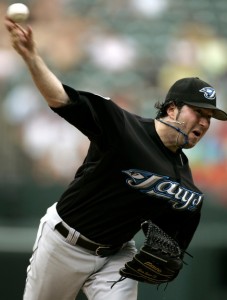 I wouldn't get too worried about the O's. Yes their lineup is improved, but Mark Reynolds, Adam Jones, J.J. Hardy, and Matt Wieters all have on-base percentages at or below .330 over the last three years. That's nearly half the lineup right there. Vlad Guerrero has one foot in the glue factory, Brian Roberts and Derrek Lee slightly less so. In fact, the only regular in their lineup that is undeniably a better hitter than their Yankee counterpart is Luke Scott in leftfield. Plus Baltimore's pitching is awful. Nice team, definitely improved, but they'll flirt with 90 losses unless some of their young arms really step up.
I also don't think the Jays have improved much. They traded their best starter and second best hitter, and lost their two best relievers and replaced them with a bunch of inferior ones. Going in the right direction, yes, but they're not there yet. The Rays will certainly be tough, and of course the Red Sox will as well, but look at the other divisions. Oakland is improved but hardly a powerhouse, and the Rangers' pitching thins out real quick after C.J. Wilson and Colby Lewis. The Twins lost a bunch of bullpen depth but are still a damn good team. The White Sox are probably the favorite to win the division after adding some offense in Adam Dunn, and the Tigers added offense (Victor Martinez) but their pitching to awfully thin once you get past the front three starters and top two relievers.
Ninety wins would have won the AL Wild Card last year, after 88 in 2009 and 90 in 2008. Let's say the Yankees split their 72 games against the four other AL East teams and go 36-36 (18 games against each), that means they'd have to play .622 ball during the non-AL East portion of their schedule to get to 92 wins, which should be enough to secure a playoff berth. They played .633 against non-AL East teams last year and .528 within the division, so we're not expecting miracles.  Will it be tougher to get in the postseason this year because teams in other divisions improved? Sure, but all those clubs are flawed as well. You can argue that the Yankees have the best bullpen and best lineup in the AL, which is more than enough to keep them in the hunt until they get some real starting pitching help. Winning the division is great, but I'm of the "just get in" mentality.
Dave asks: For curiosity's sake, can you put together a list of when various aces are expected to reach free agency, and their age at that time? It would be interesting to see in one place when Felix, Lincecum, and Johnson will become available. Thanks.
After the jump is a list of the top 20 pitchers in terms of FIP over the last two years, and when they hit free agency…
Tim Lincecum (2.73 FIP): FA after 2013, turns 30 in June 2014
Josh Johnson (2.76): FA after 2013, turns 30 in Jan. 2014
Zack Greinke (2.83): FA after 2012, turns 29 in Oct. 2012
Cliff Lee (2.86): FA after 2015 or 2016 (option), turns 38 in August 2016
Justin Verlander (2.88): FA after 2015, turns 33 in Feb. 2016
Adam Wainwright (2.99): FA after 2011, 2012, or 2013 (options), turns 31 in August 2012
Roy Halladay (3.03): FA after 2013 or 2014 (option), turns 37 in May 2014
Felix Hernandez (3.07): FA after 2014, turns 29 in April 2015
Clayton Kershaw (3.10): FA after 2014, turns 27 in March 2015
Jon Lester (3.14): FA after 2013 or 2014 (option), turns 30 in Jan. 2014
Ubaldo Jimenez (3.23): FA after 2012, 2013, or 2014 (options), turns 29 in Jan. 2013
Chris Carpenter (3.28): FA after 2011 or 2012 (option), turns 37 in April 2012
Tommy Hanson (3.38): FA after 2015, turns 30 in August 2016
Hiroki Kuroda (3.38): FA after 2011, turns 37 in Feb. 2012
Chad Billingsley (3.45): FA after 2012, turns 29 in July 2013
Dan Haren (3.47): FA after 2012 or 2013 (option), turns 32 in Sept. 2012
Yovani Gallardo (3.50): FA after 2014 or 2015 (option), turns 29 in Feb. 2015
Roy Oswalt (3.50): FA after 2011 or 2012 (option), turns 35 in August 2012
Joel Pineiro (3.51): FA after 2011, turns 33 in Sept. 2011
Wandy Rodriguez (3.52): FA after 2013 or 2014 (option), turns 35 in Jan. 2014
I intentionally left CC Sabathia out since he's currently a Yankee, but his 3.47 FIP is tied with Haren for 16th place. Quick observation: Just five of those guys are on American League teams. Meaningful, or coincidence?