As we count down the days and weeks leading up to the season, we're going to preview the 2011 Yankees by looking at each of their core players and many, many more. A new preview will be going up every day, Monday through Friday, from now until Opening Day.
The Yankees have been waiting for Robbie Cano to step up and become a cornerstone player rather than the really, really good complementary piece he was earlier in his career for a few seasons now. Cano took that step forward last year. He was a legitimate MVP candidate, finishing third in the voting thanks to a .389 wOBA and 6.4 fWAR, the sixth highest among AL position players. Just one Yankee position player was within two wins of his production. By all methods of evaluation, he was the team's best player in 2010.
And now comes the hard part. The Yankees are expecting their still 28-year-old second baseman to maintain that production in 2011, counting on him to be that cornerstone player as the roster turns over. His offense is no longer an added bonus at the bottom third of the lineup, it's being counted on in the middle of the order. With no fewer than 159 games played in each of the last four seasons, he's the only player on the infield to not experience some kind of injury or age-related setback recently, and that durability is part of what makes Robbie so important to the team. Everyone knows he'll be there day-in and day-out.
What does 2011 have in store for the young superstar? Let's take a look…
Best Case
In the prime of his career, last season was just a jumping off point for Cano. His power stroke is propped up by what is now a five-year trend of increasing fly ball rates, steadily climbing from 28.2% in 2006 to 36.5% last year. Cano's line drive rate has stabilized at a little over 19% in the last three years while his ground ball rate continues to fall. Lots of fly balls and line drives is a recipe for extra base hits, and with a little help from Yankee Stadium, Robbie eclipses the 30 homerun plateau for the first time in his career, chipping in his usual 40+ doubles.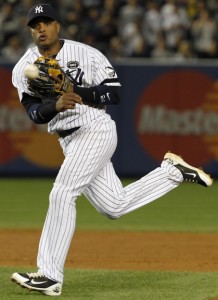 Chicks did increases in power output, but Cano's bread-and-butter is still his uncanny ability to hit for average. A .320 and .319 hitter in the last two seasons, respectively, Robbie again matches that mark and picks up 200 hits for the third straight season. The improved batting eye he showed off in 2010 continues to get better, and his 8.2% walk rate (6.3% removing intentionals) climbs into double digits, pushing his on-base percentage north of .400 for the first time in his career.
On the other side of the ball, the advanced defensive metrics finally recognize what we've all known for the last few years: Cano is a Gold Glove caliber defender at second. His range to his right somewhat compensates for Derek Jeter's perpetually declining range to his left, saving the pitching staff a couple extra runs during the course of the season. Put it all together and you've got the game's best offensive second baseman and one of its best defensive second baseman, resulting in a pace that threatens, if not flat out exceeds 7.0 fWAR.
Worst Case
Aside from the obvious (injury, etc.), the worst thing that could happen to Cano is that the league finally figures out a way to get him out consistently. So far that hasn't happened; Cano's always been a guy that's fallen into slumps because of his bad habits, not because pitchers have exploited a weakness. He can be prone to swinging at pitches out of the strike zone, probably his biggest drawback, but so far he's mitigated the damage with his exceptional contact skills (just 6.2% swings and misses in his career, 5.7% since 2008).
As a guy that makes so much contact, Cano's offensive production will always be closely tied to his BABIP. It's been in the .320's in three of the last four years, and the one year it wasn't was 2008. That's the year he hit .271/.305/.410 with a .307 wOBA (.283 BABIP), resulting in a total worth of just 0.7 fWAR. The unpredictability of the BABIP beast will be Robbie's enemy just as much as the opposing pitcher, perhaps moreso. Randomness can be a bitch.
With 30 homers now within react, Cano could start selling out for power to the pull side. He might hit a few more dingers, but his average and on-base percentage will take hits, possibly considerable ones. Barring a complete breakdown either physically or mechanically, the worst case scenario for Cano has him returning to those 2008 levels of production, which would be almost a six win drop-off for the Yankees.
What's Likely To Happen
In all likelihood, 2010 was a career year for Robbie, and that's okay. That doesn't mean he's going to tail off and turn into a glorified version of Juan Uribe this season, but the performance might be merely very good instead of MVP caliber. Cano set career highs in homers (29), walks (57), unintentional walks (43), on-base percentage (.381), slugging percentage (.534), and isolated power (.214) last season, so it'll be tough for him to top that performance. It's possible, but unlikely.
If you remove that ugly 2008 season, Cano's last four years have been surprisingly consistent. He's hit over .300 in each season with at least a .320 BABIP and a .180 ISO, and his strikeout rate has hovered between 10.9% and 13.8%. Robbie's swung at between 51.6% and 54.1% of the pitches he's seen during the time, and his line drive rates have been between 19.3% and 19.9% (2007 is the exception on the LD%, not 2008). His ratio of homeruns-to-fly balls has been between 11.5% and 14.4% as well. The three percentage point difference in those last few stats is relatively small and just part of the randomness of baseball. Overall, Robbie's one consistently productive player.
If I had to lay out some odds, I'd say there's a 50% chance that Cano repeats his 2009 performance this season, a 35% chance he repeats his 2010 performance, a 14% chance he exceeds his 2010 performance, and a 1% chance that he falls off a cliff. Robbie's floor is very high in 2011, a .370 wOBA and 4.0 fWAR seem to be the bare minimums here.