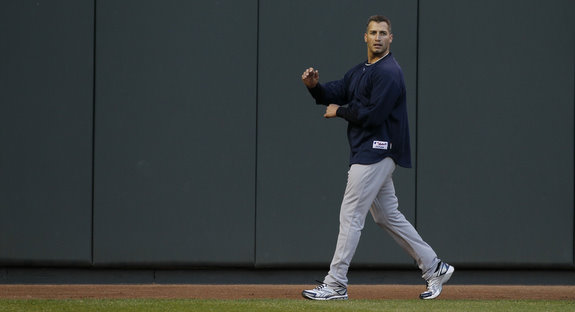 It's Andy Pettitte day, so let's round up some links…
The official statement
Chad Jennings posted the team's official press release about Andy's retirement. "According to the Elias Sports Bureau," says the release, "Pettitte, a three-time All-Star (1996, 2001, '10) and 2001 ALCS MVP, holds the distinction of being the only pitcher in Major League history to post a record of .500 or better while making at least 15 starts in each of the first 16 seasons of his career."
The press conference is tomorrow morning at 10:30am ET and can be seen on YES, mlb.com, and yankees.com. We'll liveblog it one way or another.
Andy's place in recent history
I don't think any of us really considers Pettitte to be one of the greatest pitchers in baseball history, but he's certainly one of the best in recent history. Joe tackled that very topic at FanGraphs, finding that just a dozen pitchers can lay claim to a better career than Andy over the last 30 years. When it comes to recent Yankee history, no starting pitcher is even in the same ballpark.
The Hall of Fame?
Over at his new digs, Rob Neyer broke down Andy's case for the Hall of Fame, which is borderline at best. I don't think he should get in, but Rob states his case and shows that if nothing else, Pettitte will probably stick around on the ballot for a number of years. Maybe the Veteran's Committee voted him in eventually, but sheesh, that's two decades away.