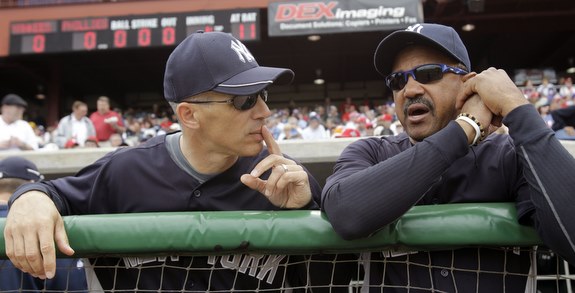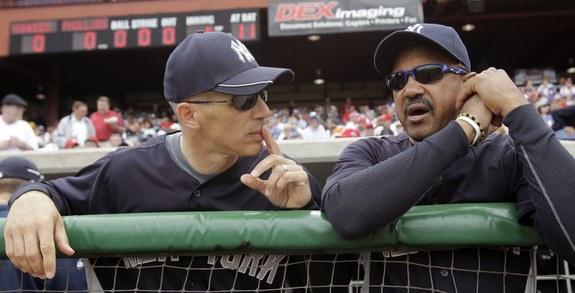 Two years ago, it all clicked. The rebuilt starting rotation was one of the league's most effective units, the offense was devastating, and the bullpen corps was deep and effective. Joe Girardi didn't have to do much managing and his coaching staff didn't have to do much coaching, they just rode their talent to the World Championship. It's easy to look good when you have that team playing for you.
Last year was a little different. The rotation, stronger on paper than it was going into the 2009 season, fell apart at the seams down the stretch. The offense still led the world in on-base percentage and (not coincidentally) runs scored, but several notable players had down years. That the Yankees still won 95 games and were two wins away from the World Series is pretty remarkable. After the season, the Yankees rewarded both Girardi and hitting coach Kevin Long with new three-year contracts. Pitching coaching Dave Eiland was replaced with Larry Rothschild, but the rest of the staff came back intact.
Ben put best when he previewed Girardi last year, so allow me to excerpt…
In that sense, Girardi is a fairly average manager. He changes pitchers as we would expect; he bunts a little less than we might expect him to; he doesn't need pinch hitters and doesn't use them often at all. Yet, he has gotten a handle on the media, and he knows what it takes — a trope really — to win in New York. He has made nice with the sportswriters who cover the team after a rough first year, and he has commanded the respect of his players, including the four with whom he was teammates not too long ago.

On the flip side, though, Joe Girardi doesn't need to do much to manage the Yankees. He has the pieces to make up a great team, and it doesn't take an expert strategist to know that A-Rod should bat clean-up, that Derek Jeter should leadoff, that CC Sabathia should be the ace, that Mariano Rivera will close games. It's the Joe Torre argument all over again: All Girardi has to do is make sure everyone gets along well and no pitcher is overworked.
All of that applies again in 2011, though perhaps the decision to bat Jeter leadoff isn't as obvious as it was twelve months ago. Penciling Andruw Jones' name into the lineup against left-handers and properly deploying not one, but two lefty relief specialists is the extent of the strategic managing Girardi has to do. Given all of the information we don't know (who's banged up, etc.), quibbling with those decisions is a fruitless endeavor. Girardi is no longer a lame duck manager and in reality he never really was. He was hand-picked for the job by Brian Cashman and Hal Steinbrenner three years ago, and his job is secure as ever. All he has to do is not screw it up, and the last three seasons suggest he won't.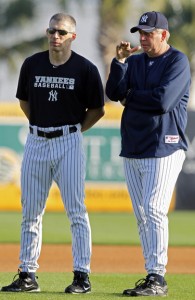 Long has drawn rave reviews for his work with pretty much every hitter in the lineup, most notably Nick Swisher and Curtis Granderson, though Jeter is his latest project. They haven't revamped his swing, just shortened his stride, and the early returns in Spring Training are promising. Eiland spent a month away from the team last summer for undisclosed personal reasons, an issue that may or may not have led to his departure. "He knows why [he wasn't brought back]," said Cashman. "He was given conditions that needed to be followed. So he knows why."
Rothschild, the bullpen coach for the 1990 World Champion Reds and pitching coach for the 1997 World Champion Marlins, came over from the Cubs after spending seven years on Chicago's north side. During his tenure, the Cubbies had the third best overall pitching staff (4.18 FIP) in the National League, and their starting rotation (4.15 FIP) was the the best in the league and third in all of baseball, behind the Red Sox (4.11) and Yankees (4.12). He has a reputation as a guy that helps his pitchers maximize strikeouts and reduce walks, two very welcome traits for a pitching staff that was just middle-of-the-pack with a 2.14 K/BB ratio last year.
His biggest project in 2011 will be getting A.J. Burnett back on track following a dreadful season. The two met at Burnett's home over the winter, and so far Rothschild has him working on being more compact in his delivery and direct to the plate, modifications that have been on display in camp. Beyond A.J., he'll have to coax quality innings out of Bartolo Colon and/or Freddy Garcia until a more suitable pitcher(s) is acquired. That may take a minor miracle, but Colon has thrown the snot out of the ball in camp so far.
By all accounts, the Yankees' clubhouse is an upbeat and welcoming environment, something that wasn't necessarily true a few years ago. Sabathia and Nick Swisher helped change that, certainly, but the it all starts at the top with Girardi and his coaching staff. It's always tough to evaluate those guys because so much of their work happens behind the scenes, but given the team's success over the last two years, it's tough to think they're not up to the challenge of another run at the World Series.