While most of the attention has been paid to Francisco Liriano, it turns out another Twins starter might be on the trading block. In yesterday's (Insider only) column, Buster Olney says that the Twinkies are "very much willing to talk" about dealing right-hander Kevin Slowey. Minnesota has excess starting pitching (if such a thing exists) and the Yankees are in need of some, so it's a match made in baseball rumor heaven. Let's explore…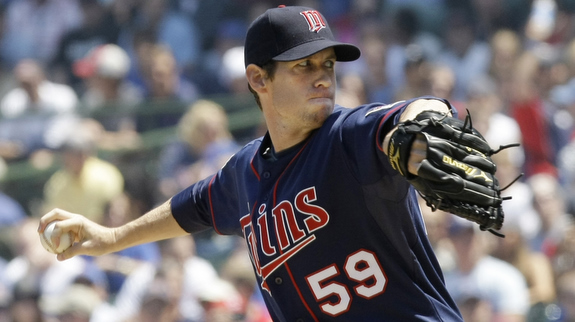 Slowey, 27 in May, is the epitome of a homegrown Twins pitcher. In parts of four big league seasons since being drafted in the second round of the 2005 draft, he's unintentionally walked just 77 batters in 473.1 IP, good for a 1.46 uIBB/9. Add in all two of the intentional walks he's issued, and it's still a 1.50 BB/9. Among pitchers with at least 400 IP since 2007, only Roy Halladay (1.42 BB/9) is a better control artist. That's what Minnesota preaches, pound the zone and limit walks.
If a pitcher is around the zone that much, he's bound to give up a fair amount of hits, and Slowey is no different. Opponents have hit .276 with a .307 BABIP against him in his career, and his strikeout rate is pretty unspectacular at 6.86 K/9. Slowey's swing-and-miss rate is consistently below average and declining, from 8.7% in 2008 to 7.7% in 2009 to 6.2% in 2010. He doesn't make up for the lack of strikeouts with ground balls either, in fact it's quite the opposite. Slowey's career ground ball rate is just 31.6%, the lowest of any pitcher in the game since he debuted. Worst of all, his ability to get grounders is trending in the wrong direction…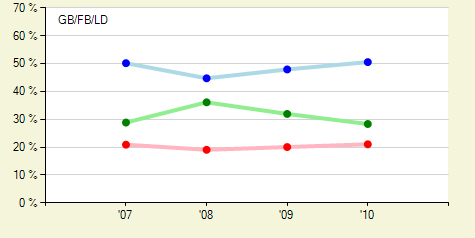 That's a bit of a problem. A mediocre strikeout rate and basically no ground balls is a recipe for disaster in Yankee Stadium, though at least Slowey mitigates the damage somewhat by limiting walks. Left-handed batters have also given him trouble (.354 wOBA against), though he doesn't exactly shut down righties either (.330 wOBA against). On the contract front, Slowey was arbitration-eligible for the first time heading in the 2011 season, during which he'll earn $2.7M. Slowey is also be under team control in 2012 and 2013, a nice little perk.
While he may not have the sexy peripheral stats that Liriano does, Slowey does offer the same questionable health track record. He's been on the disabled list in each of the last three years, each time with an arm issue. Last year it was a triceps strain (15 days missed), the year before it was surgery to remove bone chips from his wrist (101 days missed), and the year before that it was a biceps strain (34 days missed). Slowey's also missed a total of 38 days with a sore elbow, an ankle contusion, a tight oblique, a wrist contusion, and an infected hangnail over the last three years, though none required a DL stint. Clearly, the guy is a risky proposition.
As much as I love the low walk rate, it's basically Slowey's only redeeming quality. I loathe the whole "pitch to contact" approach, especially when we're talking about an extreme fly ball pitcher. If the guy is a ground ball machine like say, Sergio Mitre, then I can deal. But fly balls? No way, that's asking for trouble. Add in the injury history, and there's enough red flags here for me to say the Yankees should steer clear of Slowey. I'd rather see them roll the Bartolo Colon and Freddy Garcia dice than give away a prospect(s) for the Twins' right-hander.