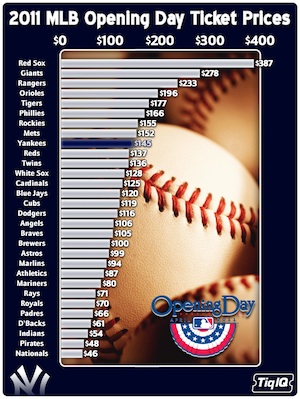 As Opening Day dawns, I'd like to take a moment of your time to talk about RAB Tickets, our secondary ticket market partnership with start-up TiqIQ. Every year, hundreds of thousands of fans find their ways to sports events via the secondary market. For non-season ticket holders, it's too hard to get seats on a single-game basis, and day-of sales are nearly nonexistent these days. Thus, sites such as StubHub, eBay and TicketsNow have become a popular destination for ticket purchases.
Last year, we entered into a partnership with TiqIQ. The company has developed a platform that aggregates ticket listings across all major secondary markets and presents the options in an easy-to-use display that shows seat location and ticket prices. Every time someone purchases a ticket using our co-branded site at RABTickets.com, we earn a small commission. TiqIQ can hook you up with tickets while you support your favorite Yankees site. (You can also find Rangers and Knicks tickets on the new landing page. We're hoping to expand that to all NYC-area sports team.)
Over the course of the season, we'll use some space on site to promote our partnership. TiqIQ supplies us with pricing graphics — such as the one at right — that shows how Yankee ticket prices are trending. Secondary ticket prices for Opening Day, for instance, have declined precipitously over the past few days as the weather forecast has worsened. If you're buying tickets this week or next month, keep us mind. You can also find RAB Tickets right here on Facebook. Give the page a "like," and be ready for contests and special announcements throughout the season.
For Opening Day, navigate to this page where as of this writing there are 3687 tickets for sale. The cheapest are some obstructed-view bleacher seats for $18 each, but there are plenty of decent seats left for under $30 a pop. And there you have it.