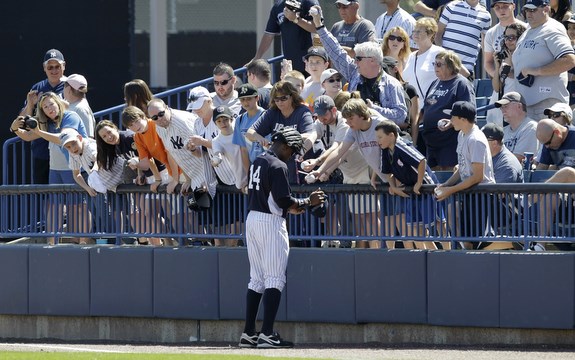 For the first time all spring, Joe Girardi is trotting the A-lineup out there, starting all of the regulars in what is their expected Opening Day batting order spot. Of course those guys won't play the full game, but Girardi did say that he was going to start tinkering with some lineup arrangements after yesterday's off-day. Perhaps tomorrow we'll get a look at Brett Gardner leading off with Derek Jeter batting second. He won't bat eighth or ninth, so don't get your hopes up.
On the mound will be Ivan Nova, who's scheduled for 75 or so pitches. and could conceivably get five innings of work in. Here's the starting nine…
Derek Jeter, SS
Nick Swisher, RF
Mark Teixeira, 1B
Alex Rodriguez, 3B
Robbie Cano, 2B
Jorge Posada, DH
Curtis Granderson, CF
Russell Martin, C
Brett Gardner, LF
Available Pitchers: Ivan Nova, Mariano Rivera, Rafael Soriano, Mark Prior, and David Robertson. Ryan Pope, Eric Wordekemper, Steve Garrison, and Romulo Sanchez are also in the house in case of emergency.
Available Position Players: Jesus Montero (C), Eric Chavez (1B), Doug Bernier (2B), Ramiro Pena (SS), Ronnie Belliard (3B), Eduardo Nunez (LF), Justin Maxwell (CF), Jordan Parraz (RF), and Andruw Jones (DH).
In other news, Sergio Mitre threw 26 pitches in the bullpen and felt "perfect." He'd been battling some kind of oblique issue, but it appears all is (on its way to being) well. The game starts at 7:05pm ET and is being broadcast on YES. Smile, the regular season starts two weeks from tomorrow.