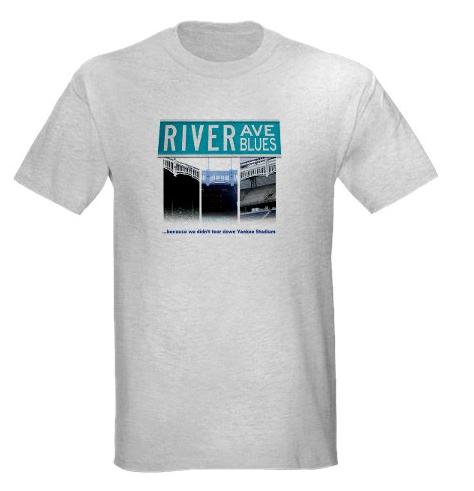 Can you believe it's been three-and-a-half years since the Save The Big Three shirts? Good times, though I don't even wear mine anymore. The vendor was used wasn't great and those things shrunk like you wouldn't believe. It was the thought that counted anyway.
Today I'm happy to (finally) announce that we're getting back into the merchandise game, though it's not just t-shirts anymore. Now you can get hoodies, coffee mugs, bumper stickers, all sorts of stuff at the River Ave. Blues Shop. And if you do just want a t-shirt, you can now customize the colors and what not, which is always cool. The prices are reasonable and in the interest of full disclosure, yes we do get a cut of the sales, though not all of it. I wish.
We have the one design above with the street sign logo and what not, plu this numbers design courtesy of Tyler Wilkinson. He also designed our podcast logo, and will be providing us with more in the future. We just launched the shop today, so the selection is limited for the time being.
Update: If you're having trouble with your shopping cart (as in, it's empty even though it shouldn't be), just clear the cache and cookies within your browser and you'll be good to go.