Back and forth, and back and forth. The Yanks and Tigers exchanged shots on Sunday, but the Tigers landed more of them. The teams combined for 26 hits, 11 of them for extra bases, and five of them for home runs. That made for an eventful game, but it seemed that the Yankees could never fully recover from the Tigers' strikes. It was a valiant performance on offense, but it wasn't enough to overcome the Tigers' onslaught of extra base hits. The Yankees found themselves losers for the first time in 2011, 10-7 in the series finale.
Let's talk about Hughes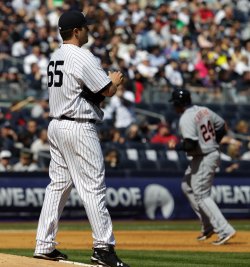 There was no mitigating factor to Phil Hughes's start. Plenty went wrong, as his pitching line — 4 IP, 5 H, 5 R, 5 ER, 2 BB, 1 K, 2 HR — indicates. Sometimes we can find a few aspects of the game that make a line like that look a bit better. Maybe one of the homers just barely landed over the wall. Maybe a few bloops dropped in. Maybe it was just one pitch that was giving him trouble. But for Hughes there were no positives to take.
We had heard late in spring training that scouts were shocked at Hughes's lack of velocity. That seemed like an odd concern, since we hadn't heard anything about it previously. Yesterday he showed that the reports were real. Last year he averaged 92.5 mph with the fastball. Even in his first start it was at 92. Yesterday he maxed out at 91.1 mph, and averaged 89.25 mph. There's clearly time for him to amp up the velocity, but for now it remains a concern going forward.
A diminished fastball is a problem for Hughes, because it was one of two pitches on which he generated swings and misses in 2010. He had a 9.3 percent whiff rate on the four-seamer last year, but generated no swings and misses yesterday. In fact, of his 90 pitches, he got a swing and miss on just two — both cutters. The cutter was really the only pitch he had working. That's the only thing resembling a positive we can take from this.
Yet the most frustrating, and probably most concerning, aspect of the game was Hughes's inability to do anything once he got two strikes on a hitter. This is a problem that played a large role in his 2010 season, and it reared its head in a major way yesterday. Of the 19 batters Hughes faced, 12 faced two-strike counts. It took him 34 pitches to get to a two-strike count on those 12 hitters. Once he got a two-strike count, he threw 36 pitches. Ten of the hitters he faced saw five or more pitches in a plate appearance.
This isn't to say that Hughes needs to strike out all these guys. Far from it. It might be that he needs to stop trying to strike them out. We know that Hughes can throw strikes. Thirteen of nineteen batters saw first-pitch strikes, and only two saw a 2-0 count. But once he gets two strikes he seems to go into a different mode, where he nibbles and nibbles, and it leads to a deluge of fouls and taken pitches. This wouldn't have been as frustrating if we hadn't seen it all last season. It is probably Hughes's No. 1 area of concern in terms of having a successful career.
My hypothesis is that Hughes needs to start working backwards. Last year he didn't get many swings and misses with the curveball or the changeup. Perhaps if he starts throwing those pitches earlier in counts he can generate some more poor contact and retire hitters with fewer pitches. That would also set up his two swing-and-miss pitches better. That's not to say he always has to work this way, but it might be worth changing things up and holding his putaway pitches for putaway situations, rather than setting guys up with them and then having nothing different to show them.
Gardner adjusting to a new role
The Yanks have put plenty of runs on the board in the early going — 23 in three games — so there's not much to complain about on offense. Yet after this game it's tough to avoid noting Brett Gardner's rough start. We're dealing with just a handful of plate appearances, so drawing conclusions is foolish. But he hasn't exactly looked good at the plate.
Yesterday's first at-bat was a portend for the rest of the game. Max Scherzer dealt him three pitches, all strikes. Gardner didn't remove the bat from his shoulder. In his second at-bat he grounded out weakly on the second pitch. In the fourth he struck out swinging, and it didn't really look like he knew what he wanted to do with the pitch. The same goes for his last-at bat. In total he saw 17 pitches in 5 PA, which is hardly what we saw from him last year.
It does appear that he's working on something with Kevin Long, because he's swinging — harder, I guess is the easiest way to describe it. On outside pitches last year he basically stuck out his bat and hoped to slap it past or over an infielder. Yesterday it looked like he was trying to drive more pitches. It might be good for the long run, but in the short run he looks kind of lost. No, it's not time to pull the plug on the leadoff experiment, but he's certainly looked worse than any of his teammates at the plate.
The Swisher of old, the Swisher of new
Last year we saw a bit different look from Nick Swisher. In 2009 we saw the guy who had established himself in Oakland as a low-average, high-OBP, good power guy. Last year things changed a bit. He got more aggressive earlier in counts. It led to a slightly lower OBP, but a much higher batting average. Those added hits where he previously walked led to a higher total output (as measured by wOBA). Yesterday we saw a mix of the two.
Swisher came to the plate five times and failed to make an out. That includes two walks, two singles, and a double. That included a first-pitch single, a second-pitch single, a six-pitch walk, a six-pitch double, and a five-pitch walk. He did everything he could to help the Yankees win, scoring two runs and driving in another. Unfortunately, he was left stranded in three of the five times he reached.
Leftovers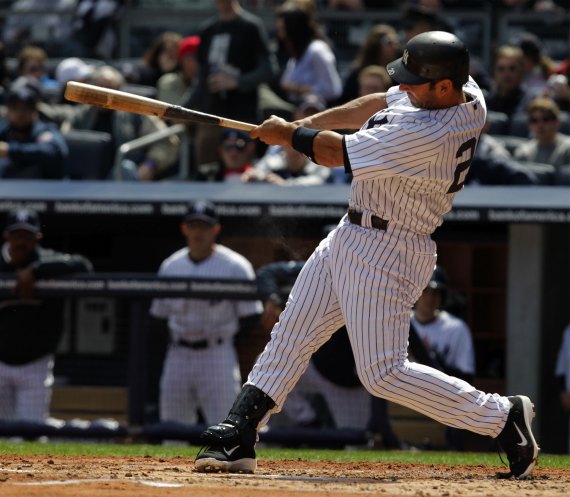 Colon seemed to go hot and cold with each new batter. Sometimes, as with Brennan Boesch, he put the ball on a tee. Other times he gassed guys with some 94 mph heat, leading to five strikeouts. If he stays healthy I think he can be a solid contributor. Let's just chalk this one up to the haven't-pitched-in-a-while jitters.
Can't do a recap and not note Posada's two-homer, four RBI day. When the Yanks were down he tried to bring them back. I am kinda ticked, though, that he swung 3-1 in the 9th, when it was clear that Valverde had no control.
How 'bout that Russ Martin? His contributions yesterday went largely unrewarded, in that his three hits, including a double, didn't drive in a run, nor did they lead to him scoring. But he's looked like the Martin of old on opening weekend.
RISP fail alert: Yanks were just 1 for 8 in those situations yesterday. And yet they still scored seven runs.
Stats and such
Here's the box score and the nerd score
Up Next
Ivan Nova makes his 2010 debut against Scott Baker and the Twins tomorrow night. Hey, first 7 p.m. game of the season.