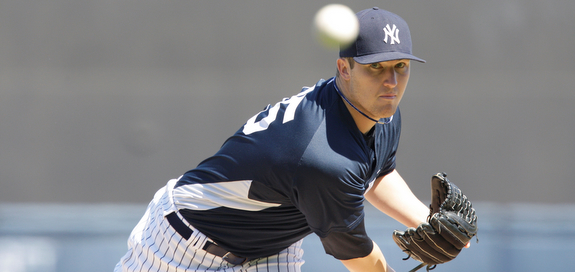 Updated (5:15 p.m.): Phil Hughes, trying to work his way back from a dead arm, suffered what manager Joe Girardi termed a "setback" during an afternoon bullpen session. According to the Yanks' manager, the bullpen, cut short after around 10-12 pitches, was "not good."
Girardi, reported Mark Feinsand, said that Hughes' arm "didn't bounce back like we thought it would." Hughes had been slated to make a rehab start later this week, but those plans are clearly on hold right now as the Yanks send the young right-hander off to the doctors for more tests. "I don't feel so good about it now," Girardi said. I'm concerned." The silver lining to this unwelcome development is that Hughes felt no pain; he just seemingly had nothing in the tank again.
Pitching coach Larry Rothschild echoed Girardi's concerns later in the afternoon. Calling it "kind of a new territory for everyone," the pitching coach said he had not seen such a "prolonged" case of a dead arm, Eric Boland reported via Twitter.
Hughes himself spoke about his arm problems as well. "I didn't bounce back off that long bullpen session like I would have liked. So that's where we're at: a lot of deadness," he said
This recent development does make one wonder, as Bob Klapisch did, "why the Yankees declined an MRI two weeks ago when it was obvious something was wrong" with Hughes. Perhaps they sent their number three starter for imaging scans then, but they've been awfully quiet about it if they did. Hopefully, nothing too serious is wrong with Hughes, but something clearly isn't right with his pitching arm.
Additional reporting by Benjamin Kabak.