On a chilly Sunday night with rain falling by the late innings, the Yanks' bats fell silent at Fenway Park. For just the fourth time since Pedro Martinez arrived in Boston, the Yankees failed to score a run in Beantown as the Red Sox won the rubber match of the three-game set 4-0. While CC Sabathia, without his best stuff, held the Sox to just a run, Josh Beckett was absolutely masterful, and the Yanks will head back to the Bronx at 5-4 on the young season.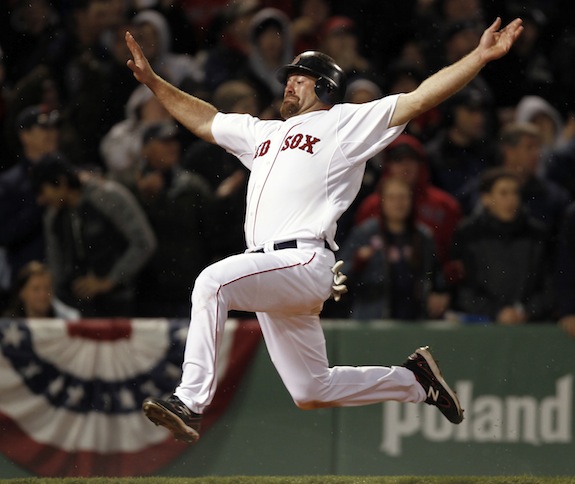 Beckett on the black
Yankee fans know what Josh Beckett can do. We remember the 2003 World Series, and those of us who could stomach it watched Beckett put on a pitching clinic during the 2007 playoffs as well. Every now and then, Beckett reminds baseball why his stuff once made him a guy with tremendous potential, and tonight was an every now and then.
With a fastball averaging over 93 miles per hour and touching 94 at times, Beckett pounded the edges of the strike zone as though he were threading a needle. He threw first-pitch strikes to 18 of the 27 batters he faced, and he issued just one free pass all game. The Yanks' bat, struggling right now and particularly vulnerable with A-Rod on the bench, could do nothing about it. That's just one of those days where you tip your cap to the opposing pitcher and move on to the next game.
For Beckett, this game places him in a unique position. Since 1998 when the Red Sox acquired Pedro, Beckett is the only Red Sox hurler to take part in two shutouts against the Yanks in Fenway Park. Brian Rose, Mark Guthrie and Jim Corsi did it on May 19, 1999; Pedro Martinez and Derek Lowe struck out 15 combined en route to a 3-0 victory over Mike Mussina on May 30, 2001; and Josh Beckett, Manny Delcarmen, Ramon Ramirez and Daniel Bard sent down the Yanks quietly on June 9, 2009. For what it's worth, the Yanks reached the World Series in the three previous seasons in which they were shut out in Boston.
Key Moment: The wild pitch that wasn't
The Yankees didn't have many offensive chances tonight, and their third-inning rally that fell short proved to be a turning point. Eric Chavez singled with one out, and Russell Martin reached when a fastball grazed his jersey. During Brett Gardner's at-bat, a ball squirted behind Jason Varitek, but Chavez froze at second.
A few pitches later, Brett Gardner hit a grounder up the middle, and Dustin Pedroia, who had shaded up the middle, grabbed it, stepped on second and threw to first. Inning over; rally over. Had Chavez and Martin moved up on Varitek, not a strong defensive catcher, Gardner's grounder either would have driven in a run or would have gone through as Pedroia would have been shading more toward the second base hole. The complexion of the game changed as Chavez stayed at second. It was a little moment but one with a large impact.
CC bears down
On the mound, CC Sabathia wasn't sharp tonight. He threw first-pitch strikes to just 15 of the 30 batters he faced, and the Red Sox pounded grounders up the middle off of him all night. Yet, despite four walks and 14 base runners, he kept the Yanks in the game. He now has a 1.45 ERA on the season and is 0-1. That will begin to correct itself soon.
Random Notes
Joba Chamberlain, pitching on back-to-back days and for the third time in four days, wasn't sharp. He came in to protect a 1-0 deficit and got pulled after the Sox plated a pair on a Marco Scuatro hit. In the 8th, Freddy Garcia made his Yankee debut and gave up a run on a David Ortiz double to deep center that would have been a home run three years ago. After the game, Joe Girardi spoke a bit about his late-inning bullpen usage. Had the Yanks' relievers kept the game at 1-0, Rafael Soriano would have pitched the 8th. I wonder whether Soriano should have come in with a few runners on base and Joba in trouble. Soriano, a former closer, can be a fireman out of the pen, but in the early going, Girardi has deployed him in the 8th inning only and with a lead.
As Sweeny Murti noted, no Yankee starter had a 1-2-3 inning this weekend. The Red Sox's slumping bats made this series look closer than it could have been, and it's proof that, despite a 2-7 start, the Red Sox are far from out of it.
With A-Rod out of the lineup, only two starters ended the game with OBPs over .340. The Yankees are clearly struggling to get on base and have been able to mask that deficiency by hitting 18 home runs this season. Soon, the on-base percentage will climb, the homers will slow and the runs will come. It's early yet.
WPA Graph and Box Score
ESPN has the box score while Fangraphs has the rest.
Up Next
The Yanks have Monday off as they travel back to the Bronx. The first-place Orioles come to down for a three-game set beginning Tuesday. A.J. Burnett will face Chris Tillman at 7:05 p.m., and you can get some (really cheap) seats on RAB Tickets.