It's never any fun when it happens to your team. The Yankees had pretty firm control of this game for the first eight-and-a-half innings, using a combination of the long ball and bent but don't break pitching to hand Mariano Rivera a two-run lead in the ninth. That's a situation we'd all take every day of the week, but it was just not meant to be on Tuesday.

Blown Opportunities
As with any loss of this nature, we have to take a look back at the checks the Yankees didn't cash. The first came in the fifth inning, when Russell Martin muscled a ball to the opposite field for a leadoff double. Brett Gardner, mired in a 1-for-23, tried to bunt him over to third, but the ball went right back to the pitcher who cut Martin down between second and third. A couple of pitches later, Gardner was thrown out trying to steal, the third time that's happened in six tries this year.
One inning later, the Yankees had men at first and second with one out, but they moved over on a Jorge Posada Baltimore chop to essentially take the bat out of Martin's hands. He was unintentionally intentionally walked to get to Gardner, who managed to work the count full before popping out to end the threat and the inning. Two men were also left on base in the tenth inning with Eric Chavez flied out to right.
Overall, the Yankees stranded seven runners and went 1-for-7 with men in scoring position. Three other potential rallies were killed with a double plays. It's easy to pile on Gardner, and his -.181 WPA was far an away the worst but any New York hitter in the game. If it wasn't for his defense in left, he'd be completely and utterly useless to this team. Why he wasn't pinch-hit for in the sixth, I'll never quite understand.
The Rare Meltdown
It happens a few times a season, but you never expect it. Rivera had his first bad outing of the year in this game, blowing a two-run lead in the ninth inning on four hits and a walk. The tying run scored on a perfect squeeze play by John MacDonald, which is pretty much what it takes to beat Mo. He was pitching for the fifth time in eight days and clearly wasn't sharp, which isn't a total surprise for the 41-year-old. Every so often Rivera will remind us that he's human, which is what happened here. I have a hard time getting worked up over it, just sucks is all.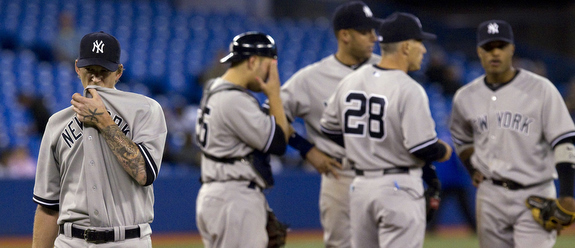 Ugly A.J.
After three encouraging starts, A.J. Burnett reverted back to his old ways on Tuesday, and he has his bullpen to thank for the fact that his ERA actually went down. Burnett allowed a first inning homer to Jose Bautista, another run on a sacrifice fly in the third inning after he botched a rundown, and then another run on a double down the line in the sixth. He walked five guys, and four of those free passes went to players hitting in the bottom third of the lineup. You just can't walk Jose Molina, Corey Patterson, and Jayson Nix (twice) and live to tell about it.
After walking the bases loaded in the sixth, Burnett gave way to David Robertson who was easily the star of the game for New York. With zero margin for error and a one-run lead, Robertson struck out Yunel Escobar and Travis Snider to strand the bases loaded and preserve the lead. If it wasn't for that masterful work, Burnett would have allowed a lot more than three runs in 5.1 innings. I suppose the silver lining is that A.J. struck out six batters and got 17 swings-and-misses out of 105 pitches (which is a freaking ton), but he did not pitch well tonight at all. Leaving the game with the lead had far more to do with Robertson and his offense than anything else. Hopefully this is just a hiccup, but who knows with Burnett.
Leftovers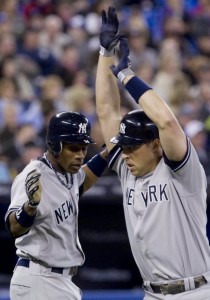 The game was predictably lost when Ivan Nova marched out of the bullpen in the tenth inning for reasons unknown. Why keep guys like Hector Noesi and Lance Pendleton around as long men if they're not going to be used in long man spots? Nova gave up a leadoff single to Edwin Encarnacion, then retired Nix and Escobar on a pair of fly balls to the warning track before Snider ended things with a double into the gap. The Toronto left fielder was the worst player on the field (0-for-5, three strikeouts) before Nova left a 1-0 fastball out over the plate. In his last 6.1 innings, the Yankees' supposed number four starter has allowed nine runs on ten hits, six walks, and a hit batter. The blush is well off the rose by now.
I'm not sure what the point of having Boone Logan warm up in the tenth was if he wasn't going to be used to face Snider. Robertson and Joba Chamberlain threw a combined 22 pitches, but hey, at least they know what inning they're going to work when they're both available for tomorrow. This is part of what I was talking about yesterday; why couldn't Robertson stay in for the seventh after throwing 11 pitches in the sixth? Bullpen specialization really jumped the shark when Girardi married a reliever to seventh (!!!) inning.
Every batter not named Brett Gardner reached base at least once in this game, including multiple times for Curtis Granderson (two-run homer and a single), Mark Teixeira (two-run homer and a walk), Nick Swisher (single and three walks), Chavez (two walks), and Martin (double and a walk). The Yankees drew seven walks as a team and struck out just three times, and over their last four games they've struck out fewer times (12) than they walked (16). That's a span of 145 batters, which is phenomenal.
Oh, and man, Martin was in Beast Mode behind the plate. Dude was blocking all those 55-foot breaking balls like nobody's business. It's already been established that he's far exceeded expectations in the first few weeks, but his athleticism and defensive prowess was on full display in this one. It won't show up in the box score, but he really did a masterful job behind the dish.
Obvious statement is obvious: The Yankees have to start getting some more length out of their starting pitchers to take some heat off the bullpen. We knew the starting rotation was going to be a problem coming into the season, and that has proven to be very true over the last three weeks.
Very nice having the old David Cone-Ken Singleton announcer duo back, ain't it? They're the best combo YES can put together, in my opinion.
WPA Graph & Box Score
That sucks. MLB.com has the box score and video highlights, FanGraphs the other stuff.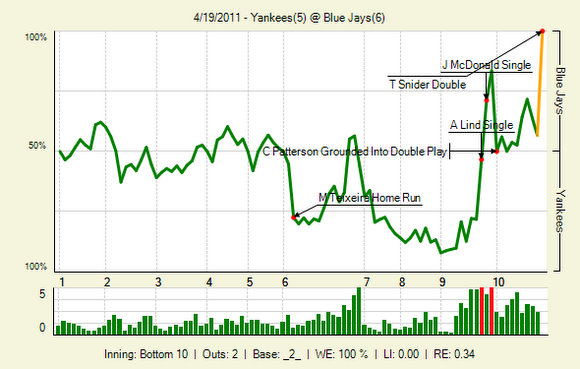 Up Next
Alright, enough complaining for one game. It's baseball, and every team is going to have nights like this one. Time to just suck it up and move on. These same two teams will wrap up this short little two game series tomorrow night when Bartolo Colon makes his first start of the season. Brett Cecil goes for Toronto.