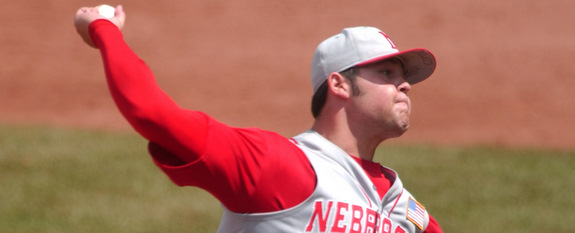 With the amateur draft becoming more and more competitive each year, teams are continually looking for advantages and inefficiencies. For a while it was just money, pay the players more money and you'll get better talent. While that still holds true, basically every team goes over slot now, so it's not as easy as it once was to build a strong draft haul that way.
One thing we've seen the Yankees try is drafting players with injury concerns, or players who are healthy at the time but had down years due to an earlier injury. Think Andrew Brackman (elbow) or Caleb Cotham (knee) or Mark Melancon (elbow) or Joba Chamberlain (triceps), all those guys had some kind of medical question heading into the draft, and the Yankees took advantage by selecting each at a spot lower than their talent dictated. It's a risky approach but the draft itself is inherently risky, a few extra rolls of the dice won't aren't the end of the world. Here's three players dealing with injuries and/or ineffectiveness this spring that could prove to a coup at various points of the draft…
Matt Purke, LHP, TCU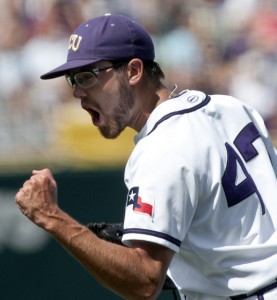 Ranked as the third and seventh best prospect in the draft class by Baseball America and Keith Law before the season, respectively, you might remember that the Yankees were connected to Purke when he was coming out of high school in 2009. Rumors about a demand of Rick Porcello money were floated before the draft, which led to the belief that Purke would fall not just to the Yankees (who picked 29th year), but out of the first round entirely. The Rangers ended up selecting him 14th overall and the two sides worked out an agreement on a bonus worth $6M, but the commissioner's office squashed the deal because the team was still on financial life support at the time. On to TCU went Purke, who is draft-eligible as a sophomore this year because he'll turn 21 within 45 days of the draft.
After an utterly dominant freshman season (116.1 IP, 10.99 K/9, 1.86 BB/9, 3.02 ERA), Purke was slowed early in the season by a blister. He returned from that earlier in the spring but just hasn't been the same. Reports from last weekend were pretty ugly; Purke sat 90-91 with his fastball early on, touching 93, but he sat at 88 in the third and then 85 in the fourth. One fastball in the fifth clocked in at 82. "It's just a dead arm deal," said TCU head coach Jim Schlossnagle after the start, but late last night we got word that Purke has soreness in his shoulder and is going to see Dr. James Andrews to be evaluated. He's out indefinitely, as you'd imagine.
Oddly enough, Purke's performance has still be pretty good this year (40.2 IP, 10.40 K/9, 3.32 BB/9, 1.55 ERA). When right, the southpaw features a devastating fastball-slider combination. Last season he'd sit 92-94 (touching as high as 97 in the postseason) with the fastball and hold that velocity into the late innings, throwing his wipeout slider in the low-80's. He's also capable of breaking off an upper-70's changeup to keep right-handers at bay. It's a legitimate front-of-the-rotation package built into a 6-foot-4, 180 lb. frame. This draft class is so deep with college pitching that the slightest hiccup, blister or dead arm or just poor performance, will cause a guy like this to drop because there are so many viable alternatives. The Yankees don't pick until 51st overall, but if there's nothing structurally wrong with Purke's shoulder (obviously his medicals would need a thorough review) and he's still around when they pick, they have to take this guy. The talent is just too great to pass up.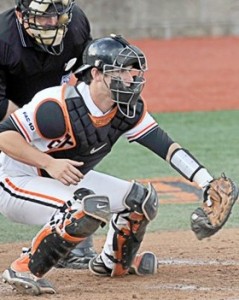 Andrew Susac, C, Oregon State
The consensus top college catching prospect in the draft coming into the season, Susac did nothing to hurt his stock by hitting .364/.496/.614 while throwing out four of seven attempted base stealers in 26 games this spring. Unfortunately those are likely to be his end-of-season statistics as well since Susac will miss the next month or two after having surgery to repair a broken bone in his left hand about a week ago. The injury was rather fluky, it occurred when he fouled a pitch off and the knob of the bat rolled over the back of his hand and broke a small bone.
Susac, another draft-eligible sophomore like Purke, is well-regarded for his power, plate discipline, and defense, though he's never going to contend for a batting title. He tore up the Cape Cod League last season (.290/.393/.500 with five homer), and we all know the Yankees love guys that do that. Before the injury, Susac was considered a late first rounder.
Jack Armstrong Jr., RHP, Vanderbilt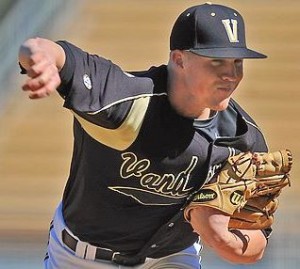 The son of former All-Star pitcher Jack Armstrong Sr., Junior was maybe the third best draft prospect on his own team when the season started. That has more to do with the greatness of right-hander Sonny Gray and infielder Jason Esposito than Armstrong's shortcomings, since he was a considered a second or third round prospect before back issues limited at the start of the season. The Commodores have a loaded pitching staff that features three legit draft prospects in the rotation and a deep bullpen, so Armstrong was brought back slowly and simply hasn't gotten many innings. It was a good old fashioned Wally Pipp'ing, just by an entire staff.
A monster at 6-for-7 and 225 lbs., Armstrong sits 94-95 with his fastball when healthy and will throw even harder in short bursts, but both his low-80's curveball and changeup need work, as does his command. There's a good chance that he's just a reliever long-term, but it's a swing-and-miss fastball when he's right, and there is always room for that in the bullpen. Armstrong might not make it past the fifth round based on his arm strength alone.
* * *
It's probably obvious that I'm a Purke fan, then again I can't see how anyone wouldn't like a power left-hander. There's still plenty of time left for him to move past the shoulder soreness and show some semblance of his former self, but if he does that, the chances of him falling to the Yankees decreases. There's no such thing as too many quality catchers, so the presence of Jesus Montero, Austin Romine, and Gary Sanchez shouldn't be a deterrent if Susac is still on the board at some point. Until draft day, the fingers will remain crossed for Purke, who represents the best chance for the Yankees to land an elite level talent this summer.