The other day I stated the obvious and showed that no fewer than four of the nine Yankees' regulars were slumping, though for the most part those slumps aren't completely shocking. Derek Jeter's performing poorly? Well there haven't been many shortstops that were productive in their age-37 season throughout baseball history. Jorge Posada has all those years of catching taking a toll on his body, plus he's 39 years old. Brett Gardner doesn't exactly scare pitchers with his skill set either. But the fourth guy, now that one doesn't really make sense.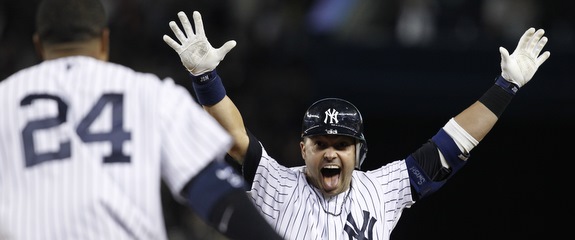 Through the first 21 games of the season, Nick Swisher his hitting just .208/.326/.236 (.272 wOBA) with just two measly extra base hits, neither of which are homers. His .028 ISO ranks 181st out of 189 qualified players, putting him in the company of noted slap hitters like Juan Pierre (.029), Alcides Escobar (.032), and sadly, Jeter (.024). "The past week I have been caught up in the home run a bit," said Swisher on Wednesday, essentially admitting that the zero in the HR column is weighing on him. "Once I start gearing up and I try to do too much, that's when I [suck]. I need to try to do less, and really slow down the game."
Like the rest of the team, Swisher has been fed a healthy diet of offspeed and breaking pitches this month. Just 51.1% of the pitches he's seen this year have been some variant of fastball (two- or four-seam), down from 53.6% last year, 56.3% the year before, and 56.0% for his career. Pitchers have thrown Swisher a slider or curveball 29% of the time this year, up from 22.5% last year and 20.7% for his career. Like many players, the Yankees' right-fielder does most of his damage against the old number one, checking in at 1.04 runs above average against the pitch for every 100 seen in his career. That number is -0.74 for sliders and -0.67 for curves.
The interesting thing is that Swisher's batted ball profile has barely changed, certainly nothing that raises a red flag. We're talking 19.7% line drives (19.6% in 2010, 18.7% career), 36.1% ground balls (35.5%, 36.0%), and 44.3% fly balls (44.9%, 45.2%), so nothing is out of whack there. What is out of whack is that almost one out of every five fly balls (18.5%, to be exact) has been an infield pop-up, compared to 7.8% last year and 10.6% for his career. Obviously you're not going to hit the ball out of the park when you aren't hitting it out of the infield as often. Most of Nick's struggles have come against right-handed pitchers (.196 wOBA vs. RHP, .428 vs. LHP), but again his batted ball profile from the left side of the plate is pretty normal (12.8% LD, 35.9% GB, 51.3% FB, 10.0% IFFB) compared to the rest of his career (17.5%, 35.9%, 46.6%, 8.8% respectively).
If Swish was all of a sudden beating the ball into the ground or hitting a negligible amount of line drives, I'd be more concerned. A 0.0% HR/FB rate is pretty unsustainable for a guy like Nick, so that first homerun will come at some point, it's inevitable. The hard part, as he admitted, is staying within himself and not pressing, which will only lead to more struggles. The good news is that his strikeout rate (19.4%) is down from the rest of his career (25.2%, 24.6% in 2010), and his walk rate (14.6%) has returned to pre-2010 levels (9.1% last year, 13.3% career), so everything on the surface looks pretty good. As we (well, White Sox fans anyway) learned in 2008 however, there's no guarantee his .246 BABIP will regress back to his career norm (.285) this season. Perhaps a day off is in order as he comes to the end of an ugly month, but at 30 years old and in the prime of his career, there's every reason to expect Swish to snap out of his horrid 0-for-18 skid and be a very productive player this season.