The draft is just 17 days away, so between now and then I'm going to highlight some players individually rather than lump a few together in one post.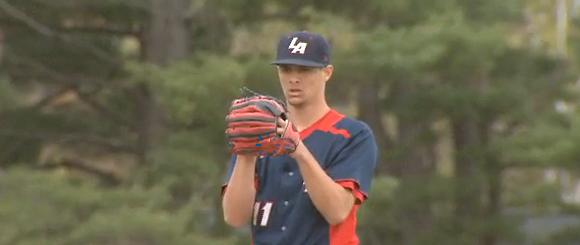 Tyler Beede | RHP

Background
Tucked away in the northeast, Beede attends Lawrence Academy in Groton, Massachusetts, which is north of Boston and not far from the North Hampshire border. He originally attended Auburn High School in Auburn, Mass., but transferred to Lawrence after his junior year to face better competition. Beede threw a perfect game last week and is committed to Vanderbilt.
Scouting Report
A big bodied righty (6-foot-4, 200 lbs.), Beede stands out for his command of four-pitches. He throws two fastballs (both a four- and two-seamers) anywhere from 89-92 with the occasional 93 right now, but there's some projection left and reason to believe he could add a tick or two. A changeup is probably Beede's best offspeed offering, and he also throws a low-70's breaking ball that sometimes looks like a slider and other times a curveball. The command stems from a sound delivery with a big stride that Beede repeats well. Here's some video from last summer's AFLAC All-American Game, and there's plenty more on YouTube.
Miscellany
Beede is one of those rare prospects that offers the command and polish of a college pitcher with the projection of a high schooler. I think he's flown a little under-the-radar in this deep draft class in part because he doesn't get much exposure in a cold weather state. High school guys that have shown command of four pitches are definitely a rare breed. Vanderbilt commitments are always tough to break, but the Yankees have had some success doing so (namely Dellin Betances) and he has expressed interest in turning pro.
Beede was ranked the 30th and 35th best draft prospect by Keith Law and Baseball America in the latest version of their rankings, respectively, but the Vandy commitment and desire for an above-slot bonus could cause him to slide.
Screen cap from the linked NESN article about the perfect game.