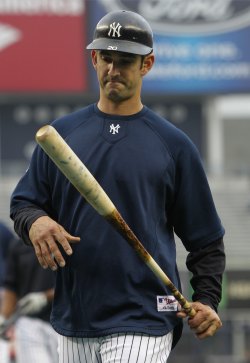 Three times in the past four games the Yankees have faced a left-handed starter. In each of those games Jorge Posada sat on the bench, watching as Andruw Jones, or, in last night's case, Derek Jeter, got the start at DH. In a way it didn't come as a surprise. The Yankees need to find at-bats for Jones, and using him in the DH role against LHP is one way of doing that. The bigger issue, though, has been Posada's performance against left-handers. When flipped around to the right side of the plate this year he's 0 for 24 with six walks. That's quite out of line with his career numbers.
Throughout his career Posada has hit lefties just as well as he has righties. While his walk rate and power are slightly better against righties, he has dunked in more hits against lefties. It all adds up to a very similar line, .376 wOBA vs. righties and .366 vs. lefties. This skill did not seem to deteriorate with age. In fact, Posada hit lefties a bit better than righties as recently as last season. Here's how his splits line up in the past nine years (as far back as FanGraphs goes).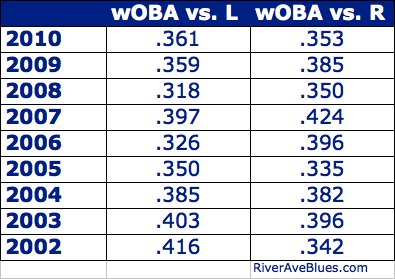 There is no noticeable trend here. Some years he hit lefties better, other years he hit righties. It seems like normal statistical fluctuation to me, especially since it pretty much balances out during the course of his career. That's why it seems so odd that his skill from one side of the plate would so abruptly disappear. Then again, it seems odd that his ability to hit in general has deteriorated so much during the course of a single winter.
Still, it's not as though his struggles against lefties are just a drop in the bucket. It might be only 30 PA, but he has struck out in a third of them. That could suggest that something deeper is wrong. When he has put the ball on the play it hasn't been hit particularly well — just one line drive out of the 14 times he has put the ball in play. That's equal to the number of infield pop-ups he has against lefties.
Things have gotten better lately. Posada is 11 for 40 with three doubles and seven walks in May, good for a .275/.383/.350 line. That might not be a turnaround, but it's certainly better than his .125/.232/.375 April. Part of the reason might be that of his 47 PA this month, only eight have come against lefties (3 K, 3 BB). That makes his line against righties a much more impressive .314/.385/.400. If he can pick up that power a bit, he'll again turn into the heavy hitting force that Yankees fans have known for years.
As for his performances against lefties, it's easy to see the justification in sitting him at this point. But there is nothing in his career track record that suggests that he's deficient against them. As he recovers against righties, so should he recover against lefties. Batting from the right side is, of course, natural for Jorge, a right-hander who taught himself to switch hit. The problem is finding a spot for him. While the Yankees would benefit from his resurgence from both sides, they can't afford to have him striking out every other at-bat. It's why we've seen Jones taking those reps at DH, especially lately, when the Yanks need to rattle off a few wins.
To be sure, the team is better with a normal Jorge Posada. The only question is of how much patience they have for his recovery. If he can hit righties, he should be able to hit lefties. I'm just not sure the Yankees are willing to take that gamble right now.