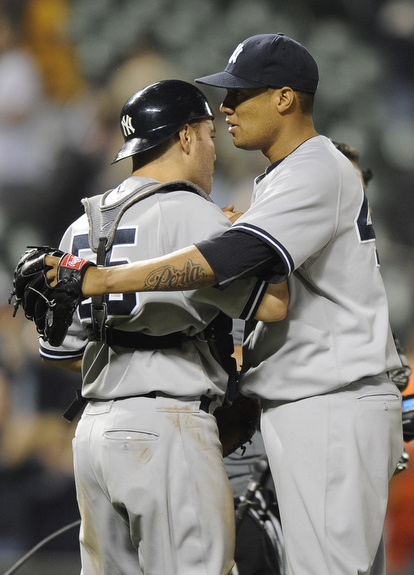 Prior to last night's game against the Blue Jays, the Yankees got some troubling news about their $35M setup man. Rafael Soriano continued to feel soreness in his twice-surgically repaired elbow, and a third MRI "showed enough" that he'll see Dr. James Andrew today. It's not often that a pitcher comes back from Andrews' office with good news, especially not guys with a history of elbow trouble and a problem that has lingered for two weeks now. Regardless of what Andrews says, the Yankees will likely be without Soriano for the foreseeable future.
David Robertson and Joba Chamberlain will now have that much more responsibility heaved onto their shoulders, and they're Joe Girardi's key late-inning right-handers ahead of Mariano Rivera. Luis Ayala has been surprisingly effective in a limited amount of work, and chances are he'll be pressed into some tight spots in the coming weeks. He has setup man experience (with the ExpoNats), but that was several years ago. If he maintains this level of performance, it would be a pleasant surprise to all. The Yankees are going to need someone to step up and solidify the middle innings in Soriano's absence, and they have someone on the roster that just might be able to do that. His name? Hector Noesi.
Although he's been in the big leagues for (a total of) three weeks now, Noesi has just two appearances to his credit. The first was his heroic (but not exactly picture perfect) four innings of relief in extra innings against the Orioles, the second some garbage time innings earlier this week. The seven innings of work featured four strikeouts, three intentional walks, and just four ground balls, but those numbers don't really tell us anything. The kid was nervous, and 30 batters faced just isn't all that meaningful.
There are three things that make Noesi seem (operative word here) like a good candidate for short, possibly even leveraged relief work. First is his fastball command, which has long been his calling card. It's not just about strikes, it's about quality strikes, and Noesi's track record and scouting report have long touted his ability to provide them. The second thing is a swing-and-miss changeup to battle lefties and a slider for righties. Okay, that's probably two things, but let's combine them anyway. Noesi has gotten 14 swings-and-misses out of his 101 big league pitches (13.9%) so far whereas Ivan Nova has gotten 15 whiffs all month (481 pitches, 3.1%), for comparison's sake. The third thing is his demeanor, which we can't really quantify. He came off as very poised in that Baltimore game, making pitch after pitch when he needed too. If nothing else, it looked good.
The Yankees and Noesi would be sacrificing some development time in this arrangement, yes, but we're not talking about someone that projects to be a frontline starter. Noesi's profile has always been more back-end starter because his stuff is good but not great, and if he proves capable in one-inning bursts, it wouldn't be the end of the world if they kept him there indefinitely. I know we're all scarred by the Yankees' recently handling of some of their top pitching prospects, but Noesi's exactly the kind of guy that ends up a reliever or trade fodder for New York.
In a perfect world, Noesi would transform into the 2009 version of Phil Hughes, the long-time starter that shifted to the bullpen in part because he didn't want to go back to the minors, but also because the team needed him there. Is he going to be as dominant as Phil was two years ago? Almost certainly not, that would be a tough act to follow, but all the team needs Noesi to do right now is settle in as a capable middle reliever and give Girardi another option for sixth and seventh inning work. He doesn't have to step right in for Soriano, the Yankees have people for that. Just be somebody that can lighten the load on the three right-handers on the end of the game, that's it. And if it doesn't work, well at least it was low risk.