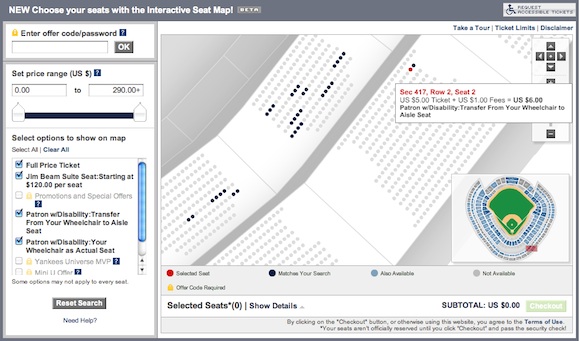 On a tip via Twitter from Ross at NYY Stadium Insider comes some intriguing news about purchasing Yankee tickets online. As seats have become plentiful this spring and the secondary market already allowing fans to select their seats down to the row, Ticketmaster has unveiled an interactive seat map on Yankees.com that allows fans to pick out specific seats for games they want to attend. The screenshot above features a glimpse at seats in Sec. 417 available for tonight's game against the Royals.
While this technology is new for fans turning to the team's official site to pick out tickets, Ticketmaster has long been able to use it to sell seats for a variety of other events including concerts and other sporting events. It is, in my opinion, a change to the baseball ticket buying landscape that is long overdue. For years now, we've been able to choose our rows on StubHub, and allowing fans the opportunity to select seats makes the process more personal.
"This is a really important step in drawing people back in from the secondary market," Ross said via Twitter this evening. "Having full control of seat choice is important."
It's interesting to take a scan around the ballpark with the new technology as well. As we can see from the overview below, numerous sections — those shaded in darker blue — have plenty of seats available.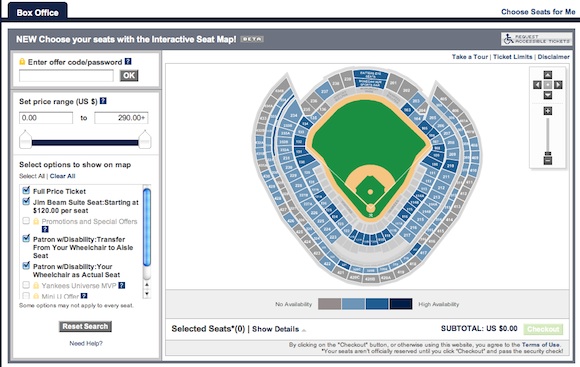 Meanwhile, as the shine of the new park wears off, the Yanks are finding that thousands of seats — including some very expensive ones — remain open as game time approaches. Take a look at this screenshot from the Mohegan Sun seats and the batter's eye tickets, both of which run upwards of $100 a pop.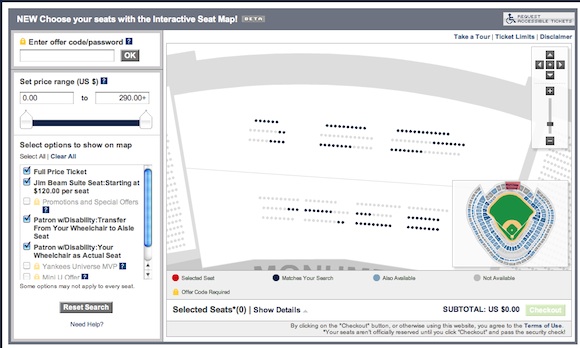 Pricing aside, I'd say this is a very welcome addition to the way we can buy Yankee tickets online.