The draft is just four days away, so between now and then I'm going to highlight some players individually rather than lump a few together in one post.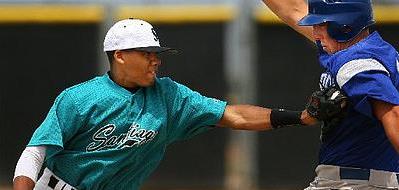 Brandon Martin | SS
Background
Martin's stock has risen quite a bit this spring after he bulked up over the winter and added some muscle to his frame. He attends Santiago High School in Corona, California and is committed to baseball powerhouse Oregon State.
Scouting Report
If there's one thing this draft class lacks, it's depth at the up-the-middle positions. Martin has flashed all five tools at shortstop, and projects to stay there long-term. He's listed at 5-foot-11 and 160 lbs., but he's a fast twitch athlete that runs well and offers plenty of range in the field. Martin's defensive skills need work, but he's capable of highlight reel plays and has the tools to be an above-average defender at short, including a strong and accurate arm. Swinging from the right side, Martin has quick and compact swing geared for contact with the potential for average power down the road. He's aggressive, so the approach will need some refinement.
Miscellany
The Yankees were reported to be "heavily in" on Martin a few weeks ago, so there's some level of interest here. He's a bit of a long-term project as a high school shortstop, but the potential is there for him to be better than average on both sides of the ball, though not necessarily a star. Given the state of the shortstop position around the game today, better than average is basically star caliber. Keith Law and Baseball America ranked him as the 54th and 65th best prospect in their latest rankings, indicating that he's more of a supplemental first/second round player.