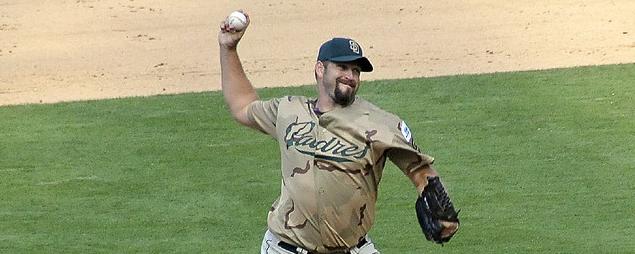 Although Rafael Soriano is expected back from his elbow injury reasonably soon (he's eligible to come off the disabled list shortly after the All-Star break), Joba Chamberlain's injury leaves a rather sizable hole in the back of the Yankees' bullpen. David Robertson has stepped up and performed better than expected, but there's no such thing as too many quality bullpen arms.
One quality bullpen arm that will almost certainly be available this summer is Heath Bell of the Padres, a team that is eleven games back in the loss column of the top spot in the NL West and ten games back of the wildcard. They've won four of their last five games but lost six in a row and nine of ten immediately prior to that. San Diego also sports one of the very worst offenses in baseball (.291 wOBA) and they don't exactly have the wherewithal (or motivation, given their deficit) to go out at the deadline and add the bat or three they need to contend. Let's break down the good and the bad…
The Pros
With no significant platoon split and a four-plus year track record of excellence (2.59 FIP from 2007-2010), Bell is about as safe as relievers come. He misses bats with a 92-95 mph fastball, low-80's curveball combination, and has been very consistent when it comes to his walk rate (between 3.10 and 3.60 BB/9 from 2007-2010) and ground ball rate (44% to 48% over those four years) since getting to San Diego.
He's not just a product of spacious Petco Park, for those wondering. Since the start of the 2009 season, Bell has held opponents to a .220/.301/.289 batting line at home and .211/.273/.268 on the road. Of the four homers he's given up in that time, three have actually come in Petco.
Bell is very durable, having never visited the disabled list in his big league career and throwing no fewer than 69.2 IP in any season since getting to San Diego. His fastball velocity is holding up fine as well. I guess 6-foot-3, 260 lb. right-handers are built for innings.
He's done it all for the Padres. Bell started out as a low leverage middle relief guy before working his way into Trevor Hoffman's top setup man, then he took over for the likely Hall of Famer three years ago. I'm not sure the whole "he needs to get used to not having the adrenaline rush of the ninth inning" argument would hold water here.
Bell is just a rental and won't eat up 2012 payroll. He projects to be a Type-A free agent (rather comfortably) at the moment, so he could bring two draft picks after the season.
The Cons
Bell's strikeouts are down considerably this year. After whiffing 11.06 batters per nine innings last year (10.21 K/9 in 2010), he's dropped down to just 6.97 K/9 this year. His swing-and-miss rate is still above average at 9.1%, but that is down from double digits in the last few years.
He doesn't have any traditional playoff experience, the closest thing is 2.2 IP in Game 163 against the Rockies back in 2007. Bell did pitch in each of the Padres' last four games last season (and in six of their final ten), which were essentially playoff games as they tried to hold off the Giants. I don't put much stock into this stuff, but some October experience is better than none.
Bell is not cheap, at least not on the reliever pay scale. His $7.5M salary this year is broken down into $1.25M per month, give or take a few hundred thousand.
The Yankees could use one more late game reliever and Bell is as good as they come, but I can't help feel like the cost will greatly outweigh the production. Some similar (and recent) trades that come to mind include Eric Gagne (Rangers to Red Sox), Matt Capps, and Brandon League, though none of them are perfect comparisons. Gagne was the only other rental, plus Bell was straight up better than all three of those guys. Regardless, they all required at least one premium piece going the other way, and I can't see why the Padres would expect something less for what amounts to the best reliever in the National League over the last four or so seasons.
Ken Davidoff reported yesterday that the Yankees have called the Padres to discuss Bell's availability, but they haven't been as aggressive as some other clubs. That sounds like due diligence more than anything. Another bullpen arm would certainly be a welcome addition, especially one of Bell's caliber, but the Yankees have bigger fish to fry at the trade deadline, namely a starter that can legitimately pass for a number two. Bell's just a luxury at the moment.