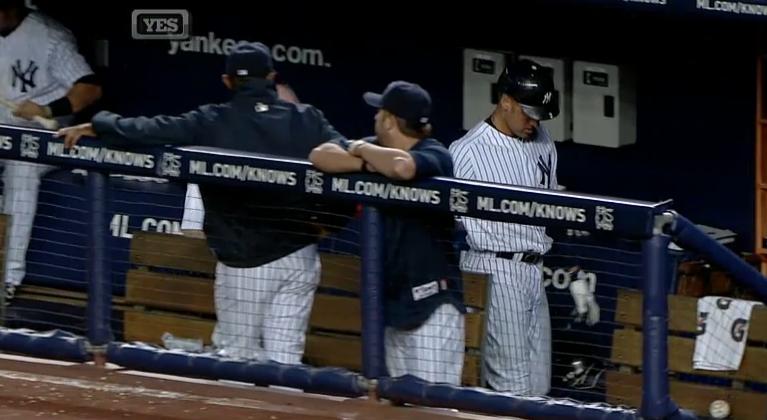 A few hours before the Yankees lost Derek Jeter to a Grade I calf strain last night, they had to scratch Russell Martin from the starting lineup due to continued stiffness in his back. He originally suffered the injury weightlifting early last week and missed four straight games. After coming back on Sunday and looking extremely sluggish (particularly at the plate), he again had to sit on Monday due to the back. Clearly, something is not right.
As the starting catcher, it goes without saying that Martin is an important part of the team. Even though his offense has tailed off as the season has progressed, he's still done a fine job behind the plate and offers defensive value. So why did the Yankees risk further injury by sending him out there on Sunday if he wasn't 100%? I suppose Frankie Cervelli needed a day off after catching four straight (including a day game after a night game), and we know they don't want Jorge Posada behind the plate for reasons that go beyond his bad defense. If Martin's back was fine Sunday before acting up again on Monday, well then that's an even bigger problem than just lingering soreness.
As for Jeter, a Grade I calf strain is the lowest possible grade, but that doesn't mean he won't miss time. Based on the five minutes I spent googling "grade i calf strain" last night, it could take anywhere from seven days to three weeks for this thing to heal. Of course Jeter is a world class athlete and those guys tend to recover quickly thanks to good genes, but he will also be 37 in less than two weeks and plays a position where his legs and explosiveness are pretty important. It's not like he's hiding at first base or DH or something. Remember, Alex Rodriguez had a stiff calf late last year and eventually hit the disabled list after sitting out three games and coming back for one (he didn't even make the full game, really). That wasn't even classified as a strain either, and for all intents and purposes A-Rod is a similar age and plays a similar position to Jeter. It's not a perfect comparison, but it's certainly not outrageous.
If Jeter and Martin continue to sit out with his minor ailments, the Yankees are forcing themselves to play with a two man bench consisting of two outfielders: Chris Dickerson and Andruw Jones. Jones throws right-handed, so maybe they plan on having him fake an infield spot in an emergency. Furthermore, the NL leg of interleague play is coming up, and playing six straight games (three at the Cubs, three at the Reds) with a three man bench consisting of Dickerson, Jones, and Posada (who won't be in the lineup as the DH, obviously) is straight up silly. Roster spots are like outs in a game, they're precious because there are a finite amount of them, and using even one poorly puts you at a disadvantage. Using two to carry injured players that may not get healthy in a timely fashion is just poor roster construction.
As much as I want to see the Yankees call up Jesus Montero, I honestly don't care who comes up as long as they do what's best and stick Martin and/or Jeter on the disabled list if needed. Had they put Martin on the disabled list when he first hurt his back, he'd be a week away from returning now. Instead Sunday's game restarted his clock. I have no interest in watching this team play with a short bench just to nurse along some injuries that could possibly take fewer than 15 days. to heal Call up Gus Molina, call up Ramiro Pena, call up Brandon Laird, call up whoever, just get these two important players healthy. I'd much rather see them miss two weeks now than two months later, and I'm sure the Yankees would as well.