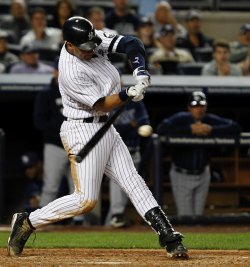 While Derek Jeter rehabbed his strained calf, a contingency of Yankees fans realized their greatest desire. For about three weeks Brett Gardner hit in the leadoff spot, and as expected he handled it with aplomb. In that span, from June 14th through July 3rd, Gardner came to the plate 70 times and hit .267/.362/.383, stealing seven bases and scoring 13 runs. His combination of on-base skills and speed made him a better fit as the leadoff hitter than Jeter, who had a .324 OBP and had stolen just seven bases in his 293 PA before getting hurt.
Alas, we all knew that Jeter would resume his duties as leadoff hitter once he returned from the disabled list. As Joe Girardi, king of tautology, is fond of saying, "he's our leadoff hitter." Every day, it seemed, people questioned why Gardner wasn't hitting atop the lineup. The answer to that question was also tautological: he's Derek Jeter. It became pretty clear that Jeter would own the role for the rest of the season if not beyond, OBP be damned.
For now, that's not such a bad thing. Jeter went 0 for 4 on his first day back, but then he started to see some of the hits fall in on his way to 3,000. It seemed as though he slowed down after that, but that might just be perception. In reality he has come back with a fury since returning from the DL, going 23 for 71 with six doubles, a triple, and two homers — .324/.385/.521. In other words, he has, at least for the last three weeks, earned his spot atop the lineup.
In fact, things have gotten quite better since a slow April, during which Jeter hit .250/.311/.272. In 268 PA since then he has hit .282/.347/.402. That's not quite up to par with Gardner's .316/.394/.418 since the same date, but it certainly paints Jeter's season in a better light. They're leaving some base runners on the table, and they're definitely losing a bit in the speed department, but having Jeter atop the order isn't quite the abomination it's been made out to be.
Just after Jeter's recorded his 3,000th hit, Girardi went on to defend the captain. "Is he hitting .320 like he did in 2009? No, he's not. But are you convinced that he can't hit .320 in the second half?" He still has a while to go in the second half, but so far Jeter has answered the bell. At one point I might have answered yes, I'm convinced that he can't hit .320 in the second half. A sample of just 78 PA shouldn't sway my opinion, but I can't help but think back to that old tautology. He's Derek Jeter.