Eight questions this week, most about pitching in some form or another. Remember to use the Submit A Tip box in the sidebar any time you want to ask a question.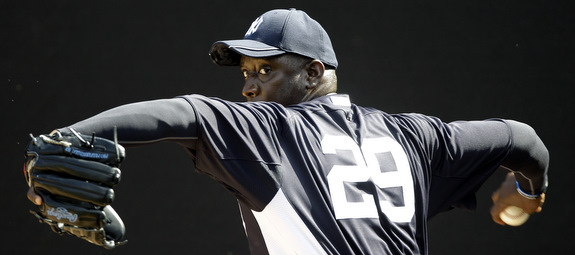 Dan asks: When Soriano comes back, do you think he automatically gets the 8th inning back, or will they keep Robertson there and put Soriano in the 7th? Maybe, if that happened, he would opt out and leave money on the table after this season…
Oh yeah, Rafael Soriano's definitely getting the eighth inning back. No doubt about it. And you know what? It's probably better that way. Joe Girardi will be free to use David Robertson to wiggle out of jams in the sixth and seventh innings again, plus Soriano will get the easy job of starting innings fresh with no baserunners. As for the opt-out, just forget about. He's not getting anywhere near that much cash on the open market, so the Yankees are stuck with him for better or for worse.
Shai asks: Where is Christian Garcia in rehab from TJS? Is there a chance Yankees re-sign him (if he plans on playing baseball again)?
It's been about 15 months since Garcia blew out his elbow and had his second Tommy John surgery, so he should be healthy enough to throw with full effort and what not. Last we heard (in February), he was planning to throw for scouts but the Yankees had no intentions of re-signing him. Garcia's going to be 26 in August and he's faced a total of 126 batters since 2008. Bringing him back would be nothing but nepotism at this point. Great arm, too bad it was made of glass.
Josh asks: This question is a little out of left field (hardy har har) but why is Colin Curtis always on the bench with the team during games?
He's probably just rehabbing with the team. I can't think of any other reason, honestly. If that's true, then good for him for sticking around instead of just packing up and spending the downtime at home. It shows determination and good makeup, or something.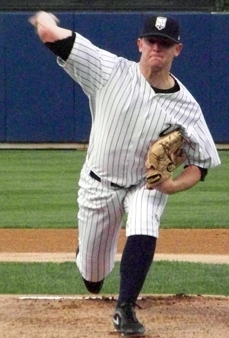 Ryan asks: What kind of prospect is Caleb Cotham? Does he still have any upside? High K numbers so far.
Cotham came out of Vanderbilt with knee problems and almost immediately needed another knee surgery after signing for $675,000 as a fifth rounder in 2009. While rehabbing from the knee, he suffered a torn labrum and had surgery to fix that. He's finally healthy now and has appeared in four games for Short Season Staten Island this year (7.2 IP, 7 H, 0 R, 2 BB, 13 K).
Cotham was considered a better prospect as a reliever at the time of the draft, and he regularly sat 89-92 with his fastball out of the pen. I have no idea if that velocity has come all the way back after the shoulder trouble. He's also shown a very good slider, which is probably what he's using to rack up all those whiffs. His best-case scenario before the injuries was a late-inning strikeout reliever, but we need to see how his stuff rebounds and if he's able to stay healthy. Cotham's interesting, for sure, but there's a lot of risk for moderate reward.
Anonymous asks: Would an international draft and slotting ruin the chances the Yankees have at a good farm system since most talent comes through IFA for them? Or would an international draft just destroy baseball in other countries like Puerto Rico?
Oh an international draft (and slotting as well) would definitely hurt the Yankees. It would hurt every team, in reality. The draft gets all of the attention because it's easy for us to follow, but the backbone of the Yankees' farm system has long been it's Latin America program. Taking away the ability to freely sign any player would be a significant hit. I do think there's some concern about the consequences of an international draft, because the talent in Puerto Rico basically dried up after those players became subject to the draft. They were getting lower bonuses and couldn't choose their own team, so many ended up playing other spots.
An international draft would be a logistic nightmare, and I'm not sure if they can figure one out for this upcoming Collective Bargaining Agreement due in December. That would be great news for the Yankees.
Nicolai asks: You often say that it's questionable if Corban Joseph can stay at 2B. I remember the same was said of Robinson Cano while he was a prospect. How do these two compare as prospects?
They're similar in the sense that they're bat-first second baseman, known for their ability to hit for average with what was considered average power. Cano has obviously soared past that power projection.  CoJo's a .287 career hitter with a .138 career ISO. Cano's minor league career? A .278 batting average and a .147 ISO. Identical, for all intents and purposes. There are two very significant differences between the two though…
Plate Discipline

: Joseph draws significantly more walks than Cano did. In fact, he's drawn 32 more minor league walks than Robbie in 548 fewer plate appearances. Cano's never been a fan of ball four, never was expected to be.

Contact Skills

: Robinson's ability to get the fat part of the bat on the ball is pretty freakish, you can't teach that. He's swung and missed just 6.2% of the time in his big league career, well below the league average. In 2,106 minor league plate appearances Cano struck out just 261 times (12.4%) and never more than 86 times in a season (he did that at age 19). Joseph has already struck out 259 times in his career (16.6%) with a 107 whiff season to his credit. When you work deep counts and draw walks, you're going to strike out. It's part of life.
Cano's defense was questioned as well, he was expected to move to third or even the outfield because most felt he wasn't quick enough for the middle infield. He's obviously managed to become a fine second baseman and there's no reason to expect him to move off the position anytime soon. Joseph is kind of in the same boat, generally considered to slow for the position. Cano, Chase Utley, and Orlando Hudson are three pretty notable examples of guys that weren't expected to cut it in the middle infield but went on to be standout defenders at second because they worked hard at it, so it's not like that kind of improvement is unheard of. It's just tough to do. Joseph's prospect status is at its peak right now, but I'd still take Cano at his prospect peak. That was right before they called him up in 2005.

Bill asks: Who has the better chance at getting to 3000 strikeouts, CC or Halladay? CC has 1913 and is three years younger than Halladay who has 1852. However, Halladay pitches in the pitcher friendly NL.
I would have to think CC Sabathia has a much better chance. He's already head of Roy Halladay on the raw total and has a huge head start in age, enough that the AL-NL difference probably won't compensate. For Doc to get to 3,000, he'd have to strike out 200 batters a season (he's been between 206-219 the last three years) every year until his age 40 season. Sabathia has struck out no fewer than 197 batters in a season since 2006, so if he averages 185 whiffs a year, he'd have to pitch until he's "just" 37. I don't think there's any question that Halladay is the superior pitcher and has had the better career overall, but he had some injuries when he was younger and those cost him some strikeouts.
Joey asks: So, I've noticed a lot of these players with [no-trade clauses] have good teams listed. Why is this? So they can get compensated more? Or maybe in Soria's case he doesn't want to set up. Whats the deal with that as the deadline approaches?
It's just leverage. All these guys list the big market teams like the Yankees and Red Sox and Tigers and Phillies so that if a trade does happen, they could pay to get them to waive it. Take Joakim Soria. A non-contender isn't trading for him, if anyone does it'll be a legit contender like the Yankees. They can buy him out of the NTC. I'm sure there are some guys that don't want to pitch in New York or Boston, but I'd say the vast majority of these teams are listed in no-trade clauses as a way of creating leverage. Agents aren't stupid.