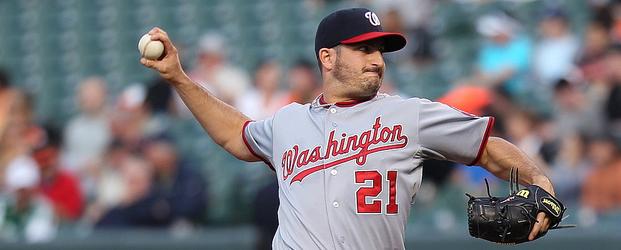 As the rumors about Ubaldo Jimenez swirl, you can bet the Yankees are covering all their bases by looking for pitching elsewhere at the same time. One pitcher Jerry Crasnick says is available is Jason Marquis of the Nationals, which makes sense. Washington is out of it and he's not a part of their long-term future, so they might as well cash in the chip before he leaves as a free agent. The Staten Island native has been pretty vocal about wanting to pitch near home at some point in his career, so is it worth it for the Yankees to make his wish come true? Let's explore…
The Pros
Marquis is very quietly enjoying the best season of his career. His 5.42 K/9 is his best strikeout rate since 2004, and his 2.75 BB/9 is his best walk rate ever. A 53.7% ground ball rate is right in line with his last two years as well as his peak years from 2003-2005.
He's a true three-pitch pitcher, getting ground balls with his high-80's sinker (that will occasionally run as high as 93) and mid-80's slider. He'll also use a low-80's changeup and yeah, every so often he'll bust out a straight four-seam fastball. That's just a show-me pitch though, a 3-0 auto-strike offering or something. The sinker-slider-changeup combo is how he makes his living, and because of that repertoire he has a negligible platoon split both this year and for his career.
Marquis has pitched in large markets like St. Louis and Chicago before, which is always a plus. He's also pitched in the playoffs several times, including with the Cardinals during their 2004 NL pennant run.
The final year of his contract will pay him about $1.25M a month from here on out ($7.5M total salary), which is pretty cheap.
The Cons
After throwing fewer than 190 IP just once from 2004-2009, Marquis was limited to just 13 starts and 58.2 IP last season because of bone chips in his throwing elbow. He had surgery and was out from late-April until early-August. He's been healthy since and hasn't missed a start this year.
Marquis has little margin for error because he can't miss bats when he needs to. He's a classic pitch-to-contact guy, getting a swing and miss just 7.0% of the time this year, essentially identical to his 6.8% career mark. Those kinds of guys are tough to count on against good lineups.
He's a career National League pitcher and has performed pretty poorly during interleague play, a 5.50 ERA and ~4.89 FIP in 168.2 IP over the course of his career.
He does not project as either a Type-A or B free agent and is pretty far from off from the cut-off, so no draft pick(s) if he leaves as a free agent. Marquis has already started talking about a multi-year contract extension, but whatever team employs him is under no obligation to give it to him.
For what it's worth, Larry Rothschild was Marquis' pitching coach when he was with the Cubs in 2007 and 2008, so there's already a bit of a relationship and familiarity there. Let's not kid ourselves here, Marquis is no savior. He's a decent fourth or fifth starter option at best, something the Yankees already have plenty of. If they could get him for dirt cheap, say a Grade-C prospect and take on the salary, there's no harm in it just to have him around as depth. The Yankees need to focus on getting a high-end starter though, guys like Marquis are filler. Not useless, but not a difference maker.