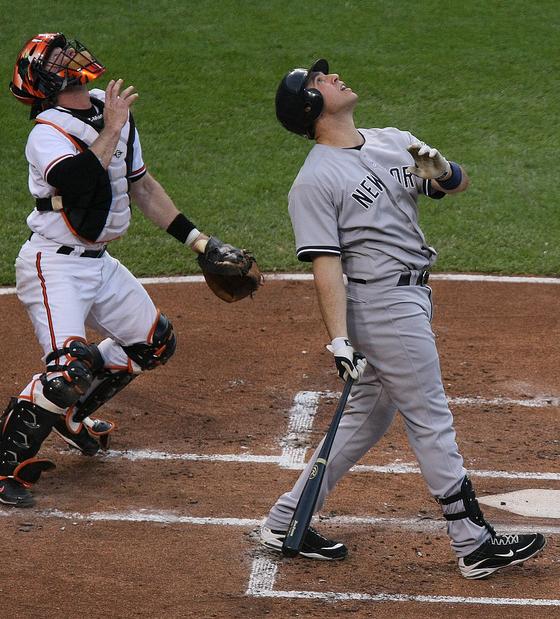 This season started out so promising for Mark Teixeira. He put any concerns about an April slump to bed pretty early, homered in each of the first three games of the season as well as four of the first five. Tex had a .279/.408/.656 batting line with six homers to his credit through the team's first 17 games, which would have started some ridiculously early MVP talk if Curtis Granderson wasn't matching him shot for shot while Jose Bautista was busy doing his superman impression.
It's been a series of ups and down for Teixeira since that completely arbitrary 17th game cutoff. He's hit .231/.331/.466 in the team's last 65 games and .209/.313/.419 in their last 34 games. His series in Toronto featured just two singles, and you have to go all the way back to the final game of the Mets' series in CitiField to find his last extra base hit. He may be second in the league with 25 homers, but a .240/.346/.500 batting line (.368 wOBA) and 2.8 fWAR is not exactly what he or the Yankees had in mind when he signed that fat $180M contract two and a half years ago. It's very good production, but not elite.
The Yankees have had just four primary first baseman over the last three decades or so, and every single one of them has been an above-average player. The second of those four was Tino Martinez, who like Teixeira was very good but not elite during his time in pinstripes. Tino's first two weeks with the Yankees were awful (.088/.255/.118 kind of awful), awful enough that he was regularly booed at home. He of course went on to turn things around and help the Yankees win the World Series in his first year with the team, just like Teixeira. The similarities don't end there though.
From 1996-1998, Tino's first three years with New York, he posted a .364 OBP and a .516 SLG. In his two and a half years as a Yankee, Teixeira owns a .368 OBP and a .518 SLG, identical to Martinez's output for all intents and purposes. Of course these two guys are very different hitters. OBP and SLG are output stats, they tell you what happened rather than why it happened (SLG is an even bigger culprit than OBP). Tex is pretty close to a classic three true outcomes type, hitting for big power while drawing lots of walks and striking out a fair amount. Tino was much of a contact oriented hitter. He had power but not Tex power, he drew walks but not an overwhelming amount, and he also had a knack for avoiding the strikeout. The OBP and SLG might be identical, but little else is …

Teixeira has a pretty big edge in the WAR department (remember, he's still got another 70 games to play this year). The one part of OBP we don't see here is hit-by-pitches, which is a repeatable skill to a certain extent. Tex is a HBP magnet and has been for most of his career, getting hit by 33 pitches since becoming a Yankee. Tino got hit by 27 pitches in his entire seven years in pinstripes. Unfortunately we don't have batted ball data for the late-90's, otherwise I'd love to compare the two that way. It's pretty obvious that Tex has gotten a little homer happy at New Yankee Stadium, just look at his ever increasing fly ball rate…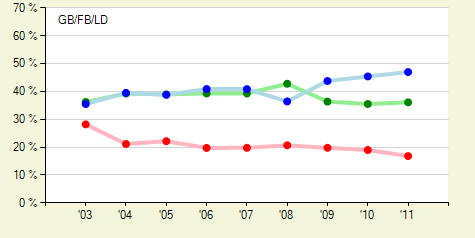 I do think that Teixeira's low batting average this year can at least be partially blamed on bad luck; a .219 BABIP is extreme even for a guy that faces a defensive shift and puts 47% of his balls in play in the air. His expected BABIP (xBABIP) based on his batted ball profile is something like .294, which almost matches his career .297 BABIP. Even if you don't buy the xBABIP idea, I still find it very hard to believe a .219 BABIP is suddenly Teixeira's true talent level. Exactly two players have single season BABIP's that low this century (min. 400 PA): Aaron Hill last year (.196) and Dan Uggla this year (.205). Carlos Pena was at .222 last year, then you have to go all the way back to 2004 to find someone else in the .220's (that would be Tony Bautista at .225). I expect some kind of regression from Tex, even if it's just getting his BABIP into the .260's or so. Maybe it happens this year, maybe it doesn't*.
It's worth pointing out that Tino's offensive output started to slip after 1998, which is easiest to see here. He hit just .267/.333/.461 from 1999-2001 and was 31 when that decline started, the same age Teixeira is now. Both of these two are slick defensive players (I think Tex is a little better, but it's been a while since I've seen Tino play first regularly) and neither ever really hit in the playoffs (though Tino has two huge World Series homers to his credit), plus they're both pretty boring interviews and what not. Tino has achieved True Yankee™ status but I get the sense that Teixeira earned it in 2009 but has somehow lost it since. I didn't know that was possible. Either way, their first three years with the Yankees were very similar in terms of overall production even if they went about the offensive end of things very differently. The odds of the Yankees (or any team, really) coming out ahead during an eight-year contract worth nearly $200M is pretty small, but it's still pretty disheartening to see Teixeira's decline to Tino levels so soon. I expect there to be some kind of rebound, hopefully it comes soon.
* And besides, the only reason I really care about his batting average is because it's dragging his OBP down. It would be nice if everyone hit .300, but I'd be much happier with .240/.400 than .300/.360.