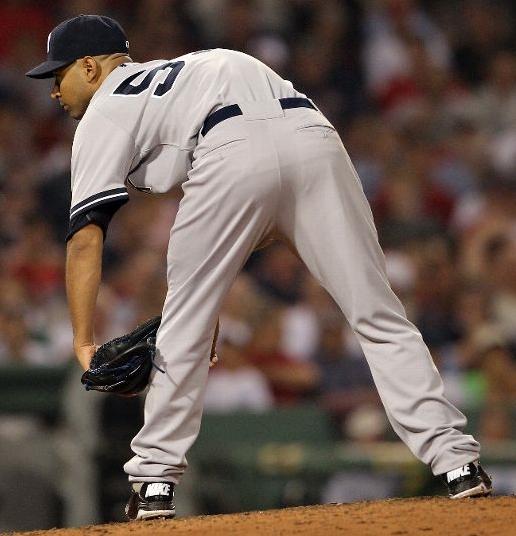 It's the same story every year. The Yankees start the season with a collection of seven relievers, and inevitably some guys are ineffective and/or get hurt. By the end of the season the bullpen corps looks a lot different than it did in April. Joba Chamberlain threw just 28.2 IP before Tommy John surgery ended his season, and Rafael Soriano threw just 15 IP before landing on the DL with a less severe elbow injury. Luis Ayala spent some time on the DL, and Bartolo Colon went from long-man to number two starter.
Through the first 113 games of the season, the Yankees have cycled through miscellaneous relievers like Buddy Carlyle, Amaury Sanit, Steve Garrison, Kevin Whelan, Jeff Marquez, Sergio Mitre, and Lance Pendleton, but only one has really impressed: Cory Wade. Signed to a minor league deal back in June, Wade surfaced with the big league team soon thereafter and gained Joe Girardi's trust in short order. He retired the first eleven men he faced as a Yankee, including six as part of two perfect innings in his second appearance, in extra innings against the Rangers.
Wade's effectiveness has kept him around longer than the Carlyles and Sanits and Whelans of the world, and he's turned into a bit of a secret weapon out of the bullpen during the second half. Consider that …
… he's the new fireman.
In four of his last six appearances (including the last three), Wade has entered the game with at least one man in scoring position and often multiple runners on base. He's allowed just one of the eight runners he's inherited in that time to score, and on the season he's stranded ten of the 11 runs he's inherited. Wade's a good fit for that role because he gets ahead of hitters (66.2% first pitch strikes, better than the 59.2% league average) and misses bats (9.6% swings and misses), plus he has a small (reverse) platoon split both this year and for his career. He's not just a matchup guy. Injuries and hyper-effectiveness have moved David Robertson into a more prominent late-inning role, but Wade has quietly stepped in as Joe Girardi's get-out-of-jams specialist.
… he's the relief version of Freddy Garcia.
Like last night's starter, Wade will lull hitters to sleep with his offspeed stuff because he has a below-average fastball. He's thrown his heater (which has averaged 88.7 mph this year) just 44.6% of the time this season, instead relying on his low-80's changeup and high-70's curveball to do most of the work. We've also seen him drop his arm slot to throw a slider. It's not the greatest arsenal in the world, but it works because Wade doesn't have to go through the lineup multiple times. Unpredictability is a great thing, especially in short bursts.
… he's flexible.
The Yankees have the ability to keep Wade around for a while should he continue to perform. The Dodgers non-tendered him after last season because he was having some injury problems, but Wade won't be eligible for arbitration until after next season. That means he's under team control for dirt cheap through 2015. As far as I can tell, he also has a minor league option remaining. That last part is unofficial though, so don't hold me to it. Either way, Wade also gives the Yankees some roster flexibility for the bullpen.
* * *
Middle relievers tend to have very short shelf lives, even good ones. Wade has done a bang-up job for the Yankees so far, but it is only 20 IP and he's a long way from establishing himself as a bullpen stalwart. For now, the Yankees will enjoy his unexpected production, using him to bridge the gap between the starters and Robertson/Soriano in the late innings.