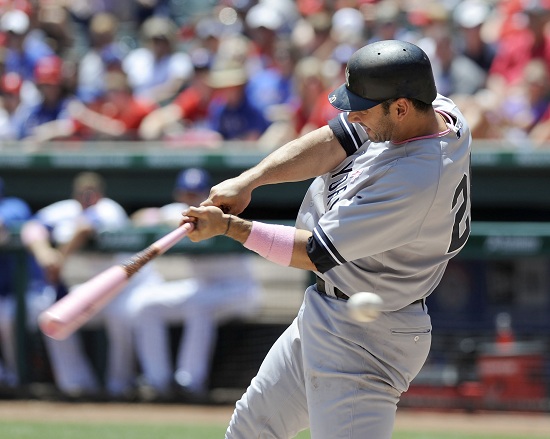 Jorge Posada is out. Before last night's game the Yankees informed Posada of his new role off the bench, paving way for a DH platoon that will involve Eric Chavez and Andruw Jones for the time being. As Mike noted this morning, that leaves the Yankees bench fairly inflexible, especially since it's only three men deep to begin with. That's certainly one downside to the issue. But what about the other side? Will the Jones-Chavez tandem significantly outperform Posada for the rest of the season?
Updated projections can give us one sense of expected production. ZiPS updates its numbers constantly, adjusting its full-season and rest-of-season projections as the season progresses. This helps weed out some of the noise we get in partial-season samples. It's quite optimistic about the final two months of Posada's 2011, projecting him for a .334 wOBA in 126 PA. That amounts to about two runs above average, though that is below average production for a DH. That projection might seem overly optimistic, since Posada has produced a mere .299 wOBA to date. But he has produced much better against righties, a .341 wOBA (5.1 runs above average). There is a chance, then, that he could hit that .334 projection if given 126 PA exclusively against righties.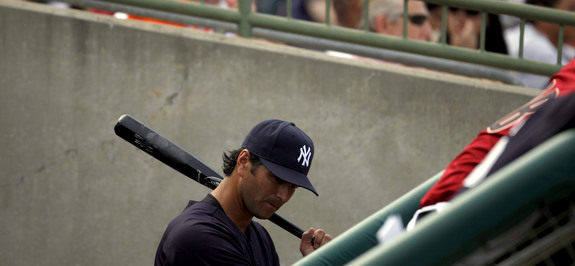 Taking over his role as the DH against righties is Eric Chavez. A foot injury has limited him to just 26 games and 76 PA this year, but he's done a fine job filling in, producing a .368 OBP and a .336 wOBA. ZiPS has him on track for just 36 more PA this season at a .300 wOBA, which would mean below average production. The upshot here is that his ZiPS projection is based on the past few years, in which he played hurt and hardly played in general. There is reason to believe that he'll beat that production if he remains healthy. Unfortunately, Chavez is a risk to get hurt at any point, making his projection even more difficult. It's as easy to see him matching Jorge's .334 projected wOBA the rest of the way as it is to see him produce nothing while on the DL.
For most of the season Jones has played the part of DH against lefties, though as I'll describe in a moment it hasn't always been a straight DH role. He's apparently hitting right in line with his ZiPS projections: his .341 wOBA matches his rest-of-season and full-season projection. At his 87 projected plate appearances the rest of the way, that would work out to 1.9 runs above average. That makes for a decent right-handed part of the platoon, though again it's not above average for a DH. The caveat is that with that kind of playing time, a couple of extra strikeouts could significantly downgrade his production, just as an extra homer can significantly upgrade it.
Given the projections it would appear that the former platoon of Posada and Jones would work out best. Chavez fits, because he's hit this season and is expected to continue his current pace, rather than his projected one. But even then, the Yankees are looking at about four runs above average for their DH spot the rest of the season. With that kind of production, combined with the inflexibility that the arrangement causes, should give the Yankees pause. That might work as a quick-term fix, and if Chavez breaks out while getting regular playing time it might stick for a bit longer. But I suspect that this is merely a tide-over while the Yankees let the effects of the Posada benching dissipate.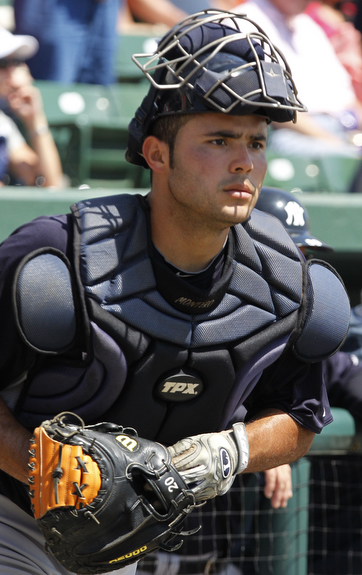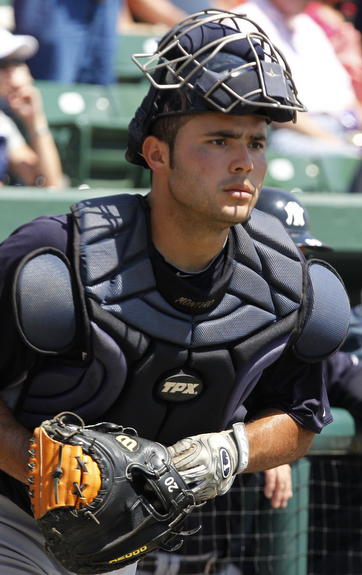 When the Yankees announced Jorge's benching, the one name on everyone's tongue was Jesus Montero. There has been talk of his promotion for weeks, and with Posada on the bench there appears to be a clear opening. There's a chance that Chavez and Jones are merely a placeholder so that the Yankees don't have to bring up Montero as Posada's replacement, which would create additional and unnecessary tension and drama. Bringing him up to replace the Chavez/Jones platoon might be a bit easier for the organization to handle, though they could be losing out on potential production.
ZiPS projected Montero to produce a .358 wOBA in the 2011 season, a mark greater than any of the current DHs. If we project Montero to get 200 PA the rest of the way — which is in line with Robbie Cano's projected remainder — he would produce 7.3 runs above average. That's nearly double what the platoon would combine to produce. It's tough, of course, to project a rookie to produce at that kind of level, especially when he hasn't even produced that well at AAA. But we know what type of talent Montero possesses, and we know he can go on a tear. If he goes on one with the Yanks, he'll easily be their best DH option the rest of the way.
This DH platoon does afford the Yankees a bit of flexibility, especially after Alex Rodriguez returns from the DL. It will allow Joe Girardi to cycle through his players who might need a half day off, using them as DH and either Jones or Chavez in the field. That stands in contrast to Jorge, who can spell only Mark Teixeira at first. Chavez can do that, as well as handle A-Rod's duties at third, while Jones can take over for any of the three outfielders (with Gardner going to center when Granderson gets a day). That should help keep everyone fresh as the Yanks play 30 games in 30 days, including a doubleheader.
While the new DH platoon does pose some risks, it does provide a number of benefits. Chavez, while not projected to hit well, has produced while healthy. Posada has actually produced similar numbers as a left-handed hitter this season, but apparently the Yankees feel that Chavez is the better bet going forward. The gained flexibility is also a major benefit, since the Yankees are rather inflexible as currently constructed. The plan comes with a ready made backup, too, as Montero can slide into that spot if it becomes necessary. This move probably won't pull the Yankees out of the bottom half of the league in DH production, but it figures to be something of an improvement over the current arrangement.