The Yankees opened the season with what appeared to be an enviable amount of relief depth, plus there was more on the way at midseason. Unfortunately, as the saying goes, the best laid plans…

Joba Chamberlain
When the season started, everyone knew the 27-year-old Chamberlain was going to be a non-factor until at least midseason. The right-hander blew out his elbow in early-June of last year, and the recovery time for Tommy John surgery is typically 12 months. He talked about coming back in May while the team cautioned that it might not be until July, but all of the speculation became moot when Joba suffered an open dislocation of his right ankle while jumping on trampolines with his son at a children's play place in late-March.
Surgery and a lengthy rehab process followed, and it wasn't until mid-July that he pitched in his first minor league rehab game. The Yankees weren't counting on him to return this year but Joba insisted he would be back, and sure enough he was activated off the DL on July 31st. He was scheduled to make one final Double-A rehab start that night, but the club had traded Chad Qualls for Casey McGehee earlier in the afternoon and didn't want to play with a short bullpen.
Joba was terrible early on. He allowed two runs in 1.2 innings in his first appearance and ten runs in his first eleven appearances (10.1 innings). His fastball hummed in around 94-96 and his slider was sharp, but his command was non-existent. That's pretty typical for guys coming off elbow reconstruction. The good news is that Joba finished very strong, allowing just one unearned run in his final eleven appearances and 10.1 innings while striking out 13 and walking just one. He got hit hard in the postseason and I mean literally — the barrel of a broken bat hit him square in the right elbow and kept him out for a few days.
Although the Yankees did get 20.2 late-season innings out of him, 2012 was essentially a lost year for Joba. The ankle injury delayed his return and when he did get back on the mound, he wasn't anything special (4.35 ERA and 4.01 FIP). It's encouraging that he finished well and I suppose it's good news that missing all that time due to injury will keep his salary down next year, but I think the Yankees would have preferred to have Chamberlain healthy as soon as possible and contributing to the bullpen.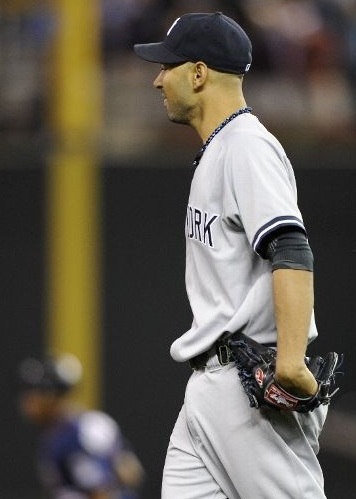 Cory Wade
Joba's injury last season opened the door for Wade, who pitched to a 2.04 ERA (3.76 FIP) in the second half after being plucked off the scrap heap. The 29-year-old Wade was expected to be an important middle innings cog coming into 2012, giving the club solid right-handed depth behind Mariano Rivera, David Robertson, and Rafael Soriano. He was stellar early on (1.46 ERA and 1.15 FIP in his first ten outings and 12.1 innings) and took on a setup role when Rivera and Robertson went down with injuries in early-May.
Wade pitched fairly well as the de facto right-handed setup man, allowing just six earned runs (3.60 ERA and 4.30 FIP) in his next 17 outings and 15 innings, but the wheels came completely off the bus in mid-June. He allowed one run in three straight appearances from June 16th-22nd, then got hammered for four runs in 0.2 innings by the Indians four days later. Three days after that, the White Sox crushed him for six runs in 2.1 innings. Joe Girardi let him wear that one, leaving Wade in to throw a career-high (by far) 58 pitches.
The Yankees had little choice but to send the soft-tossing right-hander to Triple-A, and outside of one-game appearance as the 26th man during a doubleheader against the Red Sox (three runs in 0.2 innings), he didn't return until rosters expanded in September. Wade's solid work in the minors (2.27 ERA and 4.12 FIP in 31.2 innings) was unfortunately not an indication that his command/mechanical issues were a thing of the past. He surrendered four runs in 5.2 innings during the season's final month, but he deserves props for throwing a perfect 14th inning in the crazy extra-innings comeback win over the Athletics.
All told, Wade pitched to a 6.46 ERA (4.50 FIP) in 39 innings for the Yankees this year. His strikeout (8.77 K/9 and 22.2 K%) and walk (1.85 BB/9 and 4.7 BB%) rates were dynamite, but batters absolutely punished him whenever he caught too much of the plate with his soft stuff. That happened far too often once the calendar flipped over to June. The Yankees designated Wade for assignment in early-October and the Blue Jays claimed him off waivers a week later, ending his brief tenure in New York. Between get picked off the scrap heap last summer and falling apart in the middle of this season, he gave the team about a full season's worth of solid relief work (2.28 ERA and 3.44 FIP in 67 innings).