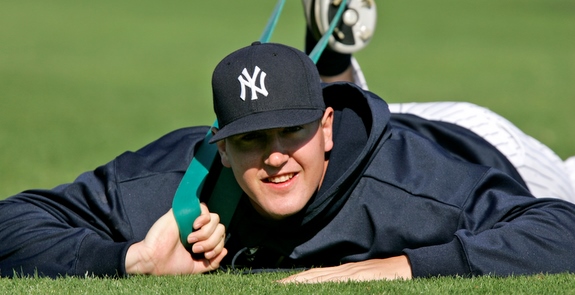 This past Monday was the signing deadline for 2011 draft picks, and according to Baseball America's free database, the Yankees signed 23 of their 50 picks. That's a little light compared to a typical year, in which a team will usually sign around 30 draftees. No big deal, just a bit of an anomaly. What isn't an anomaly is the amount of money the Yankees are spending to sign these players. As Jim Callis noted in his chat earlier this week, the Yankees spent just $6.3M on this year's draft, just about 80% of the $7.6M league average. It's the second straight year they've come in under $7M spent and third time in the last four years.
Just to provide some context before we go any further, here's the signing bonus info for the last few years (source, source)…

That's as far back as I can find the league info, and I can't find a simple break down of the team-by-team spending this year. Just knowing that the Yankees spent below the average is enough anyway, their actual rank among the 30 teams isn't of dire importance.
The Yankees went big in 2007. Andrew Brackman was ranked as the 7th and 21st best prospect available right before the draft by Baseball America and Keith Law, respectively (subs. req'd for both), and New York was able to grab him with the 30th overall pick. The Yankees gave him a four-year Major League contract worth at least $4.55M ($3.35M signing bonus spread out over six years) and potentially worth $13M, which at the time would have been the richest deal in draft history. They did this knowing that Brackman would need Tommy John surgery, which he had a week after signing.
They didn't stop there though. The Yankees gave fourth rounder Bradley Suttle (billed as the top pure college hitter by Baseball America before the draft) a $1.7M bonus, at the time a record for the round. They also handed tenth rounder Carmen Angelini a $1M bonus, which was a then-record for a non-draft-and-follow player taken in that round. Those three plus more (other notable 2007 draftees include Austin Romine and Brandon Laird) resulted in that $7.43M spending spree, topped only by the Orioles ($7.67M thanks to the $6M they gave Matt Wieters) and Nationals ($7.62M).
Less than three full years later, the start of the 2010 season, all three of those guys looked like duds. Brackman missed 2008 with his elbow surgery then was a disaster in 2009 (5.91 ERA and 4.66 FIP in 106.2 IP in Low-A). Suttle had a fine year in Low-A in 2008 (.361 wOBA), but he missed the entire 2009 season due to a pair of shoulder surgeries. Angelini was a complete disaster, posting just a .271 wOBA in 888 plate appearances between 2008 and 2009. That doesn't mean they were bad picks at the time of the draft, they just weren't working out.
The 2008 draft was a special case for the Yankees, who obviously shot for the moon with Gerrit Cole but failed to sign him. They would have been one of the top spenders had he agreed to turn pro. Second rounder Scott Bittle didn't sign because the Yankees didn't like the medicals, so that contributed to the relatively small amount of spending they did. The two compensation picks in the 2009 draft turned into Slade Heathcott and J.R. Murphy, who received over-slot bonuses in part because the Yankees had little leverage. Had they not signed those two, they wouldn't have gotten another compensation pick the next year. Their hands were tied, they had to sign those guys otherwise it would have been two straight drafts without two top picks.
In each of the last two years, once the futures of Brackman, Suttle, and Angelini became a bit more clear and the Cole/Bittle stuff had fully run its course, the Yankees have signed their first round pick for slot money*. Last year it was Cito Culver and this year it was Dante Bichette Jr, both of whom were drafted ahead of where the consensus thought they'd go. The Yankees dropped seven-figures on just one player in each year (Mason Williams in 2010 and Greg Bird in 2011), compared to 2006 and 2007 when they handed out three $1M+ bonuses each year.
Scouting director Damon Oppenheimer told K. Levine–Flandrup that the team's draft budget is flexible and they can drop big money on a kid if they believe he's worth it, but we just haven't seen those kinds of deals handed out the last two years. I honestly don't think it's a coincidence that the draft spending has gone down since it became apparent that Brackman, Suttle, and Angelini were starting to look like flops after the 2009 season. I can't tell you who made the decision to scale back on the spending (Oppenheimer? Brian Cashman? ownership? all of the above?), but their recent drafting a spending habits certainly suggest that someone put the clamps down.
The Yankees have more money than every other team and haven't been using it to their advantage in the draft these last two years. They still clean up on the Latin American market, which has been and always will be the backbone of their farm system (hooray for free agency!), but the draft is the most efficient way to add high-end talent to the organization. I think the Yankees have done a fantastic job in the middle and late rounds of the draft in recent years (where they consistently spend over-slot), but the effort with top picks, when the top talent is available, is clearly lacking. I think that 2007 draft scared them away from huge bonuses, as did Cole's rejection in 2008. They won't feel the impact of skimping out on top draft talent for another two years or so, but they're going to feel it eventually.
* Bichette was over-slot technically, but only by $55,200. That's not a big deal in the grand scheme of things, it might as well be slot money.