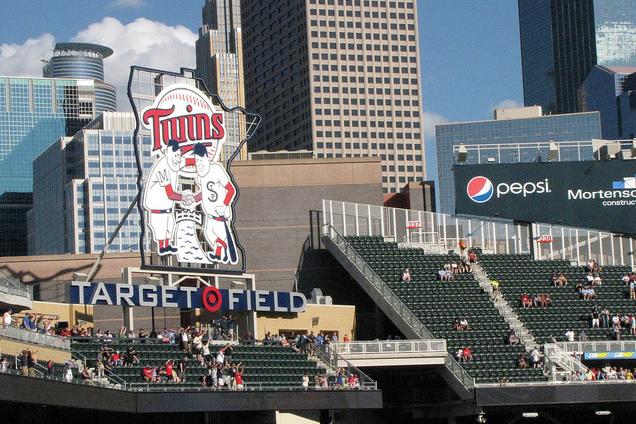 As a Yankees fan, is there anything you'd rather see more than a four-game series against the Twins? I suppose it would be better if they were in the Bronx, but that's just nitpicking at this point. The Yankees have won two of the three games they played against the Twinkies this season, and the one loss was that Rafael Soriano, four-run eighth inning gem way back in April. You remember, this game. Anyway, the Yankees are 59-19 against the Twins in the Ron Gardenhire era (including playoffs), and they're 7-1 in new Target Field.
What Have The Twins Done Lately?
Minnesota just took two of three from the Tigers, but before that they had lost eight of nine and 11 of 13. Their 54-68 record is the third worst in the AL, besting only the Orioles (47-74) and Royals (51-73), but their -113 run differential is second worst to the O's (-138). It's been a pretty rough year for the Twins, who usually do a fine job of fielding competitive teams.
Twins On Offense
The Yankees are likely to welcome Alex Rodriguez back to the lineup at some point in this series, and the Twins have been getting some important pieces back as well. Justin Morneau returned from his latest round of concussion problems five games ago, and is hitting just .226/.281/.338 in 253 sporadic plate appearances this year. Jason Kubel (.294/.344/.460) missed nearly two months with a foot sprain before returning earlier this month. Rhett Bollinger reports that Kubel will be out for at least tonight's game due to family reasons, however.
Bollinger also reports that either Michael Cuddyer (.295/.360/.485) or Denard Span (.263/.331/.342) will be placed on the DL before tonight's game. The former has a neck strain that has kept him on the shelf for the past six games, the latter concussion-like symptoms. Losing Cuddyer would be a huge blow since he's been their best hitter all season long; he leads the team in AVG, OBP, SLG, OPS, OPS+, ISO, wOBA, wRC+, HR, RBI, R … basically every significant offensive category whether you're a stathead or a traditionalist (min. 250 PA).
Despite all those injury problems, the Twins still have Joe Mauer, who has hit .325/.395/.390 over his last 36 games to bring his season line to .281/.346/.340. It has not been a banner year for Mr. Mauer, who missed time with injury as well. Jim Thome is still mashing taters, with a .259/.365/.513 batting line in limited playing time. With Kubel and possibly Cuddyer out tonight, there's a chance he'll play even against the lefty CC Sabathia. Danny Valencia (.244/.288/.381) crashed back to Earth after last year's stellar rookie campaign, and the rest of the lineup is filled out by guys like Ben Revere (.253/.301/.298), Trevor Plouffe (.206/.289/.373), Rene Tosoni (.215/.279/.342), and Tsuyoshi Nishioka (.214/.256/.240). Luke Hughes (.233/.296/.317) will be called up to take Cuddyer's/Span's spot, and the backup catcher is Drew Butera (.167/.208/.256. Yeah, they're offensively challenged up in Minnesota.
Twins On The Mound
Thursday, LHP Brian Duensing (vs. CC Sabathia): A rematch of Game One of the 2009 ALDS, the Yankees typically hit Duensing very hard whether it's the playoffs or regular season. His FIP (4.00) looks a lot better than his ERA (4.53), and his strikeout rate (6.54 K/9) is surprisingly good this year. Duensing will give up some homeruns though (1.04 HR/9), in part because he's just not much of a ground baller (42.8%). The 28-year-old southpaw lives off his low-90's two-seamer, throwing it just about half the time. He'll also mix in a straight, low-90's four-seamer, a low-80's changeup, a low-80's slider, and a low-70's curveball. Duensing has a huge platoon split both this year and for his career, so it's a good night to stack the lineup with righties.
Friday, RHP Kevin Slowey (vs. Phil Hughes): Slowey will be making his first start of the season after being banished to the minors in part because the team doesn't seem like him all that much. He made six relief appearances earlier this year, got hurt, came back and was immediately sent to Triple-A where he's started for the last two months or so. Slowey's calling card has always been his control. His career unintentional walk rate is just 1.44 uIBB/9, and he misses enough bats to post respectable strikeout numbers (career 6.79 K/9). He's a huge fly ball guy though (just 32% grounders for his career), so he's definitely prone to the homerun (career 1.41 HR/9). Slowey will throw a low-90's two-seamer, a high-80's slider, a mid-70's curveball, and the occasional low-80's changeup.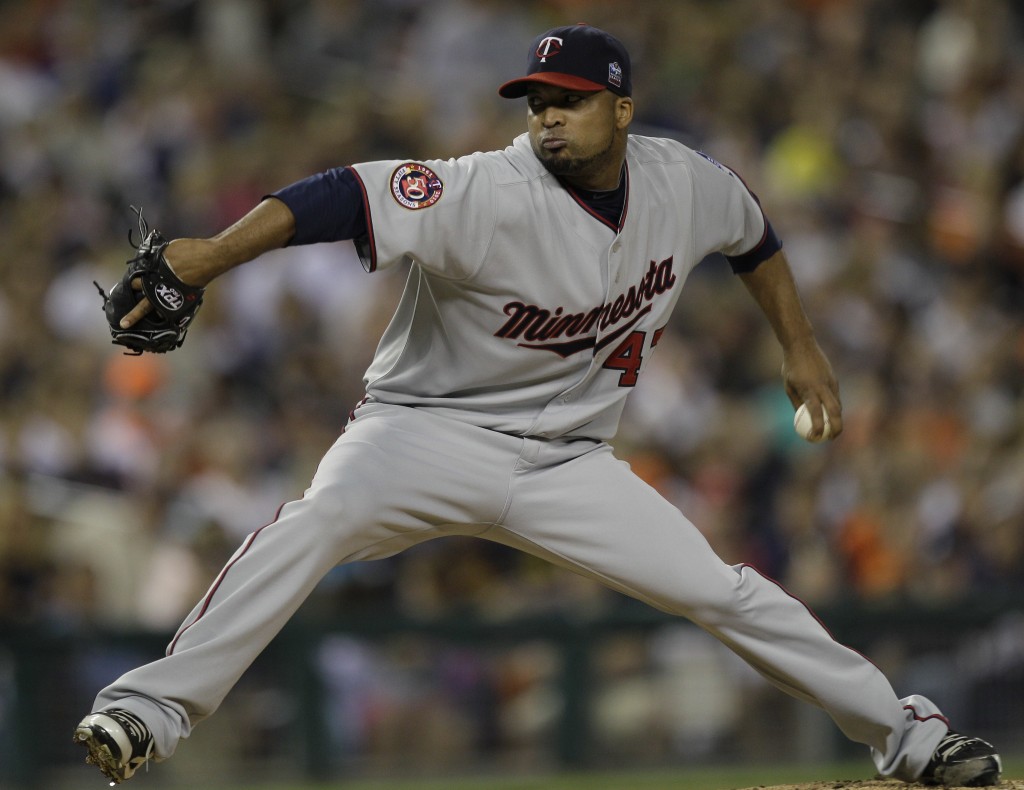 Saturday, LHP Francisco Liriano (vs. A.J. Burnett/Freddy Garcia): Liriano could have won the Cy Young Award last year, but his numbers are down across the board this season, whether you want to look at ERA (5.12), FIP (4.63), xFIP (4.45), tERA (4.47), SIERA (4.39), K/9 (7.39), BB/9 (4.90), HR/9 (1.02), ground ball rate (47.9%), whatever your heart desires. He's throwing more low-90's four-seamers (33.2%) than last year (just 6.6%), and has scaled back the usage on his low-90's two-seamer (18.1% after 42.7%). Liriano still has that big wipeout slider, and he'll also throw a power changeup. It's a roll of the dice every time out these days, he could be dominant or a disaster.
Sunday, RHP Nick Blackburn (vs. Burnett/Garcia/Ivan Nova): Blackburn is the quintessential Twins pitcher. He doesn't strike anyone out (4.65 K/9), keeps the walks in check (2.76 uIBB/9), and gets a ton of ground balls (53.2%). They like him so much, they threw $14M at him last year by way of a four-year contract. Crazy. Blackburn doesn't miss bats with his high-80's sinker or his high-80's cutter or his low-80's curveball or his mid-80's changeup. Pitching to contact works great in theory, but not so much when you're facing a powerhouse offense like the Yankees (especially with men on base).
The Yankees' rotation is a little up in the air for Saturday and Sunday. It all depends on Garcia's finger, if it's healed and allows him to throw his splitter, then he's likely to start Sunday with Burnett going the day before. If not, then Freddy might hit the DL with Nova filling in. No one will be on short rest regardless of what happens, so don't worry about that.
Bullpen: It took more than half-a-season, but Matt Capps (4.78 FIP) finally lost the closer's job. Joe Nathan (4.70 FIP but much better of late) gets his old gig back, and his primary setup man is left-hander Glen Perkins, who's been one of the very best relievers in baseball this year (9.92 K/9, 2.94 BB/9, 0.18 HR/9, 50.9% GB, 2.39 ERA, 2.11 FIP, 2.81 xFIP). The only other non-Perkins reliever in Minnesota's bullpen that has been above replacement level this year is Anthony Swarzak, who's pitching to a 4.00 FIP in 29.1 IP. The rest of the crew is filled with guys like Jose Mijares (4.80 FIP), Alex Burnett (4.52), and Phil Dumatrait (5.80). Yeah.
Recommended Twins Reading: Twinkie Town, Aaron Gleeman, and Nick's Twins Blog