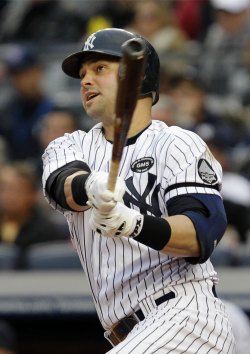 Quick: Who has the highest OBP on the Yankees?
If you read the headline, you can probably guess the answer. It might come as a surprise, though, that Nick Swisher's .377 OBP leads all Yankees. First, we're used to seeing at least one player, and sometimes many, with OBPs much closer to .400. Second, it wasn't too long ago that Swisher's OBP was in the dumps. At the end of May it was at .321, which, when juxtaposed with his .204 BA and .289 SLG, had many wondering if this year would be the one that drove Swisher from New York.
Three months later, and it's almost assured that Swisher again patrols right field in 2012. He has completely turned around his season since he bottomed out on May 25th. It didn't take long for him to approach major league average numbers; in just nine games he raised his numbers to .215/.342/.348. After last night's performance, which included a game-changing three-run homer and a fly ball that came about two feet from handing the Yankees a win, he's hitting .263/.377/.431. He got there by hitting .296/.409/.511 in his last 328 PA.
The turnaround has made Swisher one of the most productive Yankees — not just for the period of his resurgence, but for the entire season. His 123 wRC+ ranks fifth among the Yanks starters, as does his .168 ISO. His 16.1 runs above average ranks fourth. So not only has he started producing on a rate basis, but he's stayed healthy enough to remain in the lineup and put up counting numbers. Even if we swap out his gaudy 10.7 UZR in 2011 for his three-year total, it still amounts to 3.4 WAR, meaning he could still get to 4 WAR on the season. It would be the second straight season he has done so — the only two seasons of his career.
Swisher's turnaround in 2011 further highlights his excellent numbers since becoming a Yankee. In the last three years he ranks third on the team with 68 runs above average. That's right on par with Alex Rodriguez. He's also fifth in that time with a 127 wRC+, and is sixth with 10.9 WAR. Among MLB outfielders he also ranks favorably in his three pinstriped seasons. He ranks 15th with that 10.9 WAR, and his 127 wRC+ ranks 13th. That is, if we were to disassemble the MLB and distribute talent evenly, he'd be the best outfielder on a mid-range team. He might be the third best outfielder, all skills considered, on the Yankees.
The question of whether the Yankees will exercise Swisher's $10.25 million option for 2012 is behind us. They absolutely will. The only question that remains is whether they'll lock him up further into the future. It would certainly make sense for them to try. The minor league system might be strong, but it lacks corner outfield talent. Swisher could hold onto one of those spots for the next three or four years. If his last three years are any indication, it will be well worth the effort. It might get hidden among his silly antics and occasional blunders, but Nick Swisher has been not only one of the most productive Yankees, but one of the most productive outfielders in the majors during his three-year tenure.