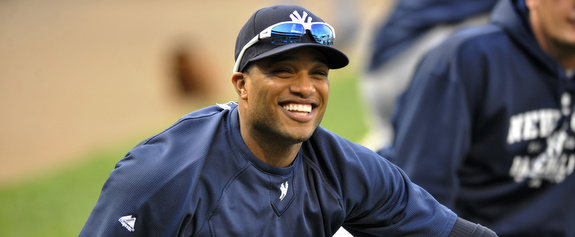 Over the last two, really three years, Robinson Cano has come into his own as not just one of the best players on the Yankees, but one of the very best players in all of baseball. He was a well-above-average contributor on a World Championship team in 2009, a legitimate MVP candidate in 2010, and although this year got off to kind of a slow start, Cano has been producing at his MVP-caliber pace for months now. Despite all the hoopla surrounding (and money being paid to) Mark Teixeira and Alex Rodriguez, it's Cano and Curtis Granderson that drive the Yankees' offensively.
A few years ago the Yankees broke their own rule of not negotiating with personnel (that's everyone, including players, coaches, front office staff, etc.) until their contracts were expired to sign Robinson to a long-term deal. The team gave their second baseman a four-year contract worth at least $30MM right before Spring Training in 2008, even though he was still four seasons away from qualifying for free ageny. This is the last guaranteed year of that contract, and it's paying Cano $10M. The Yankees hold club options for both 2012 ($14M) and 2013 ($15M), and those are locks to be picked up, no doubt about it. That'll take Robbie through his age-30 season, and what happens after that is a great big mystery.
I conducted an informal Twitter poll on Saturday and Sunday, asking people what they think Cano could get on the free agent market right now. I got about two dozen responses, and the average was 7.13 years and $141.2M. That's almost exactly Carl Crawford money, and it sounds reasonable to me. Assuming he produces like he has over the last three years for the next two years, Robbie will be looking at a deal of that size (adjusted for inflation) when he hits the open market after 2013. That's why I think the Yankees need to break their own rule again and sign Cano to another long-term contract this offseason.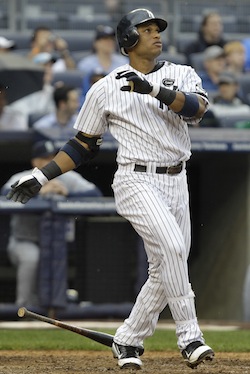 The benefits for the team are pretty obvious. They would be locking up one of their cornerstone (and homegrown!) players through his peak years, perhaps saving a little cash down the road, and avoiding the fiasco of the free agent market in two years. They would also be assuming a ton of risk, because they'd still have to pay Cano should he suffer a serious injury or just rapidly decline in his early-30's like middle infielders are known to do from time to time. Robinson would be securing himself some serious financial security, we're talking generational wealth. Money for his kids and his kids' kids and his kids' kids' kids. He would be giving up his maximum earning potential though, because nothing raises the price like a bidding war on the open market.
In a perfect world, I think the contract would cover six years. The Yankees could guarantee his 2012 and 2013 options, then tack another four years on top of that. That would take Cano through his age 33 season, giving him enough time to land one more big contract, assuming all goes well. The money would certainly be substantial, something like $14M and $15M in the two option years, then $19M, $20M, $21M, and $22M in the four additional years. That's six years and $111M right there, then throw in a signing bonus and a buyout of a seventh year option, and you're talking $120M guaranteed. Definitely less than what he'd probably get on the open market after 2013, but also a freaking ton of money.
Now, there's a significant hurdle that has to be cleared here. Cano hired Scott Boras this past offseason, and Boras almost always takes his high-profile clients onto the market. The one glaring exception is Carlos Gonzalez of the Rockies (late add: Jered Weaver too), who landed himself a seven-year contract worth at least $80M after just one full season as a big leaguer. Pretty sweet deal. In an age where above-average middle infielders are getting locked up before they ever hit free agency, there's little doubt in my mind that Boras is salivating over the prospect of having an in-his-prime middle infielder on the free agent market.
The Jose Reyes contract this offseason will give us a pretty good idea of what's in store for Cano on the open market, but I don't think the Yankees should wait that long. They'd be wise to at least make an attempt to sign him to a contract extension this coming offseason, potentially buying out his prime years for a (ever so slight) discount without getting locked into his mid-to-late-30's at huge bucks. It's certainly risky, but sometimes you have to go out on a limb for special players, and Robbie qualifies in my book.