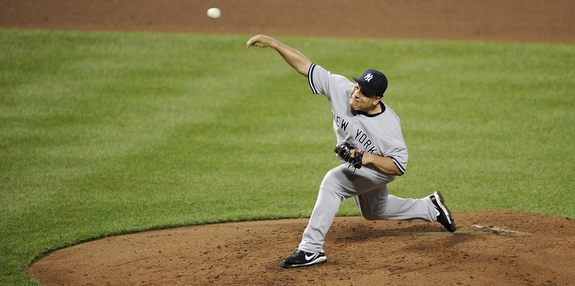 When Joe Girardi yanked Bartolo Colon from last night's game, he did so shortly after the right-hander had racked up inning 130 for the season. Somehow, the Yanks' big gamble has paid off. Colon, making just $900,000 this year, has made 20 starts for the Yanks, has won eight games and was a stud throughout May and into June. The wheels though might be coming loose.
Colon's outing last night was one I'd characterize as good enough. Usually, allowing three runs to another team over six innings would be enough to allow the Yanks' offense to take over. Colon threw a few bad sliders to Brandon Allen and Eric Sogard, but before the 7th, he had been effective even if not efficient. His final line — 6.1 IP, 8 H, 5 ER, 0 BB, 5 K — isn't pretty, particularly against the A's, but that's also due to Boone Logan's failures.
For Colon, though, his outing was his second straight in which he struggled, and since coming off the disabled list with a hamstring injury, he hasn't been nearly as good as he once was. Before he hurt himself covering first, he appeared in 13 games and made 10 starts, eight of which were quality starts. In 78.1 innings, he had a 3.10 ERA/3.44 FIP and allowed 66 hits, 18 walks and nine home runs while striking out 72. Opponents hit .227/.272/.375 with a .268 BABIP, and he averaged just over 14 pitches per inning.
His last ten starts have not been nearly as effective. Since his return, he sports a 4.61 ERA/4.48 FIP in 52.2 innings and has allowed 65 hits and eight home runs while walking 14 and striking out just 40. Just four of his ten outings have been quality starts. Opponents have hit .302/.352/.507 off of him with a .339 BABIP, and he is now averaging over 17 pitches per inning.
Clearly, something has changed for Big Bart since his early season success. Colon, who hasn't reached this lofty level of innings since 2005 and threw over the winter as well, denies being tired, but his approach has changed. Prior to his injury, 86 percent of his pitches were fastballs. Of those, 48 percent were four-seamers and 38 percent were two-seamers. Since his return, 55.7 percent of pitches were four-seamers while just 24 percent were two-seamers. Sliders and change-ups now account for over 20 percent of his pitch selection.
To make matters worse, his pitches haven't been moving as much. His fastballs and sliders have seen less vertical movement over the past ten starts, and his slider has seen more horizontal movement than before. It has become a bit flatter, and as Allen's monster shot showed last night, Major League hitters have no problems with flat, fat 83 mph sliders. That ball reached the upper deck above right field.
Today, Joe Girardi expressed his concern about Colon's disappearing two-seamer. The skipper said to Jack Curry that the two-seam fastball has "been a very important pitch for him and we need to get it going." That much, at least, is obvious.
In an ideal world, the Yankees would figure out a way to give Colon some extended rest over the next few weeks because they will need him at his best for the playoffs. If A.J. Burnett were pitching even adequately, the club could afford to tinker with the rotation, but unless they're willing to give Hector Noesi or Adam Warren a spot start or two, Colon will get the ball every few days. Even as it gets late in the season, it's too early, meanwhile, to say that the wheels have come off completely for Colon, but he's not the pitcher — both stuff- and results-wise — that he was earlier this year.