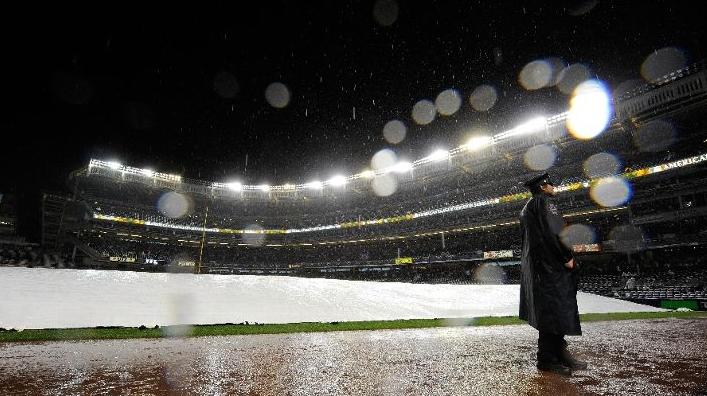 MLB exec Joe Torre announced that ALDS Game One has been suspended due to rain. The game will resume at 8:37pm ET on Saturday at the same point they left off tonight: tied at one in the middle of the top and bottom halves of the second inning. Game Two will be pushed back to Sunday at 3:07pm ET, so the teams lose that off day. Absolutely brutal.
The two clubs will use their Game Two starters tomorrow night (Ivan Nova and Doug Fister), and then their Game Three starters on Sunday (Freddy Garcia and Max Scherzer). Justin Verlander will start in the new Game Three on Monday, and CC Sabathia is likely to start that game as well. He threw 27 pitches tonight and intends to lobby for Sunday's start.
The loss of the off day means the Yankees will need a fourth starter, and Joe Girardi indicated that he's leaning towards A.J. Burnett for Game Four. Jim Leyland said that Rick Porcello will start a potential Game Four, and both teams would presumably bring back tomorrow's starters for a potential Game Five on normal rest. Ken Davidoff says the teams will be allowed to revise their rosters, so the Yankees could choose to add Bartolo Colon if they want. There's also the issue of bullpen rest now; forget about going nuts with Rafael Soriano, David Robertson, and Mariano Rivera.
Tomorrow's weather forecast calls for rain, and Torre indicated that MLB will consider a doubleheader if they have another delay/suspension  not allow a postseason doubleheader. Leyland doesn't plan to make any immediate lineup changes even though they will no longer be facing a lefty on Saturday.