Over the next few weeks, we're going to look back at what went right, what went wrong, and what went as expected during the 2011 campaign.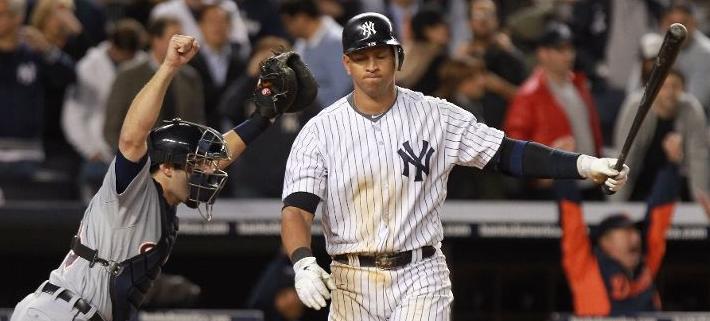 The Yankees somewhat surprisingly won 97 games during the regular season and finished with the best record in the American League, but they lost three of five to the Tigers in the ALDS to end their season. They outscored Detroit 28-17 during the five-game set, showing that when faced with a small sample, it's not about how many runs you score, but when you score them. The Yankees posted the lowest ERA (3.27) among the eight teams during the LDS round, but they lost the three games by a total of four runs.
A number of things will typically go wrong whenever a team loses a playoff series, but nothing went more wrong for the Yankees than their supposed heart of the order. Alex Rodriguez, Mark Teixeira, and Nick Swisher, otherwise known as the 4-5-6 hitters, went a combined 9-for-55 with two doubles, one homer, seven walks, and 16 strikeouts. That works out to a .164/.266/.255 batting line and a .243 wOBA. All the other Yankees in the series combined to hit .305/.386/.466, roughly a .378 wOBA. It seemed like every time the Yankees had something cooking on offense, these three would come to the plate and almost immediately put out the fire for Detroit.
To get an idea of how awful A-Rod, Tex, and Swish were during the ALDS, just look at the players around them. Robinson Cano, who hit third in front of them, reached base nine times in the five games but scored just two runs, when he drove himself in on a pair of homeruns. Jorge Posada, who hit seventh behind them, had a monster ALDS (six hits and four walks), but he drove in a total of zero runs because no one was on base in front of him. The 4-5-6 hitters went a combined 1-for-13 with two walks and five strikeouts with runners in scoring position, and the most damning instance of their RISPFAIL came in the seventh inning of Game Five. With the bases loaded and one out, A-Rod struck out, Teixeira walks, and Swisher struck out to end the threat. It was the last time the Yankees would make any kind of sustained rally on the season.
The Yankees didn't lose to the Tigers in the ALDS solely because of A-Rod, Teixeira, and Swisher, but they were certainly a significant contributor to the series loss. When your third, fourth, and fifth best hitters in the regular season (by wOBA) combine to hit like the corpse of Chone Figgins in the postseason, it's going to be really tough to advance. Quality pitching, which the Yankees generally received in the ALDS, can only take you so far.