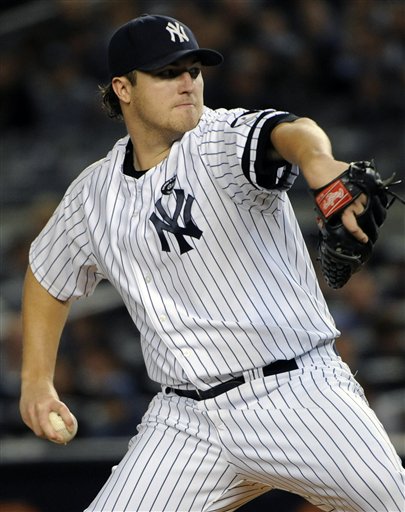 It appears the Yankees are getting a head start on their postseason roster construction. Earlier today ESPN NY's Andrew Marchand reported that Phil Hughes will work out of the bullpen during the season-ending series in Tampa Bay this week, and will likely fill the same role in the playoffs. The decision further limits the Yankees' options for Game 3 in the ALDS and then Games 3 and 4 in the ALCS. But it does present them with an intriguing addition to their already strong bullpen.
Hughes's success in the bullpen is unfamiliar to no one. After an up-and-down start to the 2009 season, the Yankees moved Hughes to the bullpen, where he won the setup role on merit. Throughout that summer he decimated opponents, holding them to a .172/.228/.228 slash line while striking out 65 and walking just 13 in 51.1 innings. That earned him a spot in the rotation for 2010, and for a while he shined. Through his first 11 starts he had a 2.71 ERA and even through his first 23 he kept his ERA under 4.00. But a propensity to surrender home runs, plus an inability to put away batters with two strikes, doomed him to a mediocre finish.
After more of the same this year, perhaps it is time the Yankees moved Hughes back into the role in which he dominated two seasons ago. Many of his problems have stemmed from diminished stuff, whether it's the cutter in general or the manner in which he loses velocity on his fastball throughout a start. A move to the pen could re-focus him on those aspects of his game that made him so dominant in 2009. There are no guarantees, of course, but it does seem as though he'd at least maintain a high fastball velocity while in the pen, which would solve one of this most glaring issues.
At this point, there seems to be no downside. There is little chance the Yankees would allow Hughes to start an ALDS game anyway, so placing him in the bullpen gives him a chance to contribute. There are still questions about the Games 3 and 4 starters, given the September performances that Bartolo Colon and Freddy Garcia have turned in. Having Hughes as something of a caddy will only help the bullpen absorb innings if one or both of them pitches poorly. If he does play the caddy and the Yankees advance, perhaps they would then consider him for a starting role in that round.
All of this we saw coming from miles away. In fact, it's somewhat surprising that the move didn't come earlier, when the Yankees were trying to transition out of a six-man rotation. Hughes might not have been the weakest link, but his bullpen experience, combined with the Yankees unwillingness to remove A.J. Burnett from the rotation, made him the obvious candidate. Now it will happen, and just in time for some big performances. They won't need him in the later innings, since those are well covered by David Robertson and Rafael Soriano. But one more arm in the bullpen, especially one who can throw multiple innings, might be a boon this October.