Over the course of the season, I think we've come to take David Robertson for granted. Well, maybe that's not the right way to put it. I guess it would be more accurate to say that he's one part of the Yankees that we're not concerned about, like at all. At least that's how I feel. Aside from Mariano Rivera, there's no pitcher out in that bullpen that I have more confidence in that D-Rob.
Because of this lack of concern about Robertson and his performance, there's a chance that you may not have noticed his velocity in recent appearances, which happens to be trending downward ever so slightly. Here, have a look…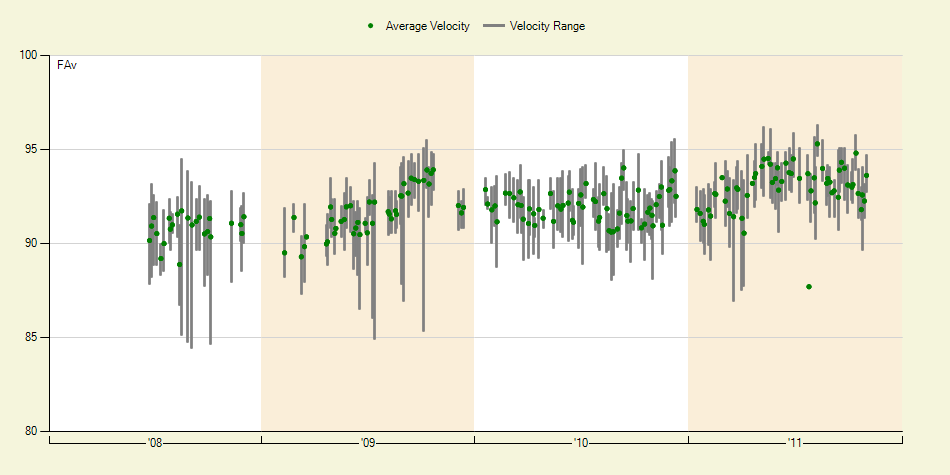 It's nothing major, but there's a definite arc there. Robertson started the year at his usual 91-92, peaked at 93-95 with a few 96's (and I remember at least one 97) in the middle of the summer, and now is gradually declining back to the 92-93 range. That's right in line with what we learned about velocity and the temperature earlier in the year, and again, it's not a huge spike or decline in velocity either. It's there, it's real, but it's not drastic.
Robertson's workload this month has been an issue, only because the team has played an inordinate number of close games lately. Monday's appearance was his first in three days, but before that he pitched in nine of the first 16 days of September. At one point he made six appearances in the span of nine days. Aside from this recent stretch, Joe Girardi's always been very good at keeping his top relievers fresh and spreading his workload around.
Overall, Robertson has already eclipsed last year's total of 61.1 IP by 2.2 IP, however he's faced ten fewer batters and thrown four more pitches. Furthermore, not all appearances are made equal. Although Robertson has faced 138 batters with men on base this year (146 last year), he's faced way more with men in scoring position (109 vs. 88) and with the bases loaded (18 vs. 9). I think we call agree that pitches thrown in tight spots are more taxing that pitches with no one on base, which is why that nominal increase in innings pitched can be a little deceiving.
I don't think this is anything to be worried about, it's not like he's suddenly throwing 87-88 or something like that. Robertson has worked quite a bit this month because of all the close games the Yankees have played lately, but the team is in the position to rest him over the final eight days of the season. They don't need to push him three, or hell, even just two days in a row from here on out. Robertson's performance hasn't suffered at all, and right now there's no reason to expect it too. The kid has proven that he can pitch at 91 in the past, and the velocity hasn't even dropped off that much yetanyway. This is just something that caught my eye over the last week.