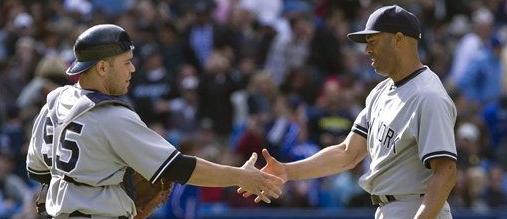 Mariano Rivera made history this afternoon, recording his 601st career save to tie Trevor Hoffman for the most in the baseball history. Every save he picks up from here on out will just add to the history, but like I've said before, Mo didn't need the saves record to validate his position as the greatest reliever of all-time.
After the game, commenter Freddy Garcia's 86 mph Heat did some research and dug up the winning pitcher for each of Mo's milestone saves…
1 – Andy Pettitte
100 – Orlando Hernandez
200 – Sterling Hitchcock
300 – Javy Vazquez
400 – Jaret Wright
479 – Phil Coke (passed Lee Smith for second place on the all-time saves list)
500 – Chien-Ming Wang
600 – A.J. Burnett
601 – Aaron Laffey
I'll add one more to the list, number 225. That was another El Duque win, and it moved Mo past Dave Righetti for the most saves in team history. Who's  going to be number 602? I honestly hope it's not Freddy Garcia, he's starting tomorrow and I want to see Mo get the record at home. So let's hope for a blowout win on Sunday and then a save situation sometime next week.
Anyways, here is tonight's open thread. There's a ton of college football on, plus MLB Network will be airing a game (teams depend on where you live). You can talk about that, Mo's awesomeness, or anything else you want. Have at it.