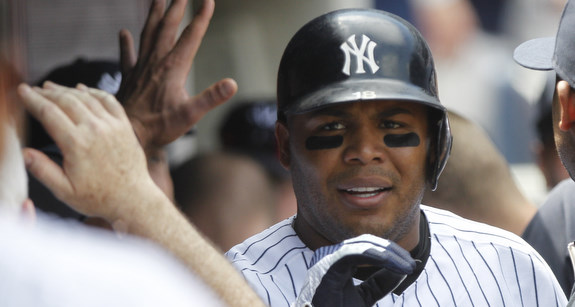 As the off-season wound down, the Yankees had only a few needs they could fill on the free agent market. The starting lineup was penciled in, the bullpen was full, and the starting pitching options were exhausted. All they needed to complete the 2011 roster was a reliable fourth outfielder, preferably one who could mash lefties. Throughout the off-season one name stood out as a reasonable option: Andruw Jones. And so in early February the Yankees landed their man on a reasonable one-year contract. That appeared to complete the Yankees' off-season team building.
Unfortunately, the marriage didn't get off on the best foot. While Jones homered in his first game as a Yankee, he generally hit poorly in the first half: .195/.278/.356 in 97 PA. Worse, he was taking starts away from Brett Gardner, who was putting together a quality first half (.265/.348/.394 at the break, and .317/.404/.463 in June). That left a sour taste in many Yankees' fans mouths. What use was a fourth outfielder who 1) doesn't play defense particularly well, 2) hasn't hit better than a possible minor league replacement, and 3) is taking at-bats away from a more productive player on both sides of the ball?
At the break something changed. According to Jones, it was a call from his mom that got the wheels turning. It appeared to pay immediate dividends, as Jones hit two home runs in his first game of the second half. Since then he's been to the plate 99 times and has hit .288/.424/.600. That includes 17 walks, which is only six fewer than Mark Teixeira in 147 fewer PA. He's also belted seven homers, some of which were absolute monster shots (the one in Minnesota stands out in memory).
Jones got so hot after the break that he's taken on more than a platoon role lately. With Gardner slumping and Swisher on the shelf, Jones has started eight of 11 games in September. While his production has waned a bit as a result, he's still providing a level of value with his walks. They have allowed him to maintain a .344 OBP despite a .160 average this month. That's not a skill that many fourth outfielders possess. He also hasn't been a liability in the field. He might not be Gardner or even Swisher out there, but he's not dragging down the team on defense.
And so we take this opportunity to appreciate the contributions Jones has made this season. He has torn through the second half and has been a big part of the reason why the Yankees are in a comfortable position right now. He might have been something of a liability in the first half, but he's certainly repaid the Yankees lately.