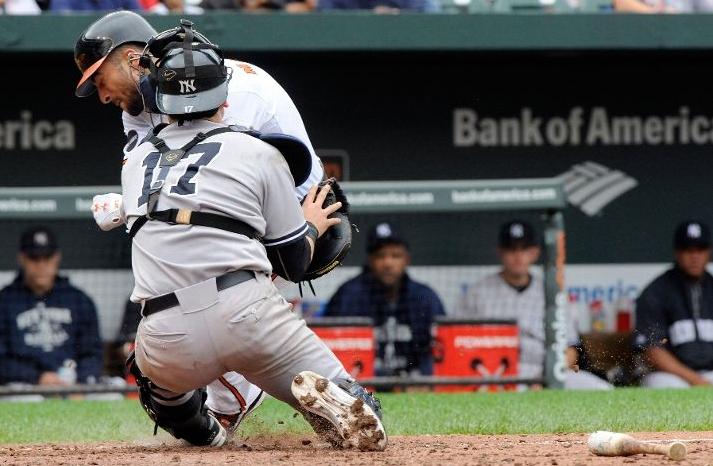 Thanks to various injuries, the Yankees used four different catchers in a span of 24 hours this weekend. On Saturday night, it was Russell Martin starting before Jorge Posada came in as an injury replacement. Sunday afternoon it was Jesus Montero with the starting assignment and Austin Romine doing the defensive replacement thing. Four catchers in two days, and not a single one of them was Frankie Cervelli.
The Yankees regular backup backstop is in New York, where tests confirmed a concussion as the result of a pair of home plate collisions on Thursday. The first collision with Nick Markakis was clearly the more devastating of the two; he led with the shoulder and caught Frankie right in the head. The picture above tells the entire story. Brain injuries and concussions are no joke, especially when we're talking about multiple occurrences. Cervelli had at least three concussions from 2005-2010, the last one coming when he was hit in the head by pitch in Spring Training last season. This latest incident makes it at least four concussions in seven seasons.
With just 16 games left in the season, there's a non-zero chance that we won't see Frankie again until 2012. Head injuries are serious business and the Yankees will take every precaution, just like they have with Cervelli (and Posada) in the past. That leaves the team in a little bit of a bind, because they don't have an obvious backup catcher to replace the King of the Fist Pumps. Posada caught his first game in almost a year this weekend, and it was only because it was an emergency. Montero was pulled for a defensive replacement, not exactly a ringing endorsement of his catching skills. Romine has fewer than 50 innings of catching experience above Double-A. None are ideal fits.
Thankfully, the schedule kinda helps the Yankees here, because they have such a big lead on a postseason spot and only a handful of games left to play. Montero and Romine can split catching duties for the next week or two and it won't be that big of a deal, assuming Martin makes it back from his bruised thumb in a somewhat timely fashion. The Yankees shouldn't rush him back, obviously, but as far as we know, it's not anything more serious than a bruise and a cracked nail. Going into the postseason, you'd count on Martin catching every inning of every game, no doubt about it. There's fewer off days this year but still enough to make catching everyday possible. That leaves Cervelli's now vacant roster spot up in the air.
Barring something unforeseen, Montero figures to make the postseason roster at this point. He'd step right into Frankie's roster spot, meaning that Cervelli's latest concussion may have saved Posada's playoff job. For all intents and purposes, the Yankees have been phasing Jorge out in the second half, but he could still serve as a pinch-hitter against right-handers and an emergency catcher in October. Montero would be the other emergency catcher, even if means losing the DH in a given game. I don't think it's out of the question that the Yankees could go into the postseason without a true backup catcher on the roster, which would be kinda neat and unconventional.
The x-factor here is Joe Girardi, who seems to love having a defense-first backup catcher (not that Cervelli was a Gold Glover back there). That could open the door for Romine to win a spot on the postseason bench, meaning the Yankees may end up taking only one of Montero or Posada. That is unless they decide against a pinch-running specialist like Chris Dickerson or Greg Golson. Or perhaps they go with a ten-man pitching staff, which would be a minor miracle. There's a lot of variables in play here, and there are 16 games left to sort them all out. The key is Martin, if that thumb heals well and he can catch a full workload in October, it opens a lot of roster construction doors for the postseason.