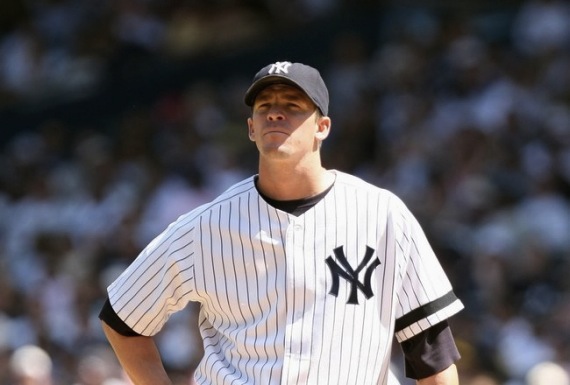 Did anyone honestly think that Scott Proctor had any chance to pitch for the Yankees this year? Before the season no one would have given it a thought. Even after the Yankees signed him to a minor league deal last month I'm not sure anyone expected him to actually make the major league roster. And yet this morning we got the news that he would, indeed, don the pinstripes and make his return to the Yankees. It's been a while since we've seen Proctor, and even longer since he's been consistently effective. So what makes this time around any different?
For many of us the return of Proctor isn't about pitching, per se. It's about an emotional attachment to a guy who pitched so well that he fell victim to the Joe Torre bullpen death trap. (After all, the Death by Bullpen category was created because of Torre.) That tends to happen when a guy makes his debut as a Yankee and has quality stuff. It took Proctor a while to harness his fastball, but by 2006 he had turned into a reliable reliever at a time when the Yankees searched desperately for one. He was a savior of sorts, providing pain-free innings when the rest of the bullpen, especially Kyle Farnsworth, made games a bit more difficult.
It was hard to ask more of the guy than he provided in 2006. He led the league in appearances that year with 83, tossing 102.1 innings. All of them were in relief. No reliever has tossed 100 innings since. They key to his success was his walk rate, just 2.9 per nine, which was down a half point from the previous season. He also kept his hit rate down, thanks to a .258 BABIP. In even the previous season that didn't seem possible, thanks to his straight as an arrow fastball. But it appeared that in 2006 he added a little movement, and that helped him succeed.
Of course, that many innings and that many appearances takes a toll on the arm. Proctor didn't show the signs in 2006, though one teammate, Ron Villone, did. Even in 2007 Proctor produced quality results, a 3.81 ERA in 54.1 innings as a Yankee. But he clearly wasn't the same pitcher as he was in 2006. While he managed to keep his hit rate at a normal level, he started to walk tons of batters — 4.8 per nine to be specific, or nearly two per nine more than the previous season. By July's end the Yankees had apparently seen enough. They traded him to LA for Wilson Betemit, thereby acquiring the quality reserve infielder they had long sought.
In 2008 Proctor missed more than two months with elbow troubles, and in 2009 he underwent Tommy John surgery. He barely pitched in the majors in 2010, spending most of it with the Braves' AAA affiliate. This year he re-signed with the Braves and earned a call-up after impressing in AAA. Yet his stint in the majors went terribly. He walked more than he struck out, and he allowed five homers in just 29.1 innings. His release from the Braves came with no surprise. The only surprise, really, was that the Yanks considered him at all.
Maybe the Yankees felt they owed him something. After all, towards the end of Torre's tenure Brian Cashman spoke out about how his manager handled relievers. He reiterated those criticisms earlier this year. There's also the issue of Proctor's alcoholism, which apparently was part of the reason the Yankees traded him in 2007. In the linked article, a characteristically excellent one from Tyler Kepner, Proctor mentions that he wanted to show Cashman how he changed. Now he'll get his chance.
While the emotional angle plays up well, it can't be the only reason the Yankees are giving Proctor another chance. This is a business, after all, and recalling Proctor means they'll have to sacrifice someone on their 40-man roster. That bears real costs, so they have to think that he can actually help the club. While he did experience poor results this year he did have some oomph on his fastball, averaging 93.7 mph. He hasn't hit those speeds since 2008. He was also seemingly burned by his breaking stuff. Perhaps, then, the Yankees see something they think they can correct. They'd better, if they want this decision to work out.
Chances are that Proctor is a non-factor down the stretch and that he's off the roster either before season's end, or early in the off-season. But his mere presence on the roster evokes feelings of the days when he was a real force in the Yankees' bullpen. He was, for a stretch in 2006, the only reliable piece of the bridge to Mariano. He won't be in that role this year. He won't sniff high-leverage situations. But there's something reassuringly nostalgic about having him back on the roster. May he pitch well and prosper again in pinstripes.