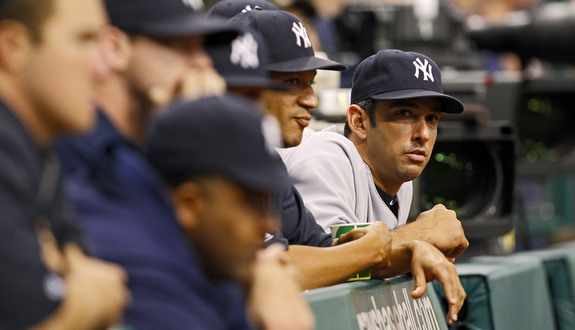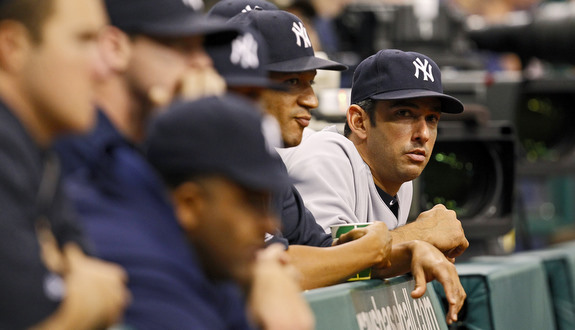 The refrain can cease. After months and months of yapping about Jesus Montero, the man himself is set to debut with the Yankees. For many it feels like a move long overdue. After a slow start Montero started to turn things around, and by the end of July it appeared that he could help the major league team. Yet the Yankees went through August doing business as usual, opting to wait until rosters expand before they called up their top prospect.
In a way that made sense. Roster construction dictated it. Early in the month the Yankees ran a short bench, opting to carry a sixth starter instead of a fourth bench player. That made sense, because it left the bullpen at full strength. They could have recalled Montero in that spot and worked with a short bullpen, but they also knew that Alex Rodriguez would return at some point in August. At that point they absolutely could not carry Montero, since they'd require all four other bench players. So even if they promoted him after the trade deadline, they would have had to send him back down after a few weeks.
The only way the Yankees could have carried Montero before today was if they chose to removed Jorge Posada from the active roster. While the organization and Posada came to blows in May, things seemed to smooth out from there. Posada started to hit, and the Yankees made it clear, through media channels, that they did not intend to release him. Despite his overall struggles he has managed to stay productive against righties, producing a .354 wOBA against them in 254 PA. That translates to 8.8 runs above average, a respectable figure for that number of plate appearances.
Now that the roster limit has expanded from 25 to 40, the Yanks have plenty of room to maneuver. They've wasted no time in calling up Montero, and he could immediately jump into a prominent role. YES Network's Jack Curry recently reported that Montero will start at DH tonight against Jon Lester. That's quite a debut assignment, and it portends his role down the stretch and perhaps into the playoffs. In fact, Joel Sherman quotes a Yankees official saying, "By the playoffs, [Montero] will be our best DH option." That's quite a bold statement for a player who has yet to face major league pitching.
While Montero's assignment for tonight comes against a lefty, the unnamed Yankees official makes it sound as though he'll play against right-handed pitching, too. That would leave Posada without a role. This is nothing new, of course; Posada lost his gig for a week in August while Eric Chavez took over DH duties against right-handed pitching. Posada came back with a fury, driving in six runs, including a grand slam, against the Rays. Since then he's hit decently, but not to the level where he absolutely must remain in the lineup. Unless the Yankees use Montero behind the plate, Posada could spend most of September on the bench.
Throughout the season the Yankees have shown patience with Jorge Posada. They could have removed him from the lineup when he struggled early in the season. They could have treated him more harshly after his blow-up in May. But they stuck with him, for the most part, and he rewarded them with some quality numbers against right-handed pitching. But his complete lack of flexibility has hurt them at times. With rosters expanding the Yankees gain plenty of flexibility, and they'll apparently use that to try another option at DH. Jorge will be there in case it doesn't work out. But for the time being, his name won't appear frequently on Joe Girardi's lineup card.