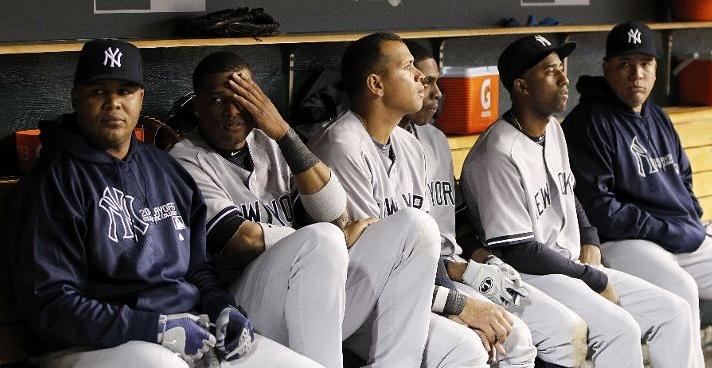 The season is on the line tonight, and A.J. Burnett is the one charged with saving it. That sounds like pretty scary, and it is, but baseball isn't an individual sport. There are 24 other guys on the roster and they're just as responsible for making sure the Yankees live to play another day.
More than football, hockey, or basketball, baseball is an individual game. It's a collection of individual at-bats chained together, and although there is some overlap, one man generally can not carry a team. Burnett at his best isn't enough to win tonight's game, it's up to the offense and the bullpen to back him up. Now, the offense did a fine job against Justin Verlander last night, scoring four more runs than anyone expected them too, but they need to do better in Game Four. I'm talking constant pressure on Rick Porcello & Co., especially early in the game.
The bullpen needs to really step up as well tonight, probably even moreso than the offense. Rafael Soriano and (especially) David Robertson will have a lot of heavy lifting to do tonight, as will 42-year-old Mariano Rivera. If Burnett exits before the fifth, something he did three times in his final ten starts of the season, then Phil Hughes and Cory Wade start to become important. Boone Logan might show up to face Alex Avila at some point, but in the name of all that is holy, Luis Ayala must be used in emergencies only. I'd rather see Ivan Nova out of the bullpen in extra innings before Ayala, to be honest.
I'm not sure where I'm really going with this, but the point I want to make is that this game is not on Burnett alone. His teammates can make his life a little easier, and frankly they have too. They did a real nice job taking the lead early in last night's game, and I'd love to see another quick strike like that again tonight (Yanks were up 1-0 five pitches into last night's game). Burnett will play a major role in Game Four, but at the end of the day, he's just one of 25 players on the roster. The Yankees will win as a team or they will lose as a team.