Sorry if you thought it was Friday, it's still only Thursday. I skipped the mailbag last week for ALDS reasons, and I figured today was the best day to tackle this week's edition given the off day and upcoming madness tonight. Most of the questions that were sent in are outdated now (who'd you rather face in the ALDS, Texas or Detroit?), so only four questions today. Remember to use the Submit A Tip box in the sidebar to submit your queries.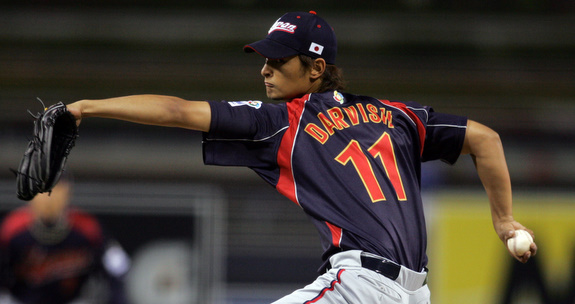 Patrick asks: Any way Yu Darvish would accept a minor league deal? Would that allow the team that signs him to have him under control for pre and arbitration years?
No, definitely not. Darvish isn't coming over for a minor league contract. Japanese players are like everyone else; when they come over here, they are still subject to the same rules. That means pre-arbitration salaries for the first three years of their career, then three years of arbitration-eligibility before free agency. However, as a courtesy to veteran players of the Japanese leagues, MLB and the various clubs have allowed Japanese players to become free agents after their initial contracts expire. That's how Hideki Matsui became a free agent after the 2005, or Hiroki Kuroda last season.
Daisuke Matsuzaka signed a six-year contract when the Red Sox acquired him, basically simulating the six years of team control. Darvish is still so young that I have to believe whatever team lands him will try to do something similar. I can't imagine a team would pay through the nose for the posting fee and agree to acquire just the first two of three years of Darvish's career. A five or six-year deal is in order here, if not longer.
Matt asks: I was reading an old Baseball America Handbook and it said that Rays infielder Elliot Johnson signed with Tampa Bay as a non-drafted free agent. How can a guy not drafted out of high school sign as a free agent? And if it's possible, why don't we see more guys do it?
Former Yankee John Rodriguez is another guy that signed as an undrafted free agent out of high school. From the official rules…
A player who is eligible to be selected and is passed over by every Club becomes a free agent and may sign with any Club until the player enters, or returns to, a four-year college full-time or enters, or returns to, a junior college.
In English, that means a high school kid can sign as a free agent as long as he goes undrafted, has a diploma/GED, and has not yet attended any kind of college. The best players (high school or otherwise) always get drafted at some point (even if it's the later rounds), which is why they're never undrafted free agent. It's not their choice to go undrafted and become a free agent, the teams control their fate.
Rodriguez and Johnson were the fringiest of fringe prospects, which is why they weren't drafted. College wasn't an option for Rodriguez for whatever reason (money, grades, who knows), so he ended up signing with the Yankees after participating in a tryout camp. I'm not sure what Johnson's story is.

Jeff asks: What will the future hold for Jesus Montero in 2012? Will the Yankees retain Russell Martin and have a catching platoon where Montero can DH on some of the days Martin catches? We know Montero can hit in the majors, so is the best option to ease him into being a major league catcher? What is Montero's ceiling? Would it be a stretch to think he could have a .400 OBP in his rookie season and drive in 100 RBI with 30-40 HRs?
I'm certain the Yankees will bring Martin back next year. It's very clear the front office loves him, and he provides very real defensive value while being a non-zero at the plate. With neither Montero, Austin Romine, or Frankie Cervelli ready to be an everyday catcher in the big leagues, there's a clear opening for Martin on the roster.
Ideally, I'd like to see Montero be the regular DH (against both righties and lefties) while still catching 30-40 games. It's obvious he's ready for 600 at-bats in the big leagues, and this is probably the best way to get him that playing time. Any time he spends behind the plate can be a DH day for Alex Rodriguez or Derek Jeter or whoever needs it. I'm not ready to say he'll be a .400 OBP/30+ HR/100+ RBI guy right out of the chute, but he has the kind of talent to do that long-term. Something like .280/.340/.460 with 20+ homers would be more than acceptable in my book next season. Remember, this kid is just 21.
Sam asks: If the Brewers lose Prince Fielder to free agency, do you think they would consider trading Shaun Marcum or Yovani Gallardo for a package headlined by Montero?
I don't think it's an "if," I'm pretty sure the Brewers will lose Prince as a free agent. They went all-in this season to try to win with him, they openly acknowledge that, but I don't think they're going to go right into a rebuilding mode next year. They'll still have Marcum, Gallardo, and Zack Greinke in 2012, plus Ryan Braun, Rickie Weeks, Corey Hart, and John Axford aren't going anywhere for a while. That's a pretty good core right there. First baseman aren't the toughest players to replace in free agency (Carlos Pena for a year? Josh Willingham?), so they can plug that hole. No, they won't replace Fielder's production, but they still have enough talent to win that division.
That said, the Yankees would have to listen if Milwaukee is open to trading a starter. Gallardo is a stud and I'd give up Montero for him without hesitation, but the problem with Marcum and Greinke is that they're going to become free agents after next season. At least Gallardo is locked up through 2014 with an option for 2015. Giving up six years of Montero for one year of those two, regardless of how good they are, isn't the wisest thing in the world. I'm sure the Brewers would be open to a deal involving Marcum or Greinke, but I can't imagine they'd discuss Gallardo.