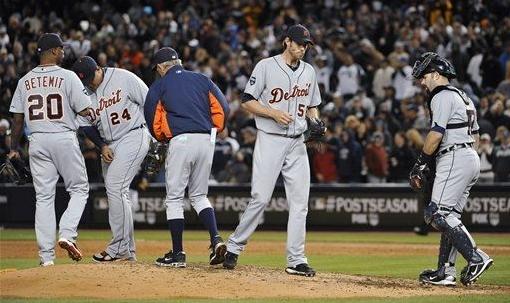 When I previewed Doug Fister prior to the continuation of Game One, I noted that he's an extreme strike-thrower that gets ahead with his fastball and generally pitches lefties and righties the same way. Righties will get a few more fastballs, lefties a few more changeups, but otherwise it was the same approach. He's not a huge stuff guy, instead relying on command and the willingness to attack hitters rather relentlessly.
The Yankees touched Fister up for six runs on seven hits and two walks in 4.2 IP in Game One, drawing the same number of free passes in that game that he issued in his final four regular season starts combined. He did plow through the lineup the first time through the order, but the Yankees adjusted and really went to work once it turned over. Seven of the final ten hitters he faced reached base, and the Yankees won the game.
Fister will start the decisive Game Five tonight, so I figured it would be good to look back at Game One to see how he attacked the Yankees hitters. It's just one game, a sampling of just 90 pitches, so we shouldn't take any of this stuff to heart. It'll just give us an idea of what he did in that game, and give us something to look for tonight. Let's break apart the two different types of hitters, starting with the guys he'll see more of…
Left-Handed Batters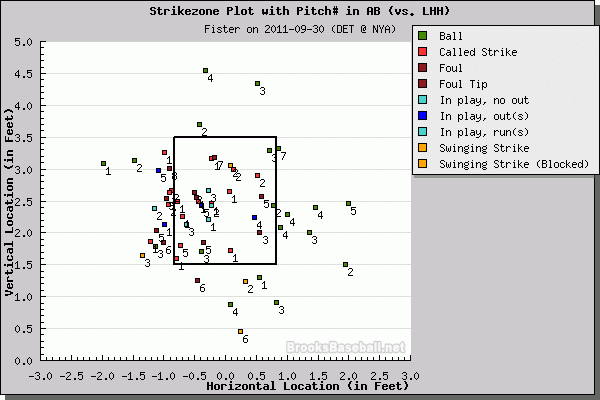 (via Brooks)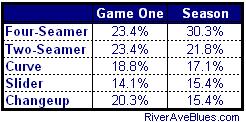 Pay attention to the numbers in the strike zone plot, and remember this is from the catcher's view. The vast majority of the number ones (i.e. the first pitch of a given at-bat) are down and/or away. Most of the higher pitch numbers (three and up) are inside. Fister started the Yankees left-handed batters off with pitches away before coming back inside a little later in the at-bat to keep these guys honest. Outside then inside, and usually that was it.
The pitch selection, seen in the chart to the right, shows that Fister threw his five different pitches at a rate consistent with the regular season. He only threw 64 pitches to lefties in Game One, so one individual pitch represents 1.6% of the sample. The difference in the rates is like, plus or minus three pitches. Nothing crazy. For the most part, Fister was his usual self against all the left-handed batters the Yankees threw at him on Saturday. As for the guys on the other side of the plate…
Right-Handed Batters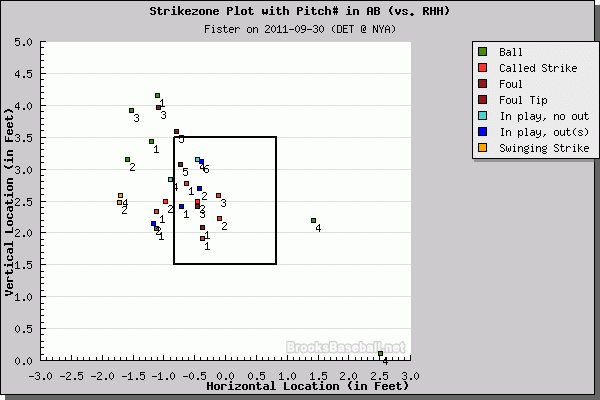 (via Brooks)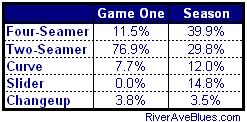 Obvious statement is obvious: Fister pounded the Yankees righties (Derek Jeter, Alex Rodriguez, and Russell Martin) inside with fastballs on Saturday. I mean really pounded them inside; just two (two!) of the 26 pitches he threw them were on the outer half of the plate, and they were two waste pitches so far outside they were easily taken for balls. All but six of those 26 pitches were two-seam fastballs, only three were offspeed pitches (two curves and a changeup).
Unlike his approach to lefties, it seems pretty clear that Fister and his battery mate Alex Avila made an effort to go at New York's three right-handed bats high-ish and hard, preventing them from getting any kind of extension in their swing. Martin, A-Rod, and Jeter combined to go 2-for-6 with a double, a ground ball single, three strikeouts, two ground outs, and one fly out off the big right-hander in Game One.
* * *
Just looking at Fister's combined pitch chart (all batters), you can see that he threw the majority of his pitches to the armside, or inside to righties and away to lefties. That could just be his comfort zone, some guys have trouble throwing to the glove side, or it could be by design. My semi-obvious theory: he was pitching to Yankee Stadium. He didn't want to put a pitch outside so a righty could flick it towards the short porch, nor did he want to have a lefty pull their hands in and yank something down the right field line. It's just a theory, but if it's what Fister was trying to do, it didn't work. Five of the nine balls he allowed to be hit to the outfield went to right, another two to center.
Whether or not Fister continues to bust righties in with fastballs while working away to lefties remains to be seen, but that seems to have been their plan in Game One. It didn't really work, but that doesn't necessarily mean an adjustment is coming. The Tigers could be banking on better execution instead.