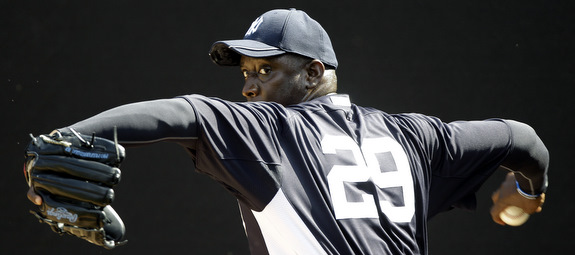 Brian Cashman didn't want Rafael Soriano, and frankly, the Yankees didn't really need him. Ownership, or more accurately team president Randy Levine, wanted Soriano after losing out on Cliff Lee and various other free agent pitchers, and he who signs the checks makes the rules. Soriano agreed to a three-year contract worth $35M in mid-January, and the Yankees had themselves a shiny new eighth inning toy. A few month later, the right-hander was out with an elbow problem and eventually relegated to seventh inning worth.
Andrew Marchand reported on Wednesday that no, Soriano will not opt out of the two years and $25M left on his contract. The move isn't official, but I'm not sure if something like this is ever officially reported anyway. Marchand just told us what we already knew though. There's almost no chance Soriano would get that kind of cash on the open market after dealing with more injury troubles in 2011, so even if he's unhappy, there's a financial incentive to stay in New York. We've all been stuck at jobs we didn't like, this isn't much different.
I didn't like the contract and chances are you didn't like the contract either. There's so little chance of a middle reliever being worth that kind of money; it basically takes optimal usage and the highest of high-leverage spots each time out, something no manager in history ever does. Soriano is overpaid, yes, but he's not useless. He was pretty good in the ALDS for one, and the Yankees have to expect David Robertson's performance to decline next year just because relief pitchers never repeat seasons like that. That doesn't mean Robertson will be bad in 2012, he just won't be as amazing as he was in 2011. Soriano provides some high-end insurance.
At the end of the day, Soriano is luxury pretty much no other team can afford, and he'll continue to be one next year. The Yankees didn't need a new eighth inning guy … heck, they didn't even need a new seventh inning guy, but they got one anyway simply because they can. They had the money to spend so they spent it on the biggest name left on the market, even if he was a square peg forced into a round hole.